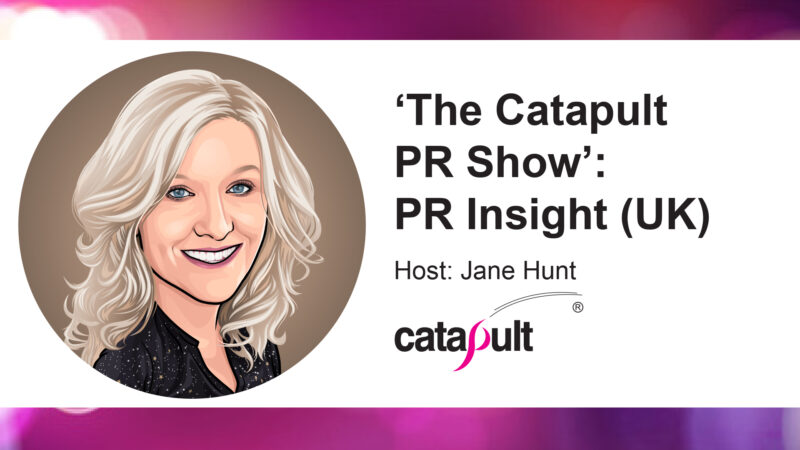 April 14th, 2019
21 Years Marked with New Clients, Website & Podcast Show
Lancashire's most award-accredited PR agency, Catapult PR, has celebrated its 21st birthday with three new account wins, a national award shortlisting and the launch of a new podcast show available in iTunes.
The Blackpool-based PR agency has won the accounts of Leeds-based commercial insurance and bus and coach specialists McCarron Coates, Blackpool-based BP Insurance Brokers and an account that will see it utilising all of its tourism and farm tourism experience, as it promotes the Ian Lawson photography exhibition, 'Shepherdess: One Woman Farm', to be held in Hawes in the Yorkshire Dales from May 22 until September.
Meanwhile, Catapult PR's managing director, Jane Hunt, has been shortlisted for a national CIPR Excellence Award for the second year running. Having scooped the national 'Best Travel, Leisure and Tourism PR Campaign' award just a year ago, she is now shortlisted in the 'Best Independent Consultant' category in which she won in 2012, the last time she entered and when she received her award from Olympian, Colin Jackson.
She will now go to meet the CIPR panel judges in London on May 2 and will have 15-20 minutes in which to talk through her shortlisting.
To mark 21 years of Catapult PR – not to mention 32 prestigious awards and over 50 shortlistings achieved in these years – Catapult has launched a new website and its own podcast show.
The 'Catapult PR Show' is now available in iTunes's podcast store, whilst episodes can also be heard at www.catapultpr.co.uk The show's first episode is now live and a second set to follow within days, as Catapult initially showcases its travel and tourism PR prowess and talks listeners through research that it has commissioned into UK visitor attractions and consumers' attitudes towards them.
The show will focus on numerous PR, content marketing and copywriting topics and will support an international PR profile for Jane Hunt which has been built through her publication of her autobiography part 1 – 'Rogue Elephants: One Woman's Fight Through the Human Jungle.' Published in 2013, this book has been acclaimed by PR students worldwide, being particularly loved by American PR students in New York and other cities.
Its publication also led to Jane Hunt becoming a Visiting Fellow at Solent University and supporting PR students on courses at educational establishments such as the University of Lincoln.
Catapult PR moved into new office accommodation in Blackpool's Metropolitan Business Park in summer 2018 and has since grown further, now supporting a team spread across three counties.
Jane Hunt says: "There are many exciting things happening in our 21st anniversary year and the new website and podcast show are just two early developments. We now have clients in London and in seven different counties, continuing our 21-year-old pattern of being able to attract clients from locations nationwide, due to our reputation and talent rather than because of our geographical location. That makes me immensely proud, but the best is yet to come."
The new website can be found at www.catapultpr.co.uk where podcasts and tourism collateral in the form of the new visitor attraction survey can also be found.