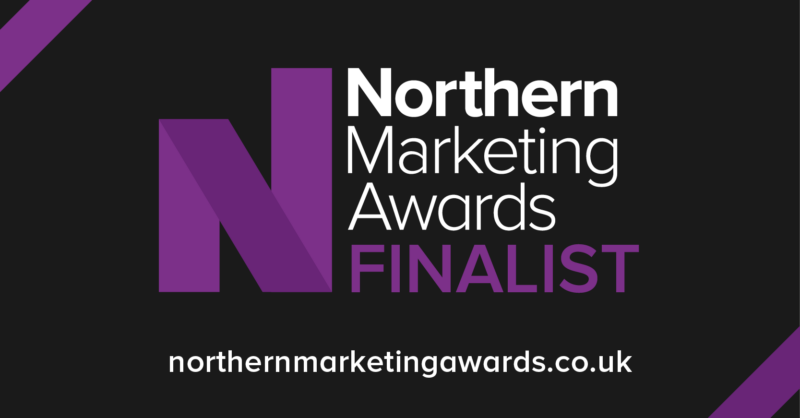 October 8th, 2020
4 Northern Marketing Award Nominations for Catapult!
Catapult PR, is proud to be a Lancashire PR agency leading the charge for our county at this year's Northern Marketing Awards, at which we are absolutely thrilled to be shortlisted with the second-highest number of nominations from all agencies, despite competing against giants from the world of digital, TV and print advertising.
This little old Blackpool PR firm has managed to notch up four finalist nominations – for Best PR Campaign, Best Tourism or Leisure Campaign, Best Sustainable/Green Campaign and Best B2B Campaign and we've really got our fingers crossed for a potential fifth, in the Best Retail Campaign category. The judges have no shortlist for that one and will announce the winner on the night.
We know that this is yet another phenomenal achievement to add to our list of phenomenal achievements, but we are also so happy to have catapulted campaigns for Northumberland-based Langley Castle Hotel and London-headquartered, The Used Kitchen Company, into the spotlight.
Our work for Langley Castle, before and during the castle's lockdown closure, still managed to make national headlines, due to us performing a really in-depth dive into genealogy and discovering a major ghost naming mix-up – that resident 'ghost' Maud cannot possibly be the woman history has claimed her to be! Additionally, it was just amazing to find that one of our editorial pieces was used by the Government within its official post-lockdown staycation campaign, leading to exposure in over 200 titles (we even had to put a block on the cuttings, due to the costs we were incurring!)
Our campaign for The Used Kitchen Company has already won an award this year, having scooped the PRCA DARE Award for Best Media Relations campaign. This was one of two DARE Awards that we won in August, so we're really on a roll.
As well as awaiting the results of the Northern Marketing Awards, we are a finalist for three PRMoment.com awards, two of which are for two other Catapult PR clients. The ceremony was cancelled just as lockdown occurred and is to be held virtually, on November 11.
Add to this the fact that we have also recently been named the Public Relations Firm of the Year (Lancashire) in the North England Prestige Awards and have shown how differently we think, by launching our own animated and musical pet video, showcasing our public relations expertise in the pet and travel sectors, and what a year it's been. The video has already resulted in numerous business enquiries, since its launch in September. Business is booming.
The video actually features some of the unusual Northern Marketing Awards 'N-shaped' purple awards that we've won in the past, which are dotted around the office scene. Guess what! We're hoping any future video can feature even more of them!