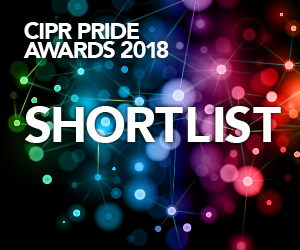 July 20th, 2018
5 PR & Social Media Award Nominations & Much More!
It may only be six weeks since Catapult won the national CIPR Excellence Award for having created and executed the 'Best Travel, Leisure or Tourism Campaign' in the country, but that hasn't halted our zest and desire to gain more accolades to distinguish us for our work and keep our clients extremely happy.
After a short break, in a place I absolutely fell in love with, it was straight back into it this month with the arrival of the BIBAs judges, who spent some time getting to know more about Catapult and our new office environment. I really, truly enjoyed it.
Another panel interview took place last week, when we took up our finalist's slot for the Enterprise Vision Awards. We had hoped the judges would have seen our work as outstanding enough to be finalist's in the Creative Agency category, but alas not and we are consigned to another. As I heard all about the highly glamorous dresses finalists should wear, I did begin to think this event really isn't my cup of tea and rued catching the hem of my beautiful CIPR Excellence dress on my glittery shoes, which may necessitate another trip to my lovely, but frustratingly hard-to-find, even with SATNAV, seamstress. But then, as talk moved on to the Milk Tray Man, who will accompany winners to the stage, all I could think was that we brought him back in 2005, so I can hardly get excited about this when I forced an employee into Windermere, in a wetsuit, in the middle of January, to be the NW end of the Milk Tray exercise way back then!
Rather more up my street, however, are the NW CIPR PRide Awards, which I have always regarded as the regionals to win and to be seen to win. Last year, we had a super time, ending up on a table with my former account exec from 1994, and scooping two awards, the night after picking up one at the Northern Marketing Awards. Last year, we had four PRide nominations, so imagine my joy when I discovered on Thursday that this year we've got five!!
Once again, we are the top-performing agency from outside Greater Manchester when it comes to nominations at these awards. We're up for Best Tourism, Leisure and Travel, Best Community Relations, Best Arts, Sport and Culture, Best Social Media (really floating my boat) and, alas, that category I feel most uncomfortable with, but am boxed into entering. How I hate being kept in a box and under a label!
We've also got our Northern Marketing Award entries done and dusted and are now eyeing up some others, though perhaps its best to steer well clear of local.
Given that this is all for a brand new campaign, I'm chuffed to little mint balls about it, but we'll see whether judges take things like passion, budget and creativity into account, or not. If you think about it, it's categories in which these attributes matter in which we excel, and sectors like pet, in which they also matter, in which we thrive. When it comes to categories in which the big agencies can just blow a lot of cash and do something huge, it's more difficult. For instance, we could not have had a better integrated campaign if we'd tried, but when you're coping on less than £5k, it's hard to match up to a campaign that could blow that on a prop alone!
Away from the awards, we've been settling in at our afore-mentioned new office, where we're enjoying the proximity to the kitchen and the fact that I can see an old friend's car parked up right next door and am just plucking up the courage to say hello. There's a lovely atmosphere in the place and I've been visiting a few other offices already (it helps having a former employee in one!).
Then there has been the work and we've been up to some really exciting stuff this month, which we hope to see paying dividends in results, which are already beginning to appear. I've become the world's leading expert on Footgolf and where to play it, not to mention heritage staircases and what to find at the top of them, high net worth targeting and declined property insurance claims.
I also investigated the world of imposter syndrome and scared but also partially realised myself and then delved into the world of a rather new beauty treatment. I maybe shouldn't mention that my biggest decision, however, is to return to a centre parting.
We've had a new client, two returning clients and our annual return to sporting and charitable CSR, which I hope is going to have a really whacky, quirky and high-profile twist. Apparently, my contact thought I was joking when he first read my email and then realised that this was just me doing what I do best – coming up with something off-the-wall! He's up for it, however!
Then, how could I ever forget our own amazing Northumbies presentation night, which I had to host under some stress, with a non-working microphone that left me stranded at the other end of the room from the awards! The joy on winners' faces was, however, so uplifting. It was a long drive home, nevertheless, with two junctions of the M6 closed that late at night, but the look on people's faces got me home (although the woman in white stepping out from a dark pavement, straight in front of my car, on a country road was a little spooky!)
Next week we have a very exciting pitch, a lunch with an 'influencer' to discuss what could be an amazing 2019 Northumberland Day initiative and various other meetings to move exciting things forward.
This month, I posted a picture of our 10 most recent awards (or was it 9) and had a comment about "Loving the recognition". At that point, I realised how annoying it was to find no comment of recognition or congratulations coming from certain quarters after our national win and how tiresome it is to go backwards not forwards, when nothing changes and it's always one step forward and two steps back. On that note, I'm contemplating ballroom lessons, so at least the steps forwards and backwards lead somewhere.
I can't wait to launch our new venture – just spreading the expenditure out a bit – as the idea is such a solid one and it could become a whole new division of the company, focused on doing what I love most! Watch this space.
I also have another idea to spring on my former account exec, to see if she's up for being a founding member with me! Let her have her hols first!
So, we're now well into the very 'difficult' month of July. The last two years and a bit have been so tough, but when you've good people around you, you can do things to get you through. Awards, for instance and there's certainly a lot of them flying around in the ether.