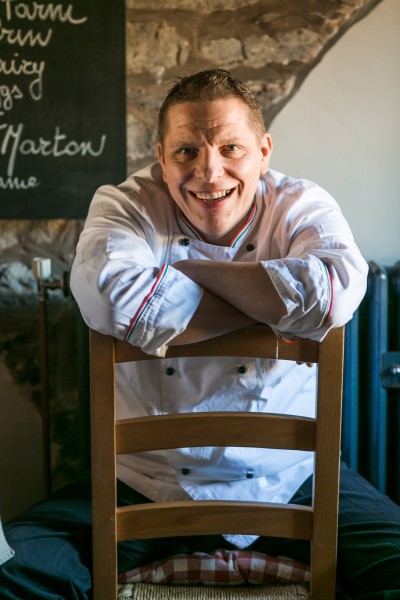 April 8th, 2016
A Passion For Authenticity Proves A Winning Strategy At La Locanda
We are very proud to be a Lancashire PR agency that attracts such fabulous clients, but also hope this feature reflects our understanding of Italian businesses and brands, Italian culture and the things that matter to passionate foodies and chefs. Read on to find out more …
———
To paraphrase an Italian expression, the only true way to understand a country's civilisation is to study its cuisine. Cut any cuisine off from its historical roots and traditions and it loses its meaning and personality. Maintain the history behind each dish and, as they also say in Italy, 'L'appetito vien mangiando' (the appetite comes while you're eating). Knowing how and why a dish came to be makes it all the richer.
This ethos has infused every single dish served at boutique Lancashire restaurant, La Locanda, since it opened 12 years ago. It's one that has served owners Maurizio and Cinzia Bocchi well. Having already scooped a host of awards, they have now won a prestigious and much-coveted Bronze in the VisitEngland Awards for Excellence. Their wholly authentic Italian eatery has, ironically, triumphed in the 'Taste of England' category. The achievement has not come about, however, through any anglicization of their cuisine, but because of an unswerving commitment to never succumbing to this option.
La Locanda has become a little Italian stronghold in the heart of rural Lancashire, serving not just the locals of its village of Gisburn, but customers who will drive for three hours to eat there and then drive home again. Its ability to create such a desire to dine lies in Maurizio and Cinzia's almost religious devotion to their Italian roots, Italian culinary traditions and family recipes – both their own and those of others – handed down from generation to generation.
Much of this stems from their background. Maurizio grew up in a country mansion, enjoying a childhood that included heading out into the woods with his grandmother to collect treats such as chestnuts and mushrooms. Reaching adulthood, he worked in an agriturismo, doing everything from growing crops and rearing animals, to milking cows, preparing charcuterie and making cheese. A progression to gamekeeper followed.
He and Cinzia, moved to England to enable him to study at Myerscough agricultural college. Cinzia, a butcher's daughter, took a job in an Italian restaurant, to learn English. Maurizio also worked in restaurants, and became commis chef, as and when needed. He showed a natural talent for cooking and became a sous chef within six months, adding to his skills by also working in a bakery. After eight years of research and experimentation, Maurizio and Cinzia opened La Locanda, in December 2003.
Shocked by what they had seen presented as 'Italian' food in Britain, they built the business the hard way, refusing to serve dishes unknown in Italy and sticking to traditional delights from their Lake Maggiore homeland and beyond. Their little rustic under-50-seats restaurant, housed in a charming Lancashire cottage, offered 'la cucina povera' – the wonderfully simple peasant cuisine brimming with the flavoursome ingredients nature provides.
Their traditional Italian cuisine was at odds with what their potential customers believed to be 'Italian food'. People would come to the door, take a peek and think they were serving German or French cuisine. Encouraging potential customers to try their authentic Italian dishes, often painstakingly researched to ensure they are presented exactly as they would have been in the past, was challenging. Rather than caving in, they stuck to their guns.
"We knew we had a responsibility to our Italian culture and heritage to present dishes that were truly authentic," says Cinzia. "We realised people wouldn't like everything, but were not prepared to change recipes just to suit English palates. We saw our role as being one of educating diners and encouraging them to discover what Italian cuisine is really like."
Underpinning this 'no compromise' attitude were the principles of the Mediterranean Diet – a holistic dining and lifestyle approach built around health eating, sustainable living and slow food. If anything helped them win the prestigious Bronze 'Taste of England' Award, it is this commitment to the Mediterranean Diet.
All food at La Locanda is sourced in accordance with a 'chilometro zero' policy, looking for ingredients that can move from field to fork in minutes, rather than hours or days, to retain nutritional benefits, whilst delivering fresh, flavoursome dishes. They minimise the ingredients brought in from Italy, importing only irreplaceable dish components such as the finest Prosciutto di Parma DOP, aceto balsamico di Modena IGP, extra virgin olive oils, buffalo mozzarella and Parmigiano Reggiano DOP. For the rest, they look locally, sourcing 85% of ingredients from their beautiful hinterland on the edge of the Forest of Bowland.
Therein lies the second reason for their outstanding success – collaborations. "The simplicity of Italian cuisine means many dishes have between just four and eight ingredients," explains Maurizio. "We knew we needed to work in partnership with producers and share knowledge, to ensure we made our dishes from ingredients of the highest quality imaginable.
"Our choice of Gisburn as a location for our restaurant was determined by research that showed us we would have everything we needed on our doorstep – an organic supplier of meat, a gamekeeper, goat's cheese, locally grown vegetables, first-class seafood and handmade chutneys, jams and honey. From there, we just had to invest time in visiting each of our chosen collaborators and explain what we needed for our carefully researched dishes."
Maurizio and Cinzia have now partnered with many producers, such as Gazegill Organics, for the last 12 years. They have been able to offer customers dishes such as their renowned Guazzetto alla Livornese – made with mussels, king prawns and calamari, cooked with herbs and served in a simple broth, as well as other classics such as their Pere al Gorgonzola and Pollo Mozzarella e Speck. They have augmented this by ensuring customers can match their top quality food with the finest Italian wines, by charging just corkage on top of the retail price of what are often three-glass graded wines from the Gambero Rosso guide. They also offer an amazing selection of Italian beers, sourced from small, dedicated brewers across Italy.
Huge attention has been paid to bringing Italian and English producers together, to create new products and opportunities. This ambassadorial approach has not gone unnoticed. La Locanda is the most awarded Italian restaurant outside London and earned the Michelin Guide's Bib Gourmand's Award in 2011. It has won top awards year after year and achieved Maurizio and Cinzia's dream of gaining the prestigious Marchio Ospitalità Italiana in 2010. Cinzia was awarded the Premio Lekythos 2013 at the Ercole Olivario XXI competition – an accolade given to those who have excelled at promoting Italian extra virgin olive oil outside of Italy. They even have a letter from the Italian President, Giorgio Napolitano, in 2013, thanking them for promoting Italian gastronomy in the UK.
By refusing to compromise, adhering to the ethos of the Mediterranean diet and pouring love into each and every dish served, they have created a culinary phenomenon, which is becoming talked about the world over. Maurizio and Cinzia have put into practice the essence of one of their favourite books – the groundbreaking 19th century culinary guide by Pellegrino Artusi, 'Science in the Kitchen and the Art of Eating Well.' And, far from resting on their laurels, they are already innovating and working on new collaborations, in-depth food explorations in Italy and ways to promote other Italian products and authentic Italian regional chefs here in the UK.
It is little wonder the appetite comes whilst you are eating, when you have the pleasure of dining at La Locanda (www.lalocanda.co.uk). What you have on your plate is the culmination of an astonishing and all-encompassing passion for slow and wholly authentic Italian food.