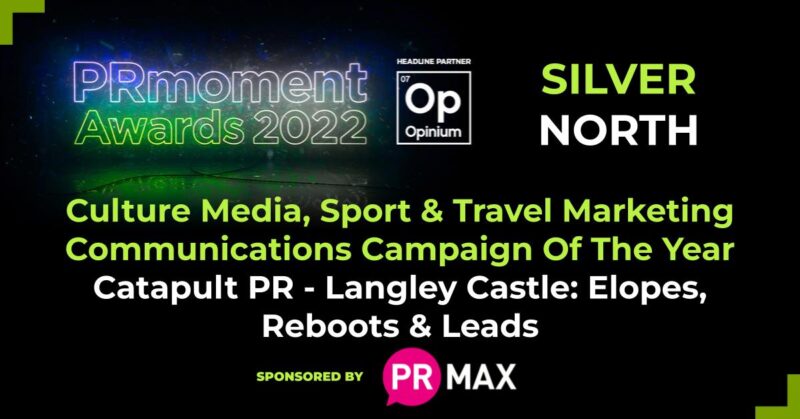 May 13th, 2022
Another Travel PR Accolade in the Bag
Catapult PR has carried its award-winning into its 24th year, scooping a Silver PR Moment North Award for the Culture, Media, Sport and Travel Marketing Communications Campaign of the Year.
The Lancashire-based PR agency, which has clients across the UK, from London to Northumberland and Leeds to Lancaster, was also a finalist for a further two PR Moment Awards.
At the same time, it has been shortlisted for three national CIPR Excellence Awards – Best Travel, Leisure or Tourism Campaign, Best Arts, Culture, Sport or Entertainment Campaign and Best Use of Content.
The latest award means Catapult PR has won PR Moment North Awards in consecutive years, in the travel PR Category.
It also takes Catapult PR beyond the 50-award mark, with an incredible 51 awards now having been won, along with over 70 finalists accolades.
"We never rest on our laurels and consistently create and implement dynamic and award-worthy campaigns," says Catapult PR's managing director, Jane Hunt. "I would confidently predict that there is no other agency in the UK that has achieved so much with such modest budgets, which says everything about our strategies and creativity. That's what clients should be buying into."
If you are a client wanting your budget to give you every ounce of benefit, please email tellmemore@catapultpr.co.uk
To find out more about the number one award-winning PR agency in Lancashire, visit www.catapultpr.co.uk