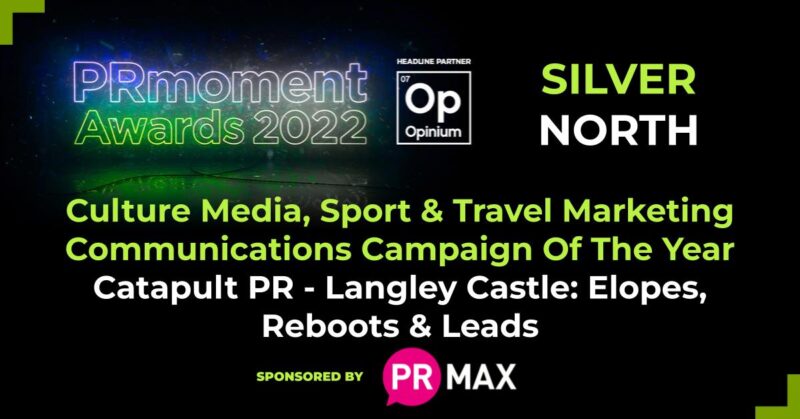 May 13th, 2022
Another Travel PR Accolade in the Bag
Catapult PR has carried its award-winning into its 24th year, scooping a Silver PR Moment North Award for the Culture, Media, Sport and Travel Marketing Communications Campaign of the Year.
The Lancashire-based PR agency, which has clients across the UK, from London to Northumberland and Leeds to Lancaster, was also a finalist for a further two PR Moment Awards.
At the same time, it has been shortlisted for three national CIPR Excellence Awards – Best Travel, Leisure or Tourism Campaign, Best Arts, Culture, Sport or Entertainment Campaign and Best Use of Content.
The latest award means Catapult PR has won PR Moment North Awards in consecutive years, in the travel PR Category. This underlines the PR agency's expertise in travel PR, a specialist area of marketing in which it has been working for more than 20 years. It is particularly experienced in handling travel PR briefs for UK tourism businesses, hotels and tourism destinations but has also handled travel PR and sustainable travel PR briefs for clients in Italy.
In addition, it has worked in specialist areas of the travel PR sphere, handling briefs within areas such as farm tourism, heritage tourism, cultural tourism and food and drink tourism.
The travel PR specialist has worked extensively in the county of Cumbria and has also promoted a wide variety of visitor attractions, from museums to zoos and aquariums and from animal parks to art galleries.
The latest travel PR accolade also takes Catapult PR beyond the 50-award mark, with an incredible 51 awards now having been won, along with over 70 finalists accolades.
"We never rest on our laurels and consistently create and implement dynamic and award-worthy campaigns," says Catapult PR's managing director, Jane Hunt. "I would confidently predict that there is no other agency in the UK that has achieved so much with such modest budgets, which says everything about our strategies and creativity. That's what clients should be buying into.
"Travel PR is one of our key specialist areas as an agency and we have devoted much time and effort into augmenting our travel PR skills and offering over the years, even having a specialist CIM Diploma in Tourism Marketing. It is an area in which we can fully utilise our creativity and use that to not only create dynamic travel PR campaigns and exciting travel content but also help enrich the events programme at places such as visitor attractions."
Catapult PR is ideally placed to handled the travel PR briefs of operators and businesses within Lancashire and specifically on the Fylde Coast, where it is based. Blackpool travel-sector businesses can tap into its award-winning travel PR expertise extremely easily, finding an agency with local knowledge as well as travel PR talent.
Catapult PR is also a travel PR agency gem for clients in Cumbria, where it has worked extensively, handing travel PR briefs for hotels, B&Bs, farm accommodation, visitor attractions, heritage attractions, stately homes and gardens, campsites and caravan parks and festivals and events. It has also handled destination tourism marketing briefs for Eden, the South Lakes and the Western Lake District.
Catapult PR has shown just as much prowess, however, in handling travel PR for hotels in locations such as Northumberland and Durham and for farm attractions in places like Houghton-le-Spring.
If you are a client wanting your budget to give you every ounce of benefit from your travel PR, please email tellmemore@catapultpr.co.uk, no matter where you are based.
To find out more about the number one award-winning PR agency in Lancashire and one of the most successful PR agencies of its size in England's regions, visit www.catapultpr.co.uk