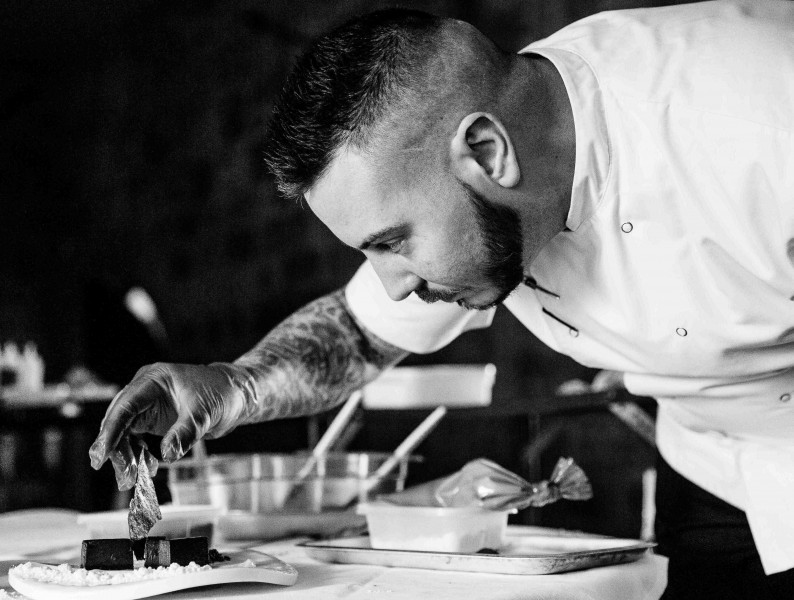 October 4th, 2015
Boho Chef To Create Fusion Dining Extravaganzas With Langley's Dan Grigg
The much-acclaimed and talked about two AA Rosette restaurant at four-star Langley Castle, in Langley-on-Tyne, Northumberland, is set to provide two wow factor culinary extravaganzas on Wednesday November 18 and Thursday November 19, when executive chef Dan Grigg, shares his kitchen with a special guest – the 'Boho Chef' from Bologna, Stefano Corvucci.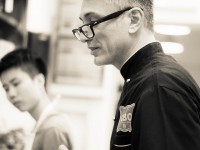 This will be the first time Stefano has appeared at an event in Britain, having previously cooked only in Italy, or at events in the USA and Canada. This is a major coup for Langley, which is increasingly becoming known as an outstanding destination dining venue.
Dan and Stefano will be cooking together at 'Josephine's' restaurant, to create a fusion menu combining the best of English and Italian cuisine, with each being inspired by the other, with a few twists thrown in along the way. Both chefs are currently concocting their dishes and the result is likely to be an extraordinary, not-to-be-missed occasion.
This exclusive dining event will be accessible by pre-booked ticket only, with just 28 dining places available on each evening. Each of five courses will be accompanied by wine tasting, whilst brandy tasting will be included towards the end of the meal.
The event will take place in The Pavilion at Josephine's – a contemporary glass extension to the exquisite 14th century luxury castle, known as the 'time capsule castle'. This will be an ideal venue for the 'Drama Cuisine' for which Dan is renowned, coupled with the food theatre and lively raconteur narrative of the 'Boho Chef'.
Following the meal, diners will be able to talk to both chefs and learn some of their secrets, their passions and the principles that underpin their respective culinary philosophies.
Tickets for these events cost £95 per person and are limited in number. To avoid disappointment, call 01434 688888 to book your places swiftly and be part of these marvellous and exclusive culinary occasions.
Notes to Editors
North East-born Dan Grigg has been executive chef at Langley Castle for just over a year and has already generated feedback that suggests his food is the best diners have ever tasted, worldwide, as he makes waves and efforts to take Langley to Three Rosettes and beyond. His extraordinary 'Liver, Bacon and Onions' dish is featured in the current edition of the 'Great British Cookbook' and he will also be prominently featured in the next edition of this publication, due out in November. He has worked at Michelin Star standard and is renowned for his Drama Cuisine, which evokes all the senses – taste, sight, sound, smell and touch – thanks to culinary ingenuity, twists and unexpected wow factors.
Dan's career began in Northumberland, in an Italian eatery, so he may be bringing some of that experience to bear within the fusion menu. After working at various North East venues, he moved to the Lake District, to work in some of its best-known restaurants, such as: The Samling, Windermere; the Gilpin Hotel and Lakehouse; Linthwaite House Hotel and the Lakeside Hotel. Dan had two periods of employment at The Samling. During the first, he was responsible, as sous chef, for maintaining the standards that had earned the venue a Michelin Star. During the second, he was appointed head chef, after The Samling had lost its Michelin Star and Rosettes. He took the restaurant back to 3-Rosette status within a year.
Dan became a head chef at the age of just 25 and is now aged 30.
Stefano Corvucci, 'The Boho Chef', is head and founder of state-of-the-art cookery school CIBO (the Culinary Institute of Bologna), to which foodies from around the world, from amateurs to professionals, flock for cookery lessons or professional chef training. He also has two restaurants in the food capital of Italy, Trattoria Il Rosso and a high quality fish restaurant, and previously owned and ran an elegant and expensive Bologna-based fine dining restaurant. Stefano gave that up because of a desire to interact with food lovers, and be back in touch with the cooking process, rather than handling managerial duties. He has since been invited to cook at prestigious venues and private events in the USA and has this summer been staging cookery demonstrations and judging at the Maine Lobster Festival.
Stefano, who comes from Forlì, 50km south of Bologna, actually graduated from the world's oldest university – the University of Bologna – in law, but always had a passion for food, which had been instilled in him by his father. Whilst cooking, Stefano's father would read from the extraordinary cookery book of Pellegrino Artusi – written in 1881 and the first cookbook written after the Unification of Italy. This is not just a book of 790 recipes from all around Italy and the first definition of Italian cuisine, but a witty integration of food with history, culture, the arts, everyday life and amusing anecdotes about the experiences of Artusi – a man who would have been described as another 'foodie' from Forlì, had that word existed in his time. Stefano now incorporates a lively narrative into his cooking, in exactly the same way, and has many interesting insights into world cuisine to share, which he has picked up from the foodies who have visited CIBO.
As Stefano works in a city known as 'La Grassa', because of its love of food, and in one that gave the world, amongst other things, tortelloni, tagliatelle and ragù, he should have some great tips to share with diners at Langley.