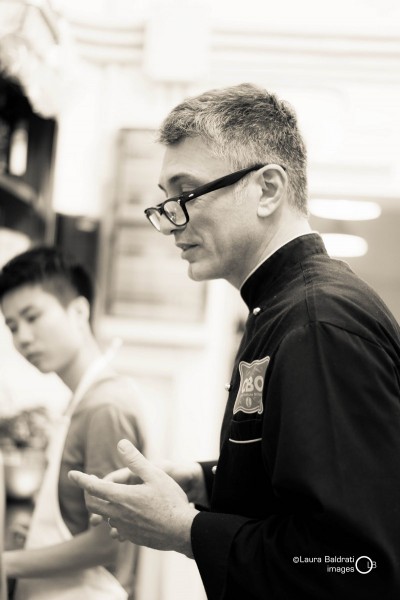 November 4th, 2015
Boho Chef To Share Bologna's Culinary Secrets With Kendal Students
Catering students at Kendal College are to be treated to a masterclass in traditional Bolognese cookery on Monday November 16, when the inspiring Boho Chef, Stefano Corvucci, spends a morning with them during his first ever visit to the UK.
Stefano, head and founder of CIBO – the Culinary Institute of Bologna – is a firm upholder of traditional Bolognese cookery and tutors amateur and professional chefs at the city's only purpose-built cookery school. Bologna is regarded as the home of the very best in Italian cuisine and gave the world tortelloni, ragu, tagliatelle, amongst other things.
During his visit to Kendal College, he will share the tips and techniques underpinning traditional Bolognese cookery and explain his approach to cooking. He will demonstrate the art of making authentic Bolognese sauce, tomato sauce and Bolognese sausage sauce, as well as focusing on pasta. He will also showcase his risotto techniques and explain how to make the perfect broths for meat, shellfish and fish risotto dishes.
The Kendal College students are likely to be treated to lively sessions, as Stefano, a trained lawyer by profession, gave up a career in law to follow his passion for food. He was inspired to cook as a child, when he would spend days in the kitchen with his father and listen to him recounting tales from Italy's first ever cookery book after unification, written by 19th century foodie traveller, Pellegrino Artusi, who wove stories and amusing anecdotes in with his description of regional dishes.
Now, Stefano plays the role of raconteur whilst cooking. He has many tales to tell, cooking as he does with foodies from all over the world, and at events in the USA, as well as dealing with customers dining at his two restaurants in Bologna.
He vehemently upholds Bolognese culinary tradition and recently commented on Sainsbury's use of coffee in a ragù recipe by stating: "I'm not saying it would be bad, I'm saying it will be totally useless."
Stefano Corvucci says: "I am passionate about authentic Bolognese cooking, so to have the opportunity to tutor some of the UK's top chefs of the future is fantastic. I am excited about my visit to the UK in general, but to be able to work with young people, who are as passionate about food as I am, is something very special. I am looking forward to visiting Cumbria for the first time."
Speaking on behalf of Kendal College, Chef Lecturer Yannick Lequitte, said: "At Kendal College, we know how important it is to form strong links with people in the industry as education and industry need to go hand in hand. We work with lots of local businesses and producers who regularly come into the college to run demonstrations and speak to the students about their experiences but this will be the first time we've had a traditional Italian focused masterclass. We're all very much looking forward to meeting and learning from Stefano and I'm sure he'll enjoy his time in Cumbria at Kendal College."
Anyone wishing to find out more about CIBO can visit www.cookingclassesinbologna.com whilst enquiries about Stefano's availability for events, food festivals and competition judging should be directed to Jane Hunt on 01253 891114.  Discounts on cookery courses at CIBO can also be arranged by Jane.
Notes to Editors
Stefano Corvucci will be in the UK from November 15, 2015 to November 19, 2015.
On November 15, he will be a guest judge at the final of Seaside Chef of the Year, to be held at Aspect Bar and Bistro in Morecambe. This is a ticketed event at which guests will hear from the two chefs, one from Sidmouth and one from Skegness, who are cooking off their dishes in an attempt to win the title. Guests will also hear from the judges, including Stefano, and enjoy a three-course meal. Tickets cost £20 and can be bought by calling 01524 416404.
On the morning of November 16, Stefano will be at Kendal College.
On November 17, Stefano will be prepping dishes in the kitchen of Dan Grigg (ex Samling and Gilpin) at Langley Castle, in Langley-on-Tyne Northumberland. Stefano and Dan will then be creating two amazing and one-off fusion menus for guests attending ticketed events on the evenings of November 18 and 19. The five-course meals, plus canapés, amuse bouche and pre-dessert, will have wines matched with each course and the meal will end with a tutored brandy tasting. These exclusive events will also give guests the chance to quiz the two chefs about their menu, which will take traditional Italian food and ingredients and give them a Dan Grigg twist. Tickets for these events cost £95 and be bought by calling 01434 688888.