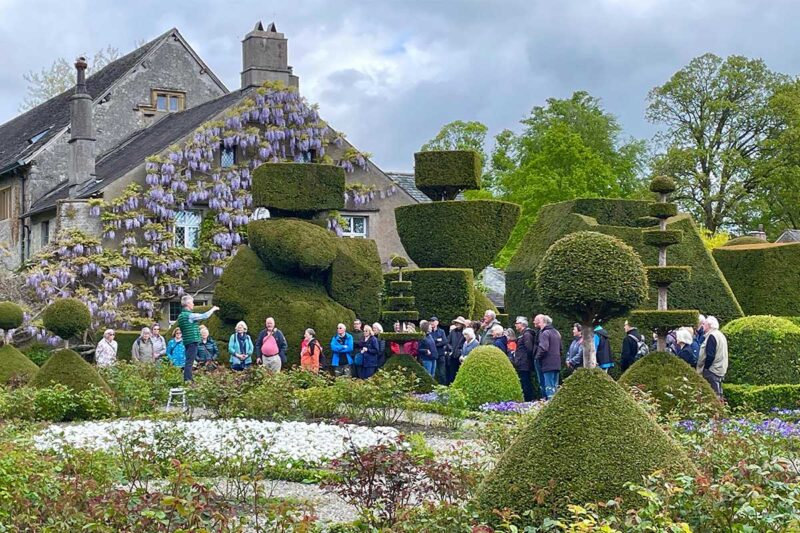 August 8th, 2023
£323,000 of PR Coverage for Historic House and Garden
This campaign for Cumbrian visitor attraction, Levens Hall, home to the world's oldest topiary garden, changed the motivation behind a visit from one based on something 'good to do in decent weather', to one that was a must-do goal in itself.
The campaign took Levens' often ignored USP – being home to the world's oldest topiary garden – and dynamically lit the blue touchpaper under that, on not just a national but also a global stage, engendering a huge desire for everyday tourists and gardening enthusiasts alike, to put a visit to this historic attraction on their bucket list.
The idea
Our idea revolved around creating a World Topiary Day, to put Levens Hall and Gardens at the centre of the world topiary conversation and generate a desire to visit amongst not just UK visitors, but international visitors too.
We reached out to topiary organisations and world gardens that boasted topiary, to bring all together in one shared celebration, with Levens at the heart of this via its own hashtag #WorldTopiaryDay and the World Topiary Day logos that we created in various languages.
Creative storylines
Beyond that, however, we engaged the UK media through a series of quirky and compelling initiatives. We launched a Search for Monsieur Beaumont, targeting genealogy titles and family historians, to try to discover more about the mysterious founder of the gardens.
We linked to the theme of 'clipping' and began a hunt for a Barber's Shop Quartet to perform on World Topiary Day.
We built on the centuries-long ownership of Levens Hall by women – and also the idea of shape and form as evidenced in the 100+ topiary pieces in the garden – and launched a fashion project that would result in the creation of the world's first topiary-inspired dress.
Other elements
Our commitment to in-depth research and getting beneath the skin of a client's brand led to us revealing the history of just 11 head gardeners who have shaped the gardens since 1694. Our determination to spread World Topiary Day to more countries saw us personally enlisting the extraordinary gardens at Valsanzibio in Italy.
Add to this the creation of an online quiz that drew on the legend of Morocco Ale being buried in the gardens during the English Civil War, the piggy-backing on the arrival of the topiary garden at Sandringham, so as to sell Levens' head gardener's tips on topiary to the media, and a variety of podcasts with the head gardener, topiary dress creator and current owner of the gardens at Valsanzibio and it all added up to an amazing campaign.
Results
213 media articles, 1000 brand mentions, 103 thought leadership articles, TV and radio coverage, the generation of powerful media back links and 283 podcast downloads to date, all testify to the success of both strategy and idea. With coverage in the USA, France, Philippines, Australia, Italy, Portugal and Spain, and over 60 participating gardens worldwide, the international visit-generating box has also been ticked. And, with over 303 images in our UK editorial, we have made sure that people want to visit Levens Hall and Gardens, not just if the weather is good but because they absolutely must if topiary, which we have incidentally seen labelled 'cool' thanks to our campaign, floats their boat.