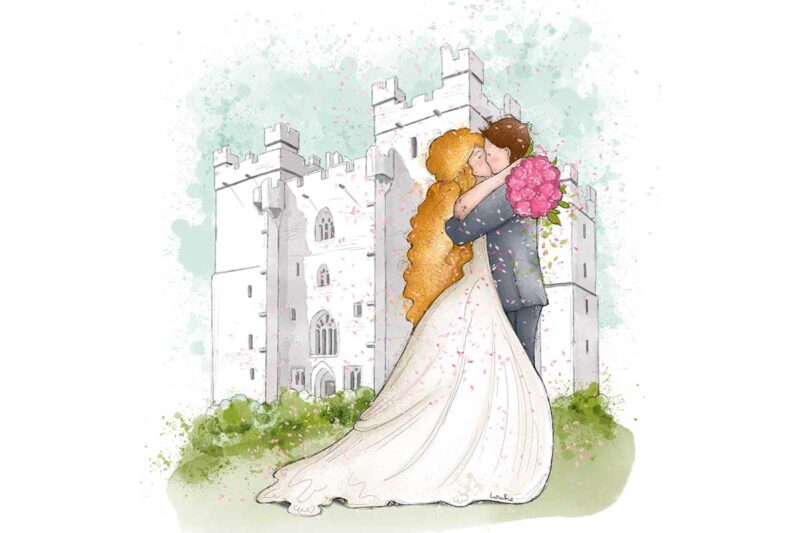 August 8th, 2023
Award-winning Content Campaign That Drove Castle Visits and Weddings
Our national award-winning content campaign in 2022, revolved around creating content to emphasise all of the things to be enjoyed at Langley Castle Hotel during the post-lockdown period, when visitors needed to be given confidence to start travelling again and additional reasons to make a trip to Northumberland.
The PR strategy
With nothing 'new' to highlight, we needed innovative ways to drive Langley's visitor bookings and weddings and bring visitors to Langley's door. We recommended the creation of content, to provide a 'pull' factor and help increase occupancy rates, generate more weddings for two and boost footfall for daily Battlement Tours.
The first content idea
We firstly recognised Langley Castle's rich 672-year history as an untapped resource for children. We wanted to warm-up families for a visit, by providing compelling historical content that would support the Battlements Tour.
Our content idea was a Horrible History-style guide to Langley's history. We researched this extensively, assimilating all the facts to use but also including links to the National Curriculum for history, at various Key Stages.
Around this guide, we created an 'edu-staycation' concept and launched Langley's 'Hairy History' experience ahead of 2021's summer holidays. We linked the download to the amazing Battlement Tours and optional immersive tours of Hadrian's Wall, which offer the 'ultimate' historical experience.
We humorously talked of the castle's 'hairy history' and past owners' hairiness too, to make kids laugh. We designed illustrations, added edgy captions to specially sourced image library photos, created jokes, Roman sums and riddles. We commissioned a special front-cover illustration, featuring 'knight', Gilbert (ever-present in Langley's reception).
The second content idea
The second content idea aimed to make elopement cool and relevant, to boost directly booked 'weddings for two' and increase awareness of the castle's elopement weddings. A Langley Castle 'elopement guide' was recommended and we compiled interesting and 'how-to' facts about elopement (e.g. which celebs did it; how to legally elope; how to handle family objections) and so on. We included romantic experience suggestions in the wider destination and focused on being useful, rather than overtly promotional. However, we cleverly commissioned a charming cover illustration, featuring Langley as its backdrop, so couples always had the castle top of mind, when using the guide.
The third content idea
We then suggested a dog-friendly content download to sit on a new web page. We saw the massive boom in dog ownership and realised 10-acre Langley was a pet staycationer's dream. We conducted extensive desk research about walks, beaches, venues and wider Northumberland experiences, whilst also focusing on dog travel, dog safety, local veterinary care and protecting local wildlife. In short, it was dog-friendly added value for Langley visitors.
Our dog-friendly guide has no equal, being packed with useful content but also brimming with media story gems. Our ethos was to tap into the mentality of the pet parent and 'humanisation' in pet ownership, so we created the 'Poochy Déjeuner' doggy accommodation concept – upmarket, canine castle bed-and-breakfast experiences.
Furthermore, a 'Scents of Place' guide detailed 7 best scents for doggies to track down, to enrich their time in Langley's grounds and special doggy 'Certificates of Stay' let a pooch prove they'd enjoyed an authentic castle experience. Meanwhile, an incorporated 'Doggy Pawsport', earned a dog a treat, when shown at reception.
Results
Our content has made a significant difference to the castle, fuelling a boom in directly-booked weddings for two and ranking the castle highly for elopement weddings and dog-friendliness.
The PR work that we carried out around all of the content led to Inclusion in all 'castle hotel' editorials, ranking typically highly and in titles including Sunday Times, ,MSN, Red, Guardian and Daily Telegraph. It also led to us generating history-specific pieces in the Sunday Telegraph and Daily Telegraph.
Meanwhile we generated dog-friendly editorials in Yours, That's Life and The Sun and key doggy influencer, 'Marcel Le Corgi', was attracted to stay.
The impacts on occupancy and Battlement Tours were notable and profound and the content also helped Langley Castle to win a Gold Award for Resilience & Innovation at the NE Tourism Awards 2022, leading to a Silver Award at the national Visit England Awards 2023.