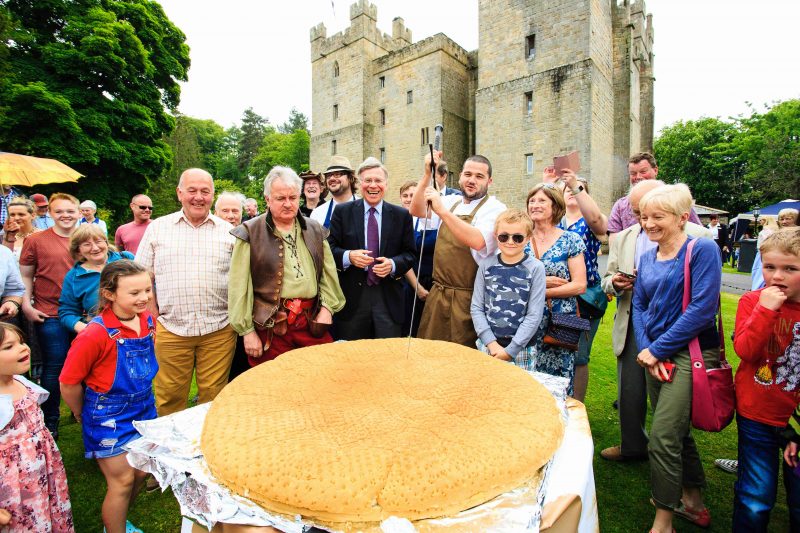 March 27th, 2019
Champion for a Day
Our client – medieval Langley Castle Hotel in Lower Tynedale, Northumberland, struggled to gain in-county exposure and needed to find a way of generating news coverage, to remind people of its existence.
To address this issue, Catapult PR suggested Langley become the champion of a Northumberland Day, on which the county could celebrate its culture, history, landscape, sport, music, arts and crafts and industrial heritage.
We put out a call for a Northumberland Day, which resulted in strong support and a double-page spread of coverage in the Newcastle Chronicle. We then brought a host of influencers together, inviting visitor attractions, cultural bodies, business groups, independent businesses, government officials and arts sector organisations to a presentation of the vision, gaining unanimous support for the idea.  At this stage, our passion, creativity, media relations skills and content expertise all really kicked in and our next steps were to:
Renew the call for a Northumberland Day call, whilst burying a headline-grabbing time capsule inside a huge Nebuchadnezzar champagne bottle
Launch a community-wide search for a 'Child's Letter to the People of the Future'
Stage a media call to officially announce the day
Create a 5-location workshop roadshow, to encourage community, tourism, business and school participation
Design a Northumberland Day logo, with Northumberland's 'O' replaced by a heart in the county colours, representing civic pride/passion
Launch a Northumberland Flag Challenge, to encourage Facebook posts featuring the flag pictured in unexpected places worldwide
Create free website northumberlandday.net to showcase events and 'ways to get involved'
Produce content for networks such as U3A, Community Action and CVA Northumberland, plus parish newsletters and hotel websites
Conduct an intense media relations campaign, supplying early copy to the Courant, Living North and ITV news researchers, whilst teeing up three BBC Radio Newcastle interviews, plus Heart Radio interview, the week before Northumberland Day. We also met with the Northumberland Gazette and agreed to supply a story per week, for six weeks.
Fuel community participation, through the creation of the 'Northumbies' – quirky awards rewarding 'Best Dressed Village', 'Best Designed Event', 'Most Inspiring School' and 'Best Community Involvement', funded by community-focused sponsors that Catapult also sourced, and made by a local fused-glass artist.
Create a compelling curtain-raiser – the unveiling of the 'World's Biggest Stottie', at a free-to-attend public event at Langley Castle, which also featured Border Reiver re-enactment and falconry. This super-sized Northumbrian treat created huge visual and human interest and The Courant got an 'exclusive' – a pre-reveal photo opportunity.
Source prizes from partners for 7 Facebook competitions, some boosted to gain more followers.
 The results were:
First-ever Northumberland Day, celebrated county-wide, uniting rural and urban communities
Community engagement:

2913 Facebook follows; 51,943 engagements; 595,296 reach in 4 months
19,428 comments/shares/reactions
Events attracting/involving 25,000+
Flags waved in schools, villages, towns, Spain, NZ – even Edinburgh Zoo!
71 events; 52 participating organisations/networks

"We united two halves of our village" (Haydon Bridge)
"We facilitated opportunities within and beyond the traditional primary curriculum for parental engagement, uniting our community and achieving visible outcomes". (Newsham Primary).
"The project helped the children develop socially, physically, emotionally and intellectually" (Commissioners Quay Inn).
"Turbulent Tales was a team event, positively impacting on Hexham and the wider area and increasing economic activity. It involved many local community volunteers" (Hexham Abbey)
The event attracted all sections of the community. People of all backgrounds and abilities celebrated Northumbrian culture." (Headway ArtsSpace)
"It was an excellent catalyst for different village groups to work together with one goal in mind, benefiting all equally. We derived the feel-good factor." (Beadnell Village)
Plus:
2001 column inches/80 articles (69 in-county) – Langley keyword in 71%
72 online articles
Front-page (The Journal); Front-page lead (Courant)
Positioning as 'Northumberland's champion'
Print audience reach (circulation) 7,746,472; Broadcast 3,523,000
Online readership 595 million; 530,000 coverage views; 4,120 social shares (Coverage Book)
Six BBC Radio Newcastle + Heart interviews
ITV Tyne Tees, BBC Northeast, Hexham TV, Made in Tyne & Wear (11 mins) coverage
Best of all, Langley is now associated with Northumberland Day for ever more, thanks to having been its originator and champion.  The benefits will continue well into the future.
With all of this success, it is not surprising that this campaign scooped 3 top PR and marketing awards in 2017 (the CIPR PRide Award for Best Community PR Campaign; the Northern Marketing Award for Best Tourism and Leisure Campaign and the CIM Northern Award for Best B2C Campaign).  It was also shortlisted as a finalist for another 10 awards!