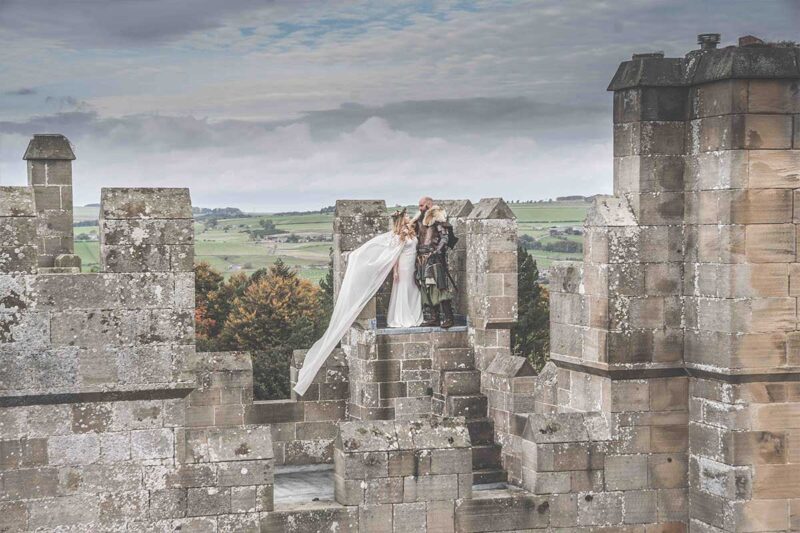 March 27th, 2019
Winter's Coming
When Northumberland castle hotel, Langley Castle, sought to raise greater awareness in the weddings sector, Catapult PR came up with an idea that has captured media attention, formed the basis of amazing exclusive-use options and been a concept bringing wedding traffic into the website. It also generates the best engagement on the Langley Castle weddings Facebook page!
As Langley is a gem of a property – and a castle at which everyone should be vying to wed – Catapult considered the architecture of what may be England's only medieval castle hotel and drew comparisons with Game of Thrones back-drops. This also had a historical context, as Langley is just a stone's throw from Hadrian's Wall, the inspiration for the Wall in the hit TV show.
Catapult then identified hugely talented photographer, Sean Elliott, as an artist who had experience in creating Game of Thrones-style images. It persuaded him to work with the castle and arranged an incredible shoot within its seven-feet-thick walls.
The result was a series of stunning photographs for use in the bridal sector, but this was only half the story. Catapult also delved into Game of Thrones quotations and picked out the most inspirational, turning these into perfect captions for some of Sean's incredible pictures. It created a wedding brochure with a storytelling wedding narrative that leads the bride and groom into and through the castle and then on towards wedded bliss. The exquisite copywriting has already inspired enquiries, or bookings where the concept was a hook, even if the couple then wanted a more traditional wedding.
We would like to think that this truly innovative approach helped Langley Castle become North East Hotel of the Year 2018; it certainly formed part of the submission and interview! Additionally, Langley won the Luxury Lifestyle 'Best Hotel for Romance' 2018 award and came runner-up as the magazine's Best Boutique Hotel.
Here are some of the articles from this initiative.
https://www.bridemagazine.co.uk/articles/langley-castle-launches-game-of-thrones-inspired-weddings
https://affinityweddingsmagazine.co.uk/game-of-thrones-inspired-weddings-at-langley-castle/
https://www.weddingwire.co.uk/castle-wedding/langley-castle-hotel–e18450/fotos/31
https://www.northumberlandgazette.co.uk/news/northumberland-hotel-launches-weddings-inspired-by-game-of-thrones-1-8845230
https://www.chroniclelive.co.uk/news/north-east-news/fancy-game-thrones-wedding-theres-13873393
https://www.femalefirst.co.uk/weddings/langley-castle-game-of-thrones-themed-weddings-1106238.html
https://www.yournortheast.wedding/wedding-news/12051/wedding-news-feature
https://www.sunderlandecho.com/lifestyle/north-east-castle-offers-game-of-thrones-experience-for-couples-1-8973037
http://www.hotel-magazine.co.uk/langley-castle-named-uks-most-romantic-hotel
https://www.yournortheast.wedding/wedding-news/12051/wedding-news-feature