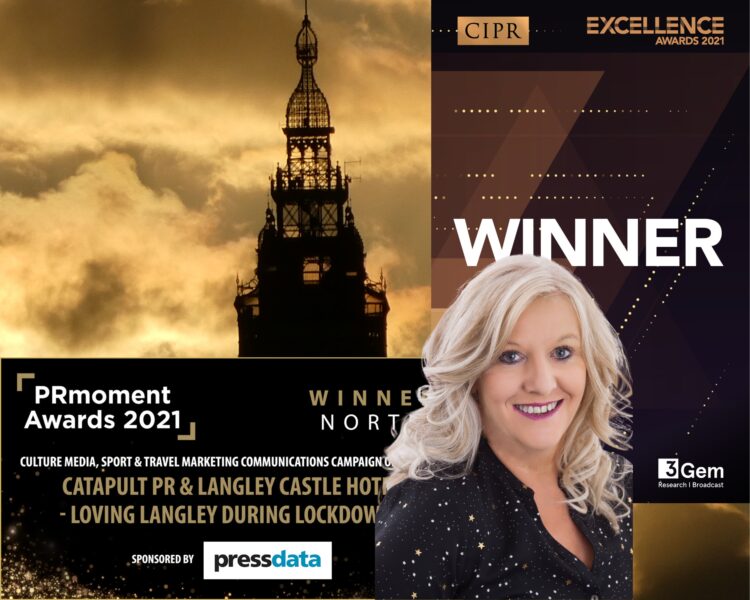 June 20th, 2021
Catapult Achieves a Double at National CIPR Excellence Awards
Happiness is achieving a remarkable double victory at the most prestigious awards in our sector – the Chartered Institute of Public Relations (CIPR) national Excellence Awards – as we have just discovered.
Catapult has won the national CIPR Excellence Award for the Best Corporate and Business Communications Campaign. Our managing director, Jane Hunt, has also become a two-times winner of the national CIPR Excellence Best Independent PR Practitioner Award. We also narrowly missed out on a third CIPR Excellence Award for a travel PR campaign. Not a bad day's work for a Lancashire PR firm.
The CIPR judging panel particularly noted the innovative approach to business PR that we adopted in our award-winning campaign in the retail sector and our diligence in using research to identify a little-known Government recommendation with regard to environmental sustainability. The judges then commended the way in which we built a highly strategic campaign around it.
For the Independent PR Practitioner Award, they highlighted the successful business plan and strategies adopted by Catapult PR, its successes for clients and the clarity of vision that Jane Hunt has with regard to our development at Catapult.
That clarity has enabled Catapult PR, with offices in Blackpool and Poulton-le-Fylde, to achieve phenomenal success in its 23 years, working with clients across many different sectors, with budgets of sizes and with companies ranging from start-ups to global insurance giants.
The two new national accolades make it a tally of three awards for Catapult PR in June 2021 alone. We also won a PRMoment Award for the Best Culture, Media, Sport or Travel Marketing Communications Campaign in the Northern PR Moment Awards, held earlier in the month.
At these awards, speaking on behalf of the judges, Claire Fowler, head of communications at Hays, noted that, "This campaign showed the power of a true PR approach, reverting to creative, timely media hooks in difficult circumstances."
Remarkably, the two new CIPR Excellence Awards are now just two of four of these much-coveted national awards that Catapult PR has won.
Jane Hunt has now scooped her second Independent PR Practitioner award, 9 years after winning her first, with that victory having come in the Olympics year of 2012, when she was presented with her award by athlete, Colin Jackson. In-between, she has been a finalist on several occasions.
In 2018, Catapult PR also won a CIPR Excellence Award for the Best Travel, Leisure or Tourism Campaign.
Jane Hunt says, "There's a big buzz to winning any award and already having three awards in 2021, taking our total to 44, is just amazing. The CIPR Excellence Awards are our Holy Grail, however, as they are not only national but extremely hard to win, especially for an agency of our size, working with budgets of the level that our clients have at their disposal. It's incredible that we have again secured two of these top awards, demonstrating that big spend is not as important as creativity and a compelling strategy."
Catapult PR has another award scooping opportunity for June, being shortlisted for two awards in the PRCA DARE Awards North 2021. The results of those awards will be revealed on June 29.