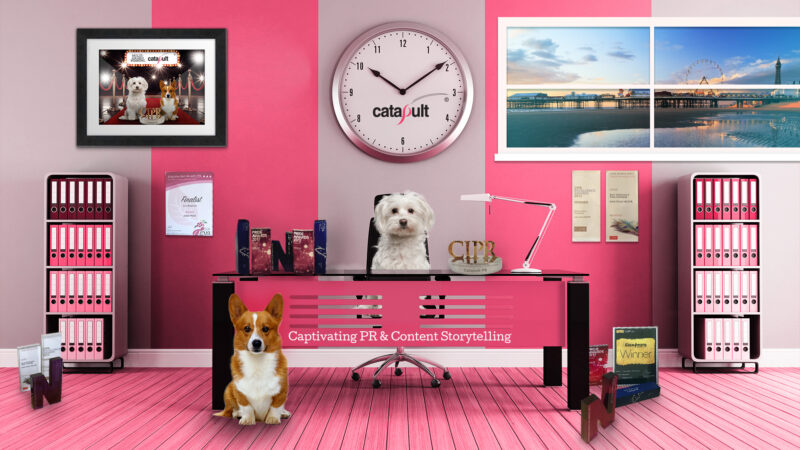 September 27th, 2020
Catapult PR Makes Pet Firms a Special Offer
Here at Catapult PR, we have this month been demonstrating the extent to which we do things differently, by commissioning a very quirky video to highlight our expertise in the field of PR for pet products, pet services and pet insurance, whilst extending a special offer to pet businesses worldwide.
We have worked with the genii at Superstar Pets – creators of unique videos featuring animated dog characters singing their own words to a well-known song – to put together a video that highlights our award-winning expertise and pet PR experience. Broadening the net a little, we also hint at our skills in travel and tourism PR – an area of crossover when it comes to dog-friendly accommodation and experiences.
Our video, as featured here in Pet Business World – features a cute Maltese and corgi who sing about our approach and success, to the tune of Black & Gold by Sam Sparro. The action originally occurs in our Catapult PR's offices, where some of our many awards have been cleverly scattered around the room. It then switches to a red carpet gala awards scene, subtly reminding everyone that we have experienced more than a few of those in the past 22 years!
Naturally, we know that there's been a real boom in pet ownership during the UK lockdown of 2020 and that the trend is continuing, thanks to working from home. We recognise the huge opportunity for those with a novel, stylish, vegan or unique and patented pet product, to launch this year and tap into this new and booming pet market in the UK. We also know that far too few pets have a pet insurance policy in their name and, with three decades of experience in promoting pet insurance (and virtually every other type of insurance you can name) under our belt, know that we are ideally placed to be the PR agency for a new or existing pet insurance provider.
However, we also appreciate that every little helps when it comes to marketing costs, so have built a special offer on our PR fees into a question that relates to our video. All a pet business or pet insurer has to do, is to play the video, paws the footage, get the answer and grab an amazing deal!
Any new pet clients coming to us for marketing assistance will get a hefty 20% reduction off their fees for the first three months of a PR campaign conducted by Catapult PR. With our fees being exceedingly competitive anyway, this could be great value-for-money for any business wishing to get started, or push on, with its PR, content (blogs, newsletters, special download documents and more) and general marketing.
"To be eligible for the discount, pet businesses need to listen to the lyrics and find out how many awards we have in our Catapult PR trophy cabinet. It is important to use the video to get the answer, as we have more awards in the offing and the tally may change," says managing director, Jane Hunt. "This fee reduction is of a size we've never offered before, so this is a one-off opportunity for a pet business or pet insurer.
"We wanted to do something different to highlight our expertise in the pet, insurance and travel sectors and we are thrilled with the video Superstar Pets created. It is already commanding attention on social media, as well as generating a great response. With this offer built around it, we hope to perhaps enable a few pet businesses to access more affordable marketing support."
To watch the video, simply head to the home page, or the pet PR page, at www.catapultpr.co.uk and play. Catapult will accept all fee-reduction applications received before midnight on November 30, 2020, from pet businesses approaching it with the right answer. Send the answer, along with your details, to tellmemore@catapultpr.co.uk We can then take a look at your PR or content brief, put a proposal together for you and see if you wish to proceed, having the offer applied to your fees.
Having already generated great coverage for Wamiz UK and PetPanion this year, we are all geared up to assist more pet businesses and animal rescue charities very soon. Dream clients would be many in this sector, although we would absolutely love to promote The Donkey Sanctuary in Sidmouth and Zoomark International 2021, in Bologna. But maybe you have a gem of a business that we don't know about that is equally as exciting? If you don't approach us, you won't know what we could do for you, to put you on the map, or further build your brand. Time to find out?