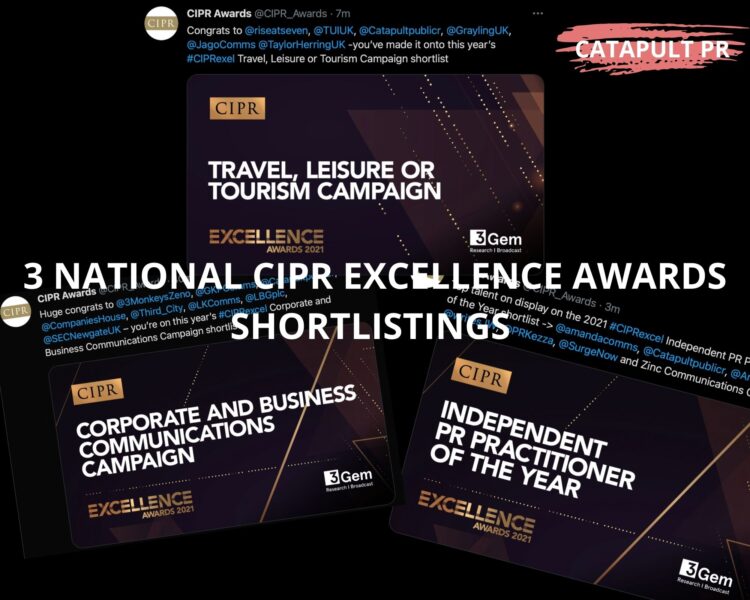 May 1st, 2021
Catapult PR Scoops Three National Awards Shortlistings
Lancashire PR agency, Catapult Public Relations, has achieved three national shortlistings, reinforcing its expertise in tourism PR and its reputation for creativity in both consumer and business to business communications.
The multi-award-winning Blackpool PR agency has earned three nominations in its industry's most prestigious awards, the national CIPR Excellence Awards. Catapult is a finalist in the categories of 'Best Travel, Leisure and Tourism Campaign' and also 'Corporate and Business Communications', whilst managing director, Jane Hunt is shortlisted for 'Independent Practitioner of the Year.'
The public relations work recognised takes into account specific campaigns for Langley Castle Hotel, located near Hexham in Northumberland, as well as results achieved for a London-based retail-sector client.
Other high-achieving campaigns, for clients in counties such as Cumbria, Yorkshire and Warwickshire, have been judged for the Independent Practitioner category. Catapult PR's unswerving commitment to its clients during the pandemic and excellent results for all, along with a 25% agency growth rate and strong client acquisition, have impressed.
Catapult is particularly delighted to now have accumulated so many award nominations for work in travel PR, in a year when its client has only been able to open for a few months, between July and early October 2020. Its positive PR helped generate a 97% occupancy rate during summer 2020, making a huge difference. Initiatives in the weddings sector and focused on the family audience are continuing to bring the exposure in, ahead of reopening on May 17, 2021.
Catapult PR's managing director, Jane Hunt, says, "To have achieved what we have, during the castle's closure is so rewarding and we cannot wait to see it open its doors again. We have another exciting initiative to launch over the next few weeks, so our creative ideas are far from exhausted. We have already won national and regional travel PR awards in past years, so hope to add to those.
The results of all of the awards schemes will be announced in June or early July, so Catapult is hoping for summer success and a chance to add to its current tally of 41 awards. More information about Catapult PR can be found at www.catapultpr.co.uk