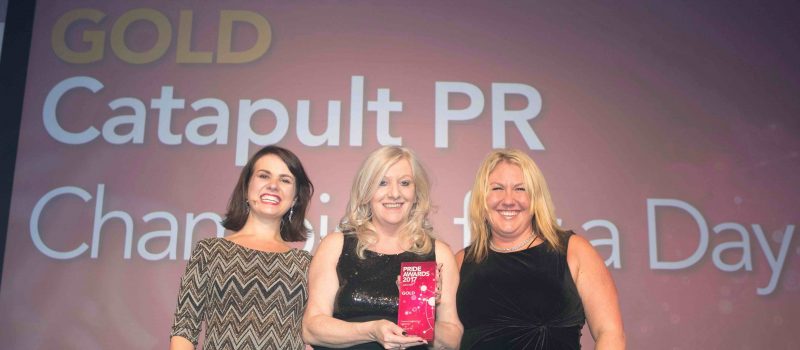 November 6th, 2017
Catapult PR Wins 3 Awards in 2 Days!
Last week saw some landmark achievements for Catapult PR. We'd set a goal of adding another award to the trophy cabinet, to get us off 24 and on to a nice round number of 25, but we've only gone and exceeded that by scooping 3 awards in two days. We've now got 27 and goodness knows how many runners-up and finalist accolades. Here's what happened …
Lancashire PR consultancy, Catapult PR, has scooped three top PR awards in just two days, becoming a winner in both the Northern Marketing Awards and the CIPR PRide NW Awards.
Catapult PR won the Northern Marketing Award 2017 for Best Tourism and Leisure campaign, seeing off some top competition in awards covering the whole of the north, from Staffordshire to Northumberland. The campaign, 'Champion for a Day' was conducted for its client, Langley Castle Hotel, and saw the castle bringing about the very first Northumberland Day.
The judges commented: "This was a really strong campaign, it had a big impact and ran on a very limited budget. A campaign with clear goals, budgets and a great understanding of their target audience and how to reach them. A worthy winner."
Catapult PR then returned from the CIPR PRide Awards NW with the top accolades of Gold PR Awards in two categories – Best Community Relations PR Campaign and Best Independent Practitioner. Here it competed against the top Manchester and Liverpool-based agencies and in-house marketing teams across the region.
Catapult was also a finalist in 5 other categories across the two award schemes.
Despite this success, the story may not yet be over, as Catapult PR is also shortlisted for a further five awards in the CIM Northern Awards, taking place on November 9.
Managing director, Jane Hunt, is particularly delighted to have won the top accolade for tourism PR. This is one of Catapult PR's specialisms and the consultancy represents tourism sector clients across Cumbria, Northumberland and Yorkshire.
It now hopes to represent more Blackpool-based tourism clients, such as Blackpool visitor attractions and hotels, as well as potentially managing destination campaigns in the boroughs of Blackpool, Wyre and Fylde.
Whilst its tourism expertise has again been recognised this year, Catapult is also rapidly becoming the PR agency of choice for community-focused campaigns, with the consultancy winning prestigious awards for community PR two years in a row.
Jane Hunt says: "Catapult is a specialist boutique PR agency and other marketing professionals, at both ceremonies, were amazed at what has been achieved, describing the success as "incredible". The award wins, plus the huge number of nominations we've enjoyed, show the power of creative ideas, hard work and commitment to clients' campaigns.