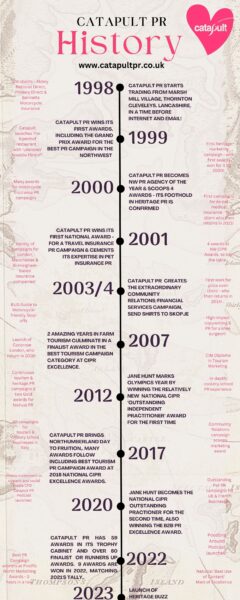 March 22nd, 2023
Catapult Publishes 25th Anniversary Timeline
Here at Catapult PR, we are celebrating our 25th anniversary as a Lancashire-based PR agency with national and international client reach, in a variety of ways, with one being a little nostalgic look back at our quarter of a century.
To do this, we have produced this little visual, which encapsulates key milestones along our journey, from a time in which the Internet did not exist and there was no email, to the present day, where we now have two podcasts, produce online content and wage social media campaigns for a wide variety of clients.
The fact that we have won 18 of our 59 awards in the past two years alone, would suggest that we haven't lost the knack of communicating in the right way. All that has changed are the communications channels that we use nowadays.
So please have a read and learn a little bit more about us and our story. If you would like us to tell your story, we are always here and ready to chat.