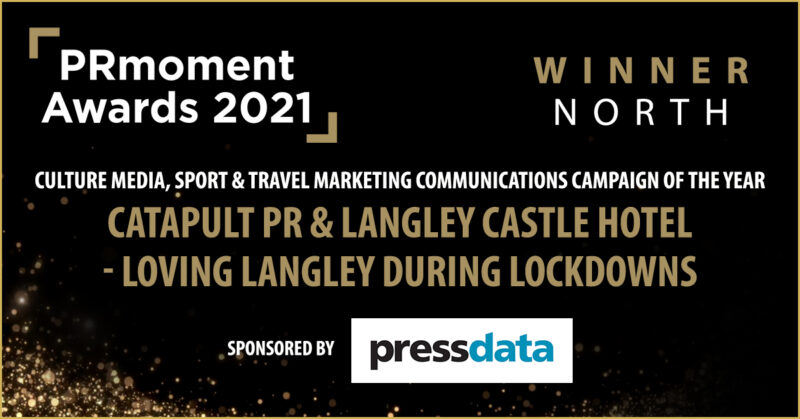 June 20th, 2021
Catapult Scoops Another Travel and Tourism PR Award
In June 2021, Catapult PR hopes it has laid down another marker as one of the (if not the) best public relations agency for travel clients and especially clients engaged in UK tourism – whether they are providing accommodation, entertainment or a service to UK residents and staycationers, or enticing inbound visitors wishing to visit England and all that it can offer.
Catapult PR has just scooped the PR Moment Award North for the 'Best Culture, Media, Travel or Sport' marketing and PR campaign, beating contenders from across what is a very broad definition of "the north."
Our campaign was not for a huge travel client with a massive budget but for an independent castle hotel in Northumberland, with a very modest budget. Our campaign was also for a business that was closed for much of 2020, proving that PR has a huge impact and is a vital means of maintaining communication with the outside world and prospective customers.
As travel PR campaigns go, it was far from the norm – not based around arranging press trips (after all, how could we during lockdown) – but about using media relations with real dynamism, to establish profile and thought leadership and be ahead of the pack once times returned (albeit momentarily in July 2021), to "normal", or rather the new normal.
In-between we sprinkled stories full of creativity and created amazing initiatives that have made a huge difference and become talking points.
We are delighted to win this PR Moment award, just six months after scooping the Best Travel PR Campaign Award in the Northern Marketing Awards. We were also a finalist for the Best Travel PR campaign nationally, in the CIPR Excellence Awards, and are currently shortlisted for another award for our travel public relations strategies and activities, this time in the PRCA DARE Awards 2021.
With other national and regional awards for travel and UK tourism PR campaigns already in our trophy cabinet and expertise across the UK tourism spectrum in our locker, from destination PR and PR for visitor attractions and farm attractions, to PR for hotels, B&Bs, campsites, cultural and heritage attractions and festivals and events, we feel we can lay claim to being one of the top travel PR agencies in the UK. And, of course, given our copywriting skills, we can also provide every type of copy that a travel business requires, be that for websites, blog articles, brochures or newsletters.
Ironically, we are a Blackpool-based PR agency, which has achieved all of its award-winning success in travel and UK tourism PR for clients in the rest of the country. Perhaps, one day, Blackpool will latch on to what we can do!