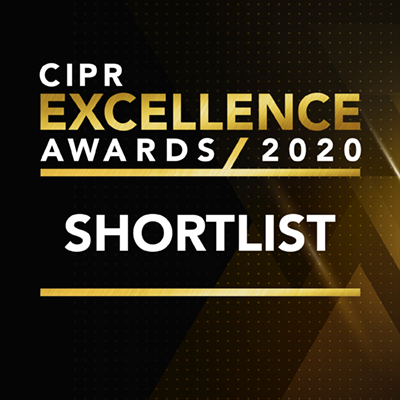 April 10th, 2020
Catapult Shortlisted for 2 National CIPR Excellence Awards 2020
In our 22nd year, we still continue to create 'firsts' and the latest example of this is perhaps the sweetest yet.
Getting to the finals of the national CIPR Excellence Awards – the crème de la crème of awards in the PR industry – is so difficult to do for a regional agency, even if you are in a city. Lancashire PR agencies don't get to the finals very often. These are awards dominated by the big brands and businesses and the global London agencies. Although regional agencies are better represented than they used to be, it's still really tough to gain recognition, as the playing field is not very even (and that's an understatement) when it comes to budget.
Notably, however, Catapult PR is through to the CIPR Excellence Award finals for an incredible fifth time! It's still a first, however, as we have never before had two finalist shortlistings in one CIPR Excellence year.
Our track record with these prestigious awards goes back pre-Catapult PR. MD Jane Hunt devised a financial services PR campaign for a Leeds agency, where she worked as a director, but was denied any credit for the work, as she had left the agency before the awards came around. It won a Gold Sword of Excellence – as these awards were then called.
Our own first national award was a PR Cream Award for the Best Consumer PR Campaign of the Year 2001 – just a few months after being NW PR Consultancy of the Year. The whole PR scene was different then, with these awards no longer existing and how you got to nationals being very different. There was no internet for online applications, so it was a time-consuming affair putting entries together manually.
In 2007, Catapult was shortlisted for its first CIPR Excellence Award the Best Arts, Tourism or Culture award, for our work for the North West Farm Tourism Initiative. We were runner-up to a campaign that had sent a man to 40+ countries to compare how blue the sky was! Mud and milking could hardly compete. This is how unlevel the playing field was then.
In 2012, Jane scooped a newly created award at these nationals – for Outstanding Freelance Practitioner. In 2018, she won the Best Travel, Tourism or Leisure CIPR Excellence Award, for her work for Northumberland Day.
Last year, she was a finalist for Outstanding Freelance Practitioner and she is again a finalist, in 2020. But this time, there's a second finalist position to add to this – for the Best Arts, Culture, Sport or Entertainment Campaign.
This year, there will be no fancy event at the Royal Artillery Gardens, as there normally is for the CIPR Excellence Awards (and very nice it is too!) The awards will be judged in a different way, with no panel interviews, at which we typically do well. We do not yet know how things will be worked.
As it is, we are still awaiting the results of the PRMoment.com Awards, which should have been held on March 18. We have three shortlistings in those and, again, have no idea what will happen there. Whatever does, it's continued success and not bad for a Blackpool PR agency!!
It's the strangest year ever and that is reflected in the awards world as well as day-to-day life. We have adopted a hugely upbeat attitude and have continued to generate great media results for our clients, through thinking differently and communicating differently. Let's hope we can continue to do so and that things return to normal soon. In the meantime, it's great to have uplifting news from awards judges who view our work and approach as outstanding, creative and exemplary.