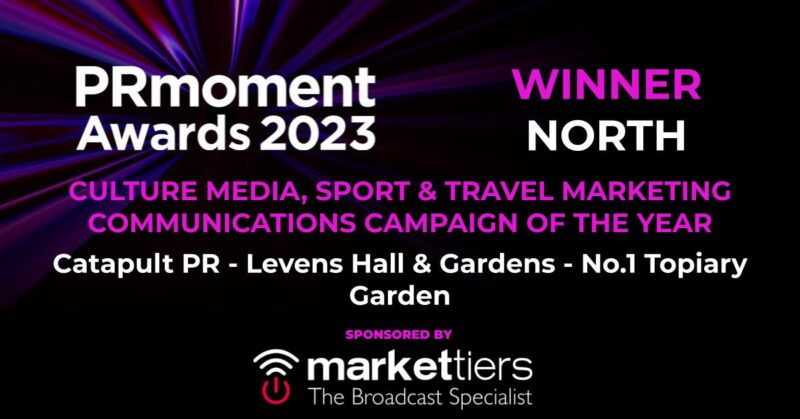 April 28th, 2023
Catapult Wins its 60th Award and its 5th PR Award for a Stately Home
What a week for Catapult PR! On Tuesday, we won the award for the best Culture, Media, Sport and Travel Marketing Communications Campaign of the Year, at the PR Moment Awards North – awards contested by agencies and in-house teams across the whole of the north of England, Scotland, Ireland and North Wales.
That feat took our total awards tally to 60 and our shortlistings or finalists total to around 90. Not bad for a small-but-creative Lancashire PR, copywriting, content and social media agency, in an unfashionable location and with a fee structure that suits start-ups and those with modest marketing sums to spend.
Today (Friday), we have just received two finalist shortlistings in the PRCA DARE Awards, in the categories of Low Budget campaign and Best Media Relations Campaign.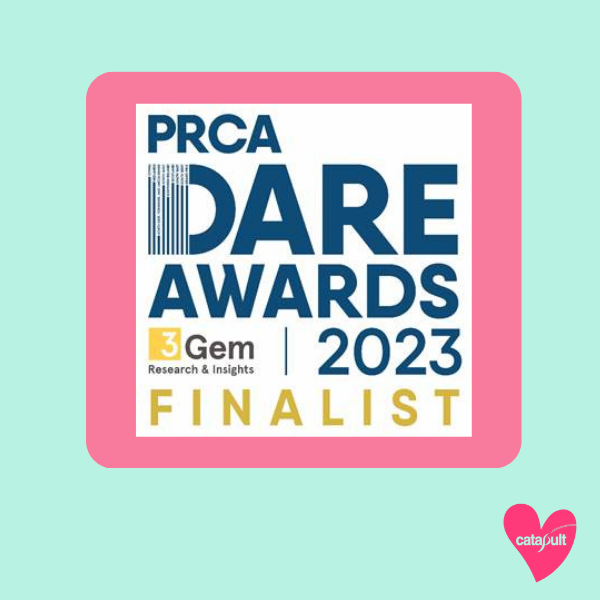 More stately home marketing success
Less than a month ago, of course, we also had notification of another two shortlistings – in the national CIPR Excellence Awards, which takes our tally of current shortlistings to four.
These accolades are all being received for our amazing World Topiary Day campaign, based on the concept of World Topiary Day, which we devised in the midst of lockdown, to help our client, Levens Hall and Gardens, attract international, as well as national, attention. That has most definitely worked over the past few years, with each World Topiary Day campaign gaining in strength and dynamism.
Heritage marketing awards won in 2022
If we say that this travel and heritage marketing campaign also won 4 awards in 2022, you can begin to see how great an idea it was. You may also perhaps appreciate how much we have poured into it, to lift an awareness day into something that has its own brilliant dynamic and into something that absorbs people, each and every year. We cannot allow it to be a static concept, so are continually brainstorming for ideas on how to bring it to life and switch things up.
Last year, it was judged the best PR campaign in the North, at the Prolific North Awards. It was viewed as the best Travel, Leisure and Tourism campaign and best Media Relations campaign in the NW, at the CIPR NW Awards, where it also took the Silver for bests Arts, Culture and Sport campaign – just being pipped by a sports campaign, so probably technically the best arts and culture campaign.
The different categories in which it is shortlisted, or in which it scoops awards, should highlight its depth and many facets.
So we are delighted to receive yet more accolades in 2023, but largely because we know how much we give to campaigns like this and regard awards as the third-party endorsement that demonstrates how high a standard we achieve.
Heritage Buzz marketing and PR

As we have now launched our Heritage Buzz marketing, PR and social media service, for heritage homes and historic houses (or stately homes and gardens, if you prefer), museums, arts venues, literary houses, heritage railways and steamboats … and anything else loosely heritage-related, chalking up these successes for World Topiary Day must surely be the best way to convince clients that they can put their heritage marketing in very safe, but also hugely creative and results-focused hands.
And, as a footnote, we are delighted to win anything in a category that also includes sports campaigns, which we do not feel should be judged alongside arts and culture campaigns. Why? Well sports-sector budgets can be phenomenally large and the subject matter somewhat sexy – anything ranging from a top Premier League football club to a major high street sports brand with huge sums to spend on promotion. How much better is it, to take something with a very modest budget and a fan base that doesn't comprise millions, and put it centre stage, on a true world platform?