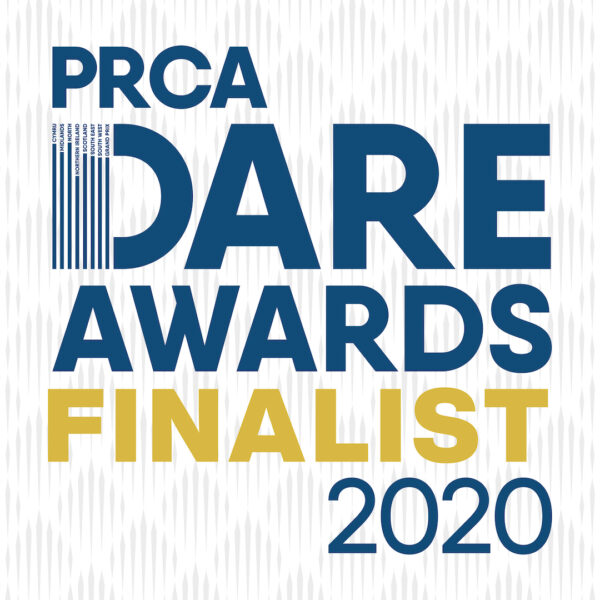 June 20th, 2020
Daring PR Leads to 5 Awards Shortlistings
We have just notched up an incredible five shortlistings for the PRCA Dare Awards North – the awards of the Public Relations and Communications Association, which accept submissions from PR agencies and in-house PR departments from across 10 counties (i.e. a huge area!).
There are reasons for this stellar performance and why we have more nominations than so many others, of course. We may be a coastal Lancashire agency but we think big. We don't do the mundane and mediocre. We do daring. We specialise in just daring PR and copywriting and getting our messaging and communications right for clients. We attract clients from across the country and overseas, who want our brand of daring and are seduced by our creative thinking or compelling copywriting.
As a Blackpool and Lancashire PR agency, we stand out from others because we're not trying to be all things to all people by being a general marketing agency with a PR arm or just one person on the team. We pour decades of PR experience into what we do, rather than being generalists without that insight and know-how. And, we do daring on tight budgets a lot of the time, which means we have to think big, if we want amazing results. There's no complacency. No time to sit around chatting in the office kitchen. No room for those not giving 100%. The coffee cup on our awards table says: 'Today, I did not get up to mediocre' for a reason.
We've blitzed it during lockdown and haven't had three months in the garden like some. It has been exhausting at times, not just running campaigns for clients who stayed calm and carried on, but supporting them on the phone, when they just needed to chat. That's why these award nominations really do mean so much. We cannot describe how hard we've worked, with many 16-hour days thrown in, not to mention weekend-long working.
Two nominations reward us for having to be agile and completely swapping public and media relations strategies for Northumberland Day 2020, an event which took place right in the middle of lockdown. We pivoted, acted fast and delivered the first-ever virtual county day, leveraging social media marketing to the full, as part of our new PR strategy. We may have been the first to think virtually in this way and certainly saw nobody else talk about going virtual with such an event, prior to announcing that we would. Our decision came hot on the heels of dramatic escalation of the crisis. We had to scrap well-made plans but our virtual day was phenomenal.
We are nominated for the Campaign Challenges Award and the Best Not-for-Profit Award for Northumberland Day 2020 and we feel we deserve this. it was an outstanding community relations exercise and a measurable crisis PR response that enabled Northumbrians to still come together and celebrate their county day. There is no doubt that we are the UK's county day experts, having lost track of how many awards we have won, and additional nominations we have had, for this county day.
Then there's been the creation of Kitchen Passports – the first response to the Government's Resources & Waste Strategy across not just the kitchen sector, but pretty much every sector in the UK economy. We've created a means to extend the cradle to grave life of a kitchen, to help save the planet and better utilise its resources. It's the perfect thing for kitchen recycling pioneer, The Used Kitchen Company, to do and our client and her sector absolutely love it. We have fully established her as her niche's thought leader but also as achieved positioning as an expert and green hero who is shaping her sector, its agenda and its future.
We're nominated for Best Media Relations Campaign and Best Trade/B2B Campaign for this work. Just wait until we can finally do the consumer media launch, which has been delayed because of lockdown!

Then there's a nomination for Professional of the Year for our MD, Jane Hunt, who has worked more hours during lockdown than is actually possible to even contemplate, being the consummate PR consultant and specialist, making sure clients' businesses gained valuable media exposure, often when their doors were shut.
This resilience and tenacity has led to us gaining PR clients in Cumbria, Greater Manchester, Surrey, Lancashire and South Wales, not to mention northern Italy. These accounts span the sectors of hospitality, health and fitness, pet, food and drink and finance.
We've also grown some existing accounts, by writing on-point content, in the form of corporate literature, booklets and monthly blogs and articles, for clients who recognised the need to be proactive during lockdown and keep in touch with customers. Our content creation has been as exciting as our PR initiatives.
We've had a huge amount of praise for what we've done for clients and hopefully these DARE Award nominations demonstrate that the work we've created was beyond the pale. We've really proved that she who dares wins, whether we scoop a trophy or not. We believe we stood up to be counted, as a PR firm and consultancy and did not go AWOL. Having the PRCA recognise this, (particularly as the CIPR have scrapped their regional awards this year (presumably not realising there are small, dynamic and truly dedicated PR agencies like us who keep calm and carry on) means everything.