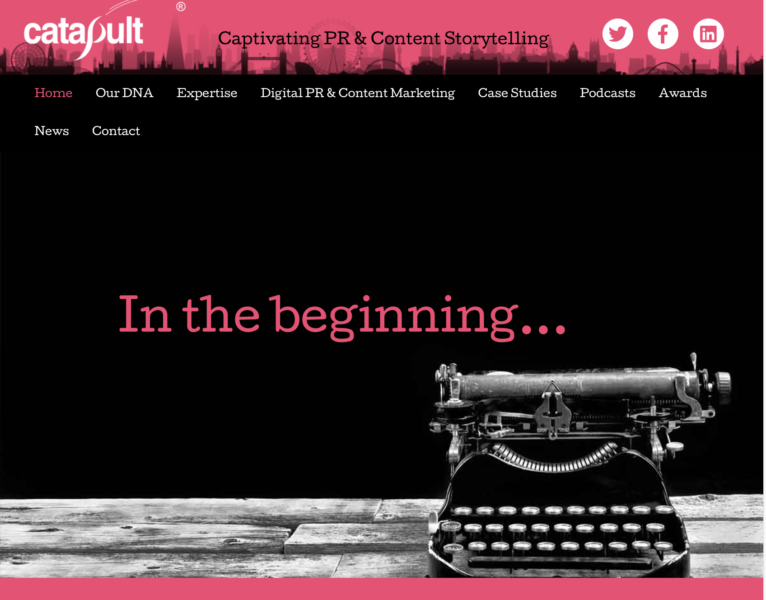 March 29th, 2019
Delighted With Our New 21st Birthday Website
Catapult PR is delighted to launch its new website, as of March 29, 2019, as part of its 21st birthday celebrations and to signify a new stage in our development as an agency, as we enter our third decade of producing award-winning and top-quality PR campaigns from our Lancashire base.
The website has a moodier feel, with monotone imagery symbolising our lengthy roots in traditional PR and marketing and paying homage to the history of content creation, all the way back to the typewriter! The adoption of coral spot colour represents our work within the world of digital marketing and slightly rebrands us, ensuring our vibrancy as an ideas-led, creative PR agency still shines through.
The banner on our home page stitches together the city skylines of London, Manchester, Leeds and Newcastle, communicating the fact that, although we are a Lancashire and Blackpool-based PR agency, our clients come from these cities and other places right across the UK.
The website also highlights our fastest growing area – web content and web copywriting – and provides more information on how our powerful storytelling spans both PR and digital PR.
Having won the national CIPR Excellence Award in 2018, for the 'Best Travel, Leisure and Tourism' campaign, we have commissioned our own research into the visitor attraction sector and what UK consumers feel about visitor attractions in the UK. The findings have been illustrated and produced in a short-run printed booklet, available as a download at the new website.
Also new are stories about just some of our 32 awards in the trophy cabinet to date, along with a roll-call of honours won and some of the more recent shortlistings achieved.
And, there is a brand-new area in the form of our new podcast area – a truly exciting development.
If you want to really get to know who we are, you can head to our DNA section – or just use the enquiry form or nearest call-to-action button, to get in touch.
We absolutely love our new website, even if it has taken a long time to bring our vision to fruition. Many thanks to Quentin James Design for giving us exactly what we wanted. Watch this space for our next development!