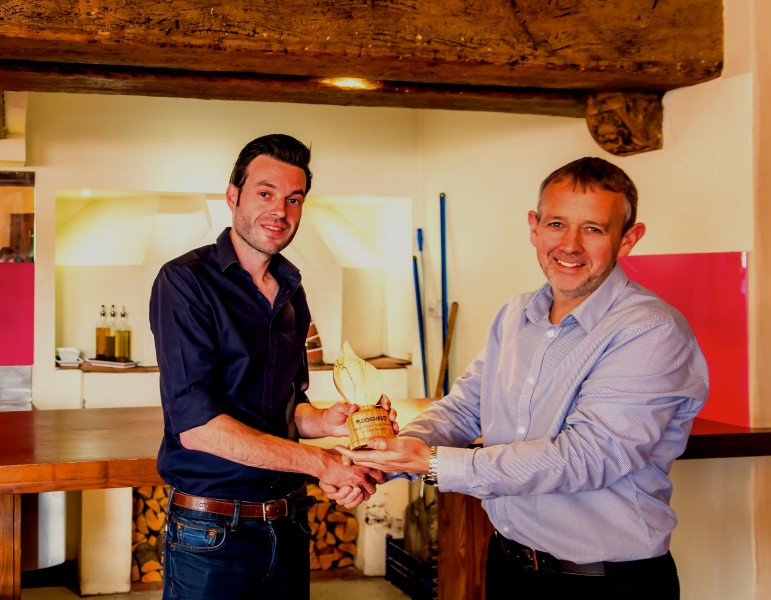 August 11th, 2015
Derbyshire Dining Pub Scoops Britain's Third 'Woody' Award
A Derbyshire dining pub operating a seven-day-a-week wood-fired pizza menu, alongside a la carte choices, has become the third winner of a coveted 'Woody Award'.
The White Hart at Duffield has scooped the 'Woody', like Italio in Blackpool and The Pizza Guy in Yorkshire before it, thanks to submitting fabulous customer comments about the wood-fired pizzas they have enjoyed.
The Woody Awards are the brand new dining out accolades created by kiln-dried wood specialist, Logs Direct. They are awarded to restaurants, pubs, other eateries and mobile caterers offering wood-fired dishes.
Wood-fired pizza, cooked in a Valoriani Tuscan clay oven, is a major part of the White Hart's menu. Eleven varieties of pizza tickle diners' taste buds, from Hoisin Duck, to Pescatore (with king prawns and anchovies) and the White Hart Special (Napoli salami, parma ham, chicken, sun-blush tomatoes, mushrooms and fiery jalapenos.
Pizza can be enjoyed from noon to 2.30pm and from 5pm-9.30pm, Monday to Friday, all day from noon to 9.30pm on Saturdays and from noon to 8.30pm on Sundays.
"Served with the authentic taste of Italy, thanks to cooking with a real fire and the consistency of heat provided by our kiln-dried logs, The White Hart had all the ingredients to make it a Woody winner," said Logs Direct's director, Stephen Talbot. "However, the award is given on the basis of customer testimonials and it was the great customer comments that the Woody judges could not ignore."
Graeme Leggett, manager of the White Hart, said: "We are delighted to scoop the Woody Award and become the first eatery in Derbyshire to do so. We invested in a wood-fired pizza oven and recognised that our choice of logs would be crucial. We chose Logs Direct because we knew that top chefs use them and that their moisture content is less than 20 per cent, which means no spitting and smoking and an oven that gets up to temperature quickly. This allows us to ensure that every pizza is cooked to perfection and to now have that recognised, through this award, is fantastic."
The search is now on for the next Woody winner, so wood-fired eateries across the country are urged to get their entries in. More information about the Woody Awards is at https://www.logsdirect.co.uk/blog/2015/04/ Details of the White Hart are at www.whitehartduffield.co.uk