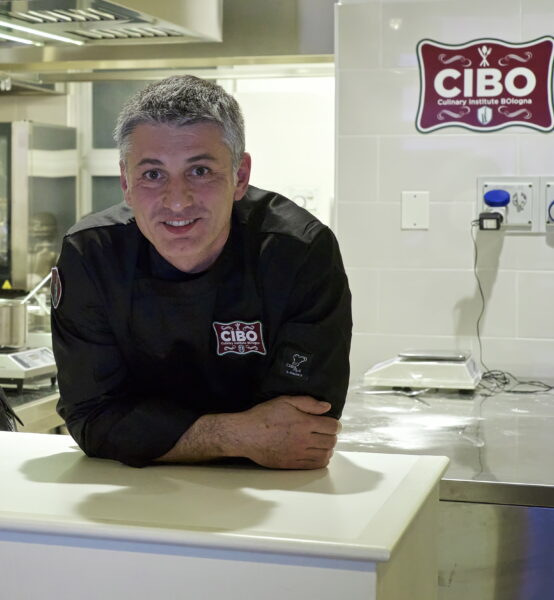 October 23rd, 2015
Grigg & Corvucci To Share Kitchen At Unique November Dining Extravaganzas
Foodies wishing to treat themselves to a unique and unforgettable culinary occasion are already securing their place at one of two extraordinary food and drink events at Langley Castle, Northumberland, on November 18 and 19, for which the menu has just been announced.
On those evenings, the Langley two-rosette kitchen will be the domain of not just Langley's executive chef, Dan Grigg, but also visiting guest chef, Stefano Corvucci, known as the 'Boho Chef' and head of CIBO – the Culinary Institute of Bologna cooking school for amateur and professional chefs. Stefano is also the owner of two restaurants in the ancient city that is renowned for serving the very best food in Italy.
The two exclusive events will be extraordinary not just for their food, but also because diners will have access to both chefs, to hear how and why they prepared the meal in the way they did, why food is their passion and why food tradition is so important. These should be lively interactions, with the Boho Chef being known a raconteur who has followed the narrative style of his food hero, Pellegrino Artusi, an entertaining 19th century foodie traveller.
An incredible, one-off five-course menu, supplemented with canapés, breads, oils and butters, amuse bouche and petit fours, has been jointly devised by both Dan and Stefano – who is making his first ever culinary trip to the UK.  This will be served in Langley's contemporary dining venue – the Glass Pavilion – and tickets are limited in number for these exclusive events.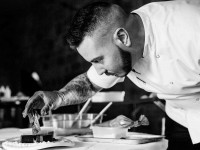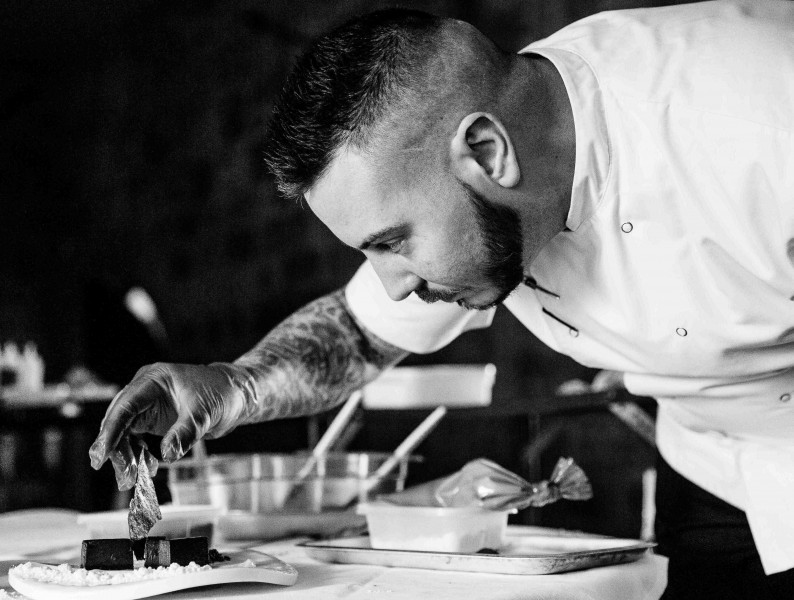 The menu combines both chefs' favourite foods in season and culinary techniques, whilst also drawing on food tradition from both Britain and Bologna. It has involved both chefs compromising and discussing how best to thrill diners with a unique and exclusive fusion menu that will never be created again.
The Menu
The meal will start with black olive tapioca crackers and squid ink arancini served as canapés. Rosemary and garlic focaccia, chargrilled ciabatta, and the olive oil and chicken skin butter of both chefs will be served to diners, who will also be treated to an amuse bouche of foie gras ganache, brioche ice cream and sour apple.
The starter will be ravioli of porcini mushrooms, with pickled shimigi, a confit of artichoke and a roast garlic espuma, whilst the fish course will be a delicious dish of halibut with a sweet potato brandade and almond granola.
The meat course is a tasty regional dish of Herdwick mutton, with roast shallot, white polenta and sherry caramel, whilst the pre-dessert is iced limoncello, with lemon verbena espuma and basil caviar. This is followed by a typically Bolognese dessert and petit fours of candyfloss and cornetto.
As part of this foodie extravaganza, each of the five courses will be accompanied by wine pairing and guests will have a taste of the ideal wine to compliment each dish. At the end of the meal there will also be a tutored brandy tasting.
Langley's general manager, Anton Phillips, says: "These two evenings are going to make history at Langley – a castle that already has more than 600 years of history within its 7-foot walls. We have never had two 'head chefs' sharing the same kitchen and the fact that one is from overseas, with his own food traditions and style, makes this truly extraordinary. We are looking forward to welcoming Stefano and thrilling diners with the menu that both chefs have created."
Stefano Corvucci adds: "This is a big thrill for me. I am truly excited to be coming to the UK, to cook in the castle known as the time capsule castle, and am proud and honoured to have been invited. I am looking forward to working alongside Dan and thank him for allowing me to share his kitchen for a day of preparation and then two days of cooking. It should be enormous fun and great food theatre for diners."
Tickets for this event of fine food, the best wines and brandies and interactions with both chefs, cost £95 per person. Those event attendees wishing to stay over can do so at an offer rate, whether that is in a sumptuous Castle Feature Room, or a luxurious room in Castle View, in Langley's glorious grounds. All will be treated to a hearty Northumbrian breakfast the following morning.
Langley Castle, rapidly becoming known as a destination dining venue, is located in Langley-on-Tyne between Carlisle and Newcastle-upon-Tyne, and close to Hexham. Foodies can call 01434 688888 to book places, whilst tickets, and rooms, if required, whilst both are still available.
The fusion event has been arranged by Catapult PR, in association with its two clients, Stefano Corvucci and Langley Castle.  Both are part of a portfolio of food and drink PR, catering and hospitality PR and tourism and travel PR clients, at Catapult PR, which extends across both the UK and Italy.  Catapult PR's food and drink and travel clients not only benefit from such opportunities to work together, but also receive access to other facilities, provided by Catapult Public Relations, which maximise their exposure in the media.