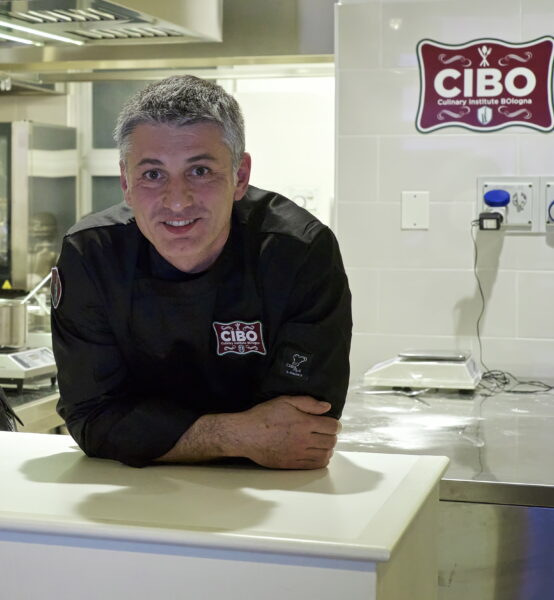 October 31st, 2015
Lancashire PR Agency Masterminds Boho Chef's Culinary Tour
A Poulton-le-Fylde PR consultancy has masterminded a series of culinary extravaganzas across three counties by utilising all of its food, drink and travel PR experience and its growing reputation as as the go-to specialist in dealing with PR for chefs and Italian brands.
Lancashire-based Catapult PR has engaged in some inter-client networking, between England and Italy, to engineer an exciting schedule for the 'Boho Chef' (Stefano Corvucci), head of CIBO (the Culinary Institute of Bologna), for whom it became the PR agent in spring 2015.
CIBO attracts amateur and professional cooks and passionate foodies from all over the world and Catapult PR's MD, Jane Hunt has also learned the fun of cooking at CIBO, by taking a one-day course with Stefano. As well as running Bologna's only dedicated cookery school – located in the heart of the city known as the spiritual home of Italian food – the Boho Chef also owns two restaurants and has over 30 years experience of cooking.
This will be Stefano's first trip to the UK for public appearances and events, although he has cooked for some of America's richest families, been a guest chef at the Maine Lobster Festival and conducted chefs' training in restaurants in New York.
His first UK engagement will be as guest judge of 'Seaside Chef of the Year' – a concept Catapult devised for its client, Aspect Bar and Bistro in Morecambe, after Aspect won the 'Best Bistro in England' title at the FOOD Awards 2014.   The idea has been hugely successful and will culminate in a cook-off at Aspect on the evening of Sunday November 15, for which tickets are available.  Aspect is also currently shortlisted for the FOOD Award title in 2015 and in the Taste Lancashire category of the Lancashire Tourism Awards, where the judges were keen to hear about Seaside Chef of the Year.
Stefano Corvucci will use all of his experience as a chef and owner of one of Bologna's most successful fish restaurants, to help Aspect's owners and chef, Gavin Riley, decide the winner of a contest that has attracted entries from chefs around Britain's coastline and helped change the image of seaside food.
On November 16, Stefano will head to Kendal College, to spend a morning demonstrating dishes to the highly-respected catering college's catering students, sharing his culinary techniques and tips, answering questions about traditional Bolognese cuisine and the operation of a Bolognese trattoria and getting a feel for their training during a tour of the catering college.
On November 17, he will be hosted by Catapult's client, Langley Castle, based in Langley-on-Tyne, Northumberland. He will spend a day in the kitchen of the luxurious, 14th century castle, with executive chef, Dan Grigg (ex Samling and Gilpin in the Lake District), going through final preparations for two events they will jointly cater for on the evenings of November 18 and 19.
These will be true culinary extravaganzas and a five-course fusion of British and Italian-influenced food, served with canapés, breads and oils, an amuse bouche and petit fours. Fine wines will be matched with each dish and sampled by guests, whilst a tutored brandy tasting will end the meal.
The real point of difference, however, will be the chance to quiz both of the chefs and hear about their passion for food, and why they cook things in certain ways, as well as listening to their anecdotes. Tickets for this are selling fast to passionate foodies across the north west and north east, whist the Langley helicopter pad is standing by for diners from further afield.
Catapult PR's managing director, Jane Hunt, says: "It has been exciting to plan Stefano's first UK visit and great to have been able to create events for the mutual benefit of him and some of our other food and drink clients.  We have covered all the things that Stefano can offer in the UK – guest chef appearances, catering tuition and chef training, cookery demonstrations and cooking for special events.
"We could still squeeze in maybe one other event, if a restaurant, hotel or other food establishment wanted Stefano to visit, or meet with him to discuss UK-based restaurant training, but would need to do that quickly."
Anyone wishing to know more can email Jane on jane@catapultpr.co.uk or call 01253 891114.