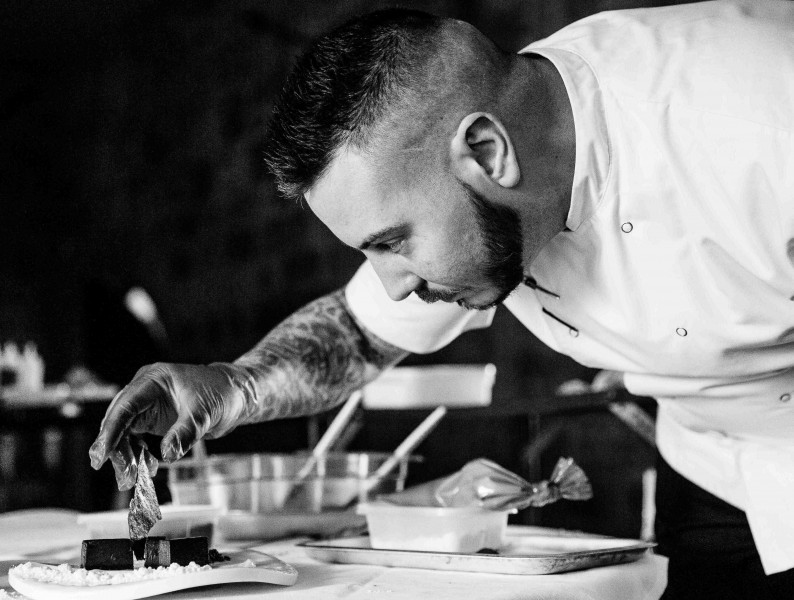 August 10th, 2015
Langley Castle Claims Most Hedonistic Afternoon Tea Experience as #AfternoonTeaWeek Trends
As #AfternoonTeaWeek starts trending on Twitter, luxurious Langley Castle, in Langley-on-Tyne, is claiming the most hedonistic afternoon tea experience in Britain for this year's Afternoon Tea Week.
Langley's executive chef, Daniel Grigg, is already arousing all the senses of afternoon tea seekers, whilst creating perfumed aromas that waft across the exquisite, historic drawing room of a venue in which passion has always run deep.
Daniel has created a phenomenal afternoon tea experience for this special foodie week in the calendar, which runs to August 16. His first pièce de resistance is the 'Blueberry Beguiler', which is backed up by a more manly 'Cigar Symphony'. Both are classic examples of Grigg's magical culinary trickery and demonstrate the profound talent of a chef aiming to bring a Michelin star to Langley.
Theatre and performance surround both diva dishes, which are as far away from the norm when it comes to afternoon tea, as anyone could imagine. Without spoiling 'the reveal', the Blueberry Beguiler is a true visual showstopper and an olfactory seducer, based around a blueberry ice-lolly and white chocolate. The sensational twist surrounding it can be witnessed by all the lucky observers in the room, thanks to the theatrical developments that occur once the dish is served. The Blueberry Beguiler also encompasses oysters with champagne perfume and apple churros served with cherry cider perfume.
The Cigar Symphony, on the other hand, is served in an ashtray and has both a chocolate overtone and undertone, as the ash from the cigar becomes something truly extraordinary within this particular scenario. It is a new 'take' on colonial-style masculinity and is accompanied by an alcohol-infused side that also adds its own drama. The dish also encompasses cinnamon churros with a cherry cider perfume.
Both are options that can be added to the normal Langley Castle Afternoon Tea menu, which comprises open bagels (honey roast ham and pease pudding, smoked salmon with crème fraiche and bronze fennel, truffled egg mayonnaise and compressed cucumber and rocket peston, as well as fruit scones served with clotted cream and preserves, a selection of cakes and the customer's choice of tea or coffee.
This extraordinary afternoon tea extravaganza is available at Langley Castle every afternoon from August 10-15, between 3pm and 5.30pm. Ring 01434 688888 to be in the auditorium and don't forget your iphone and social media log-ins, as you WILL wish to be part of the trending news.
Both the Blueberry Beguiler experience and the Cigar Symphony cost £12.75 per person, as a supplement to the Langley Castle Hotel Afternoon Tea experience costing £37.00 for two people.
Please call 01434 688888 to book these additional experiences, as they cannot be added on the day.
ENDS
Press calls: Jane Hunt, Catapult PR, 01253 891114 – jane@catapultpr.co.uk