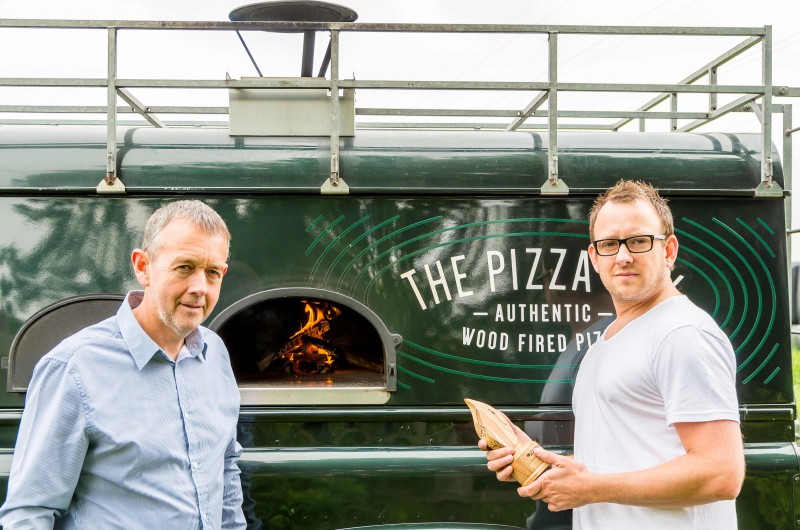 July 2nd, 2015
Leeds Mobile Caterer Scoops Britain's Second 'Woody Award
Leeds Mobile Caterer Scoops Britain's Second 'Woody Award'
An entrepreneurial and determined foodie from Leeds has become the second winner of a 'Woody Award' from restaurant-grade wood-fuel provider, Logs Direct – a brand new award that recognises excellence with wood-fired cooking in the restaurant and catering sectors.
The Pizza Guy, a mobile pizza chef and event caterer, who has innovatively fitted a wood-fired oven inside his Land Rover (Winnie), has scooped Logs Direct's June 2015 Woody Award. News of his success has coincidentally come just as the Pizza Guy, otherwise known as Simon Walker, is celebrating his business's first birthday, giving him a welcome boost and an endorsement of his first year's achievements.
He won the award – as will be the case with all Logs Direct Woody Award winners, on the basis of great customer feedback. One customer, who had commented, "Mmmm that took me right back to Naples," booked him for her wedding – a vindication hard to question!
Another great comment came from an Italian family, holidaying in Yorkshire. They chose the Pizza Guy's Marinara, which with its tomato base and fresh garlic, basil and olive oil alone, leaves nowhere for a chef to hide. As The Pizza Guys says: "They watched everything I did and I felt so vulnerable. The "bravo" they provided made my day."
"Getting a thumbs up from Italian diners is another reason why we are awarding out June 'Woody' to The Pizza Guy," says Logs Direct's director, Stephen Talbot. "We simply couldn't ignore the clear approval of his authentic approach to pizza cooking, which of course includes cooking with wood."
The Lancaster-based wood supplier should know, being in the enviable position of supplying some of Britain's best-known chefs and TV food personalities.
Simon's story is an interesting one. He originally trained as a chef, but gave up his love of cooking to pursue a career in the media. A year ago, following redundancy from a career in radio, he returned to his first love and set out on the road, to take pizza excellence to a wide variety of weddings, private functions and corporate events.
His Neapolitan-style pizzas use Caputo flour for the dough and San Marzano tomatoes, which grow around Mount Vesuvius, for the base. He always offers the original Margherita pizza, as well as a Marinara, but also provides other pizza toppings, of his own creation, to give his diners a true artisan and home made experience. One of these is his own creation of hand made Pizza Guy Italian sausage – a foodie treat that always leads to demand outstripping supply.
Choosing a wood-fired pizza oven was a no-brainer for Simon, as he believes that gas simply cannot deliver a true pizza experience. He has built his brand around the strap-line of 'Authentic Wood-Fired Pizza' and wouldn't consider anything other than cooking by natural flame.
By adding wood smoke to the cooking process, The Pizza Guy is able to satisfy his desire to add a subtle and unmistakeable taste to his pizzas, which is appreciated by anyone who has enjoyed a wood-fired feast in the Mediterranean. He also feels that being able to place and position the wood gives him greater control of the heat – ensuring a perfectly cooked pizza, every time.
Using Logs Direct's logs makes sense to this pizza expert. He says that the perfectly kiln-dried wood that Logs Direct provides, with a moisture content of less than 20 per cent, prevents plumes of smoke developing. The logs also burn much hotter than regular cuts of wood, providing reliability, consistency and the rapid turnaround of pizza that is so important to an event caterer.
He is also tempted by the thought of using one of Logs Direct's speciality fruit woods, particularly if smoking a food that cooks for longer in the oven.
Commenting on his Woody, Simon Walker says, "I'm over the moon to win a Woody. It's an amazing bit of recognition for a business that I've worked so hard to put together. To also win the prize, purely by coincidence, on our first anniversary, makes it even more special. It is simply the
best birthday present for us and Winnie (the Land Rover!)"
The Pizza Guy plans to use his Woody Award as a platform for marketing and lots of tweeting. "People will be telling me, 'Hey, you've won an award, have you … you should have said", he laughs, whilst admitting that he will be taking his Woody Award out on the road with him. "If you've got it, flaunt it!" he says.
His advice to other passionate wood-fired chefs, whether cooking in a restaurant, a mobile operation or an education establishment, is to enter the Woody Awards. His second year as a business will definitely be partly focused on shouting about why he became a Woody Award Winner so soon after branching out with his pizza oven.
More information about Logs Direct can be found at www.logsdirect.co.uk whilst the Pizza Guy's website is at www.thepizzaguy.co.uk