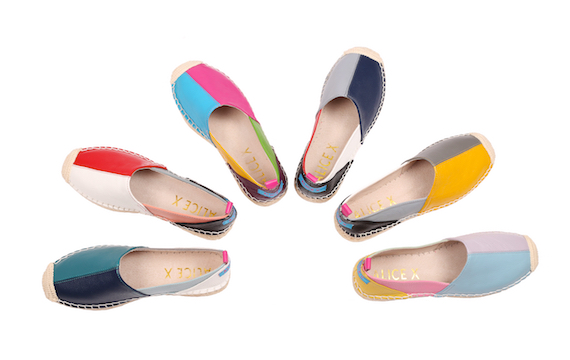 March 24th, 2018
Luxury Espadrille Brand Hotfoots it To Catapult
Here at Catapult PR, we've started working with our second London-based client in four months, having been appointed to handle PR for one of the hottest new women's footwear brands in the UK – Alice X Global.
These are stunning shoes in their own right, but also a world first – a personality-filled 5-colour, multi-panel luxury leather espadrille, with premium butter-soft leather uppers and fully leather-lined inners to truly treat the feet. We can vouch for how comfy they are, in fact, as Alice X Global is now in the house!
But the look of these shoes is also spectacular. These exquisite and super-luxurious, highly feminine, 5-colour espadrilles come in six different palette options and have already been adopted by Made in Chelsea's Rosie Fortescue.
Catapult is raising awareness of these chic new espadrilles in a variety of media, from women's glossies to niche yachting titles, blogs and London lifestyle magazines, and is already creating materials referencing some of the rich and famous adoptees of espadrilles, including Lauren Bacall and Grace Kelly.
As a Lancashire PR company, we were delighted to be appointed to assist Alice X Global following a recommendation from a former footwear client, Cocorose London – a luxury foldable ballerina shoe brand, which Catapult launched in 2008.
The Alice X Global account win comes just four months after we were appointed to handle PR for London-based kitchen recycling expert, The Used Kitchen Company. TUKC has already enjoyed exposure in publications such as the Daily Express, The Sun, Delicious magazine and Self Build and Design.
Over the years, we have represented a variety of London-based clients, who have come to us for specific public relations expertise in areas such as financial services and insurance, homeware, fashion and exhibition promotion. We are thrilled to now have Alice X Global on our client list.
Alice X Global espadrilles can be bought online at www.alicexglobal.com by anyone else wanting to join the party!