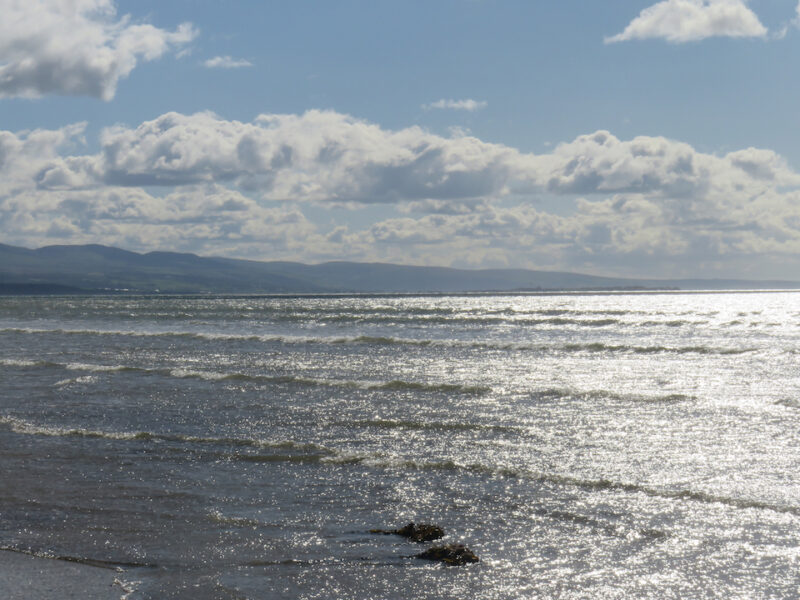 September 8th, 2021
Magical Marketing on Black Rock Sands
In Santa's sack at Christmas 2020, I was found a calendar of uplifting and joyful photos to inspire me – a perfect gift. Week by week, I discover an image that brings a smile or evokes an emotional response. This week, it is a photo of a completely deserted beach, with candy-floss clouds hovering above glistening sands. It's a place called Black Rock Sands, near Porthmadog, Snowdonia. I couldn't wish to look at a more wonderful picture to provide perspective with my Catapult Chilled PR and copywriting this week.
Black Rock Sands holds a special place in my heart. I revisited it last September, after decades of not having stepped on the gloriously unspoilt sands, which have the capacity to transport me to a completely different place. I'm not ashamed to say that I shed a tear. Memories flooded back. It was as if voices were filling my head, drifting over from tartan-patterned, slightly rough-to-the-touch picnic blankets and Formica lift-up/fold-down tables within 'Taffy' – the pale blue VW Camper Van which we hired for about four consecutive summers when I was a child, as we headed to a farm in Criccieth for family summer holidays. A farm at which my father apparently got roped into harvesting duties, with a bunch of Welsh farmers who spoke no English. I remember it not!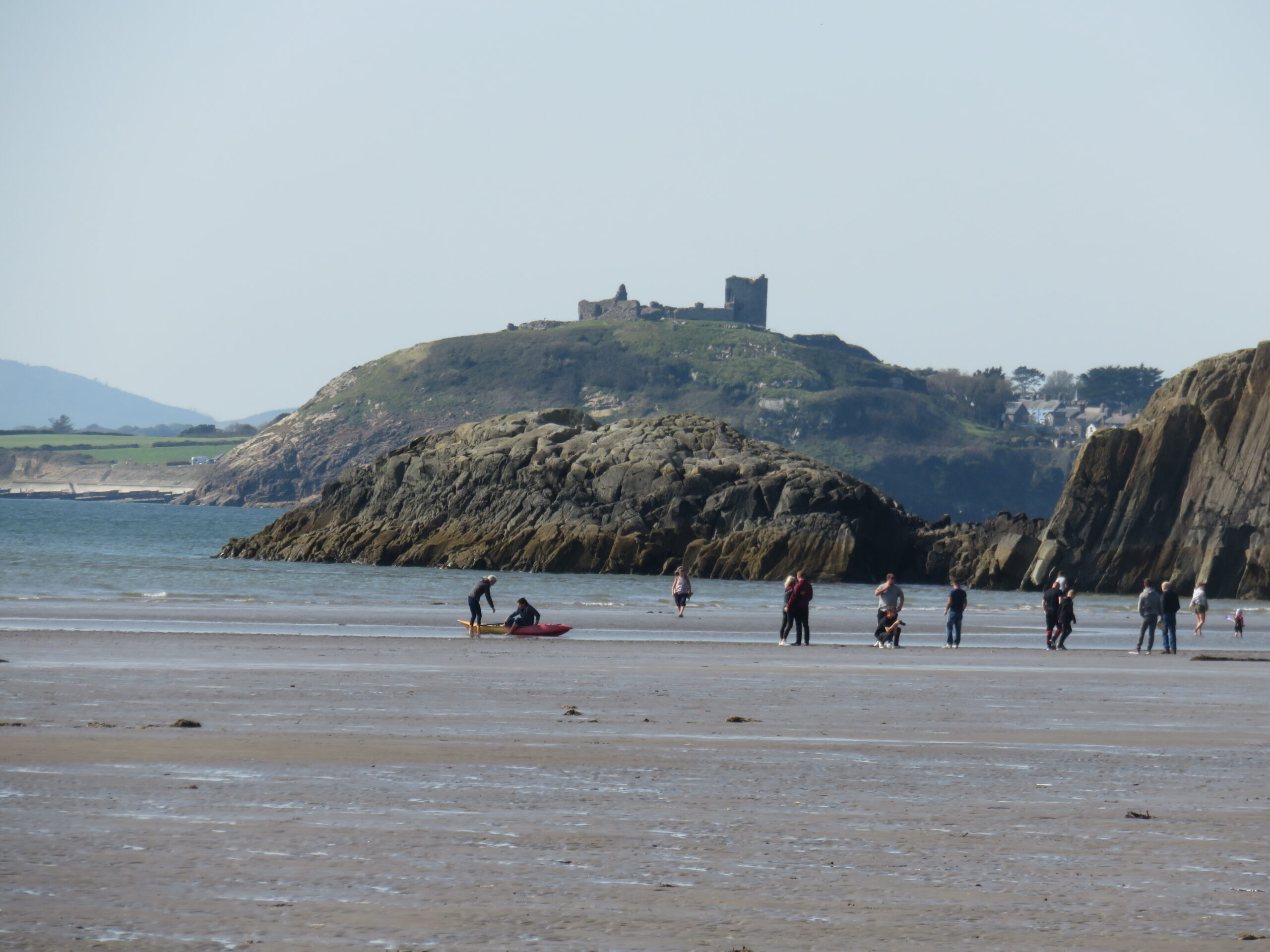 I had expected Black Rock Sands to have altered beyond recognition, to be a commercialised hub of fast-food stands and holiday parks. It wasn't. We drove on to it, just as the family always had (though not in Taffy), chose our spot on the vast expanse of land, with Snowdonia's mountain-scape and Criccieth Castle as the beach's backdrop and gazed at the waves, rippling to the shore in the most mesmerising way possible.
Black Rock Sands was a place I adored. Vast open space. Sand stretching as far as the eye could see. Incredible freedom to roam, despite being a holiday hotspot. Wind in the hair. Solitude. Laughter and snatches of other people's conversations always blowing around on a seemingly ever-present breeze. Thinking time. A chance to be me, without being cramped and impinged upon by anyone else.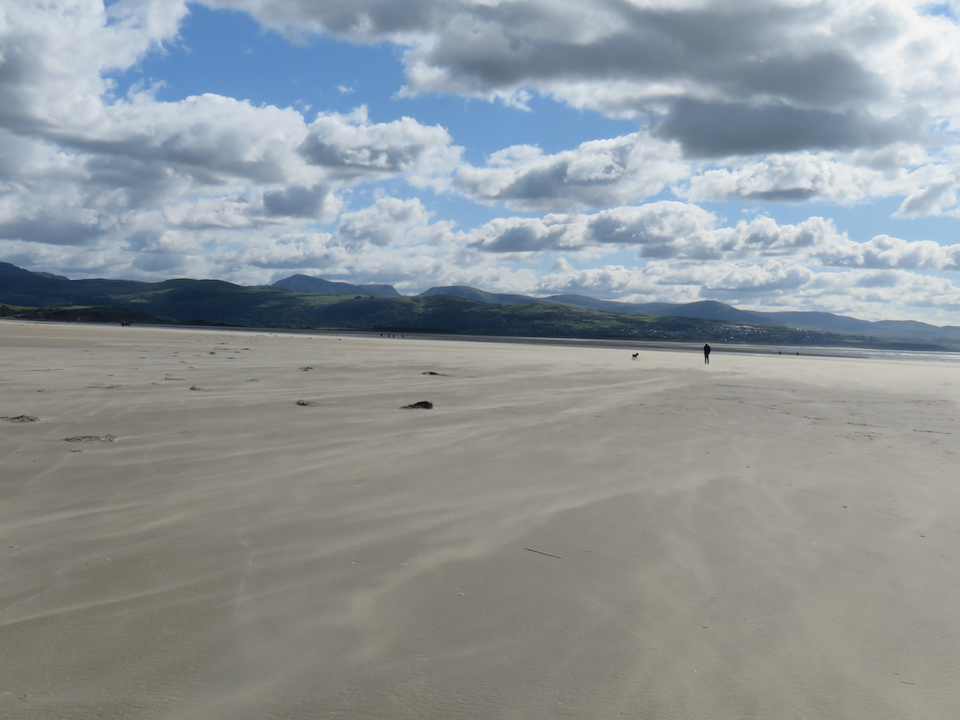 I don't remember our first trips there for anything more than all of this really, or of watching families set up cricket or rounders pitches with makeshift wickets, towels and jumpers. I think perhaps Frisbees arrived one summer. Maybe there was also the odd Spacehopper. However, my strongest 'people' memories were largely shaped by two things. The arrival of my grandad (the only one I ever knew, due to the tragic death of one grandfather before my birth) and the arrival of the clown.
The two coincided in one eventful year. My grandad had been widowed and had joined us on our annual jaunt. That had me in my element. To me, my grandad was one of the most entertaining people on earth. Not that he was a comedy genius; he just had a truly dry wit, turn of phrase and a quirky manner that always had me in stitches. He was so derisory of some things that it was hilarious. He was very intelligent, in an understated way, and had a dim view of those who weren't. He did things that nobody else dared to do, because they were slightly off-limits. He was a man born in Burma, in a colonial era, who had then fought in the army in North Africa and had refused to shake hands with General De Gaulle, as he didn't appreciate his principles. He stood for things. He had funny bones, without knowing it. He was deeply sensitive, but only if you saw beyond the hard exterior. He was the person I spent my summer holidays with, as a child, watching England test matches and acquiring a love of cricket. He was my ever-so-irreverent hero and he always made me feel important.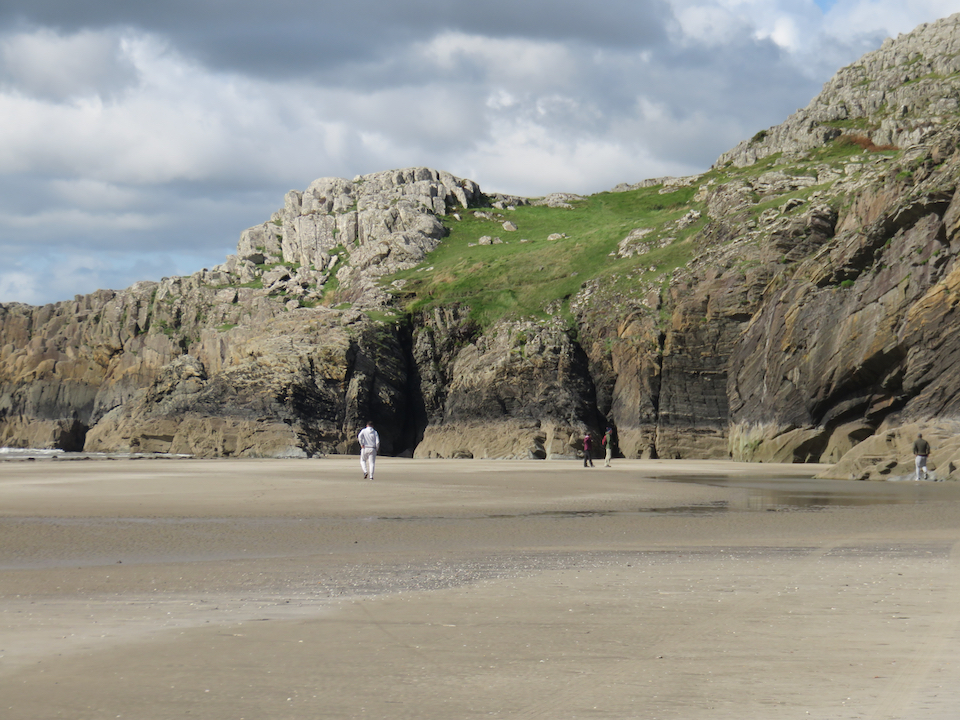 The year he headed to Black Rock Sands, so did the other new entrée to this arena of summertime pleasure. Excitement was off the radar, when we discovered that a mysterious figure, clad in multi-coloured, weirdly patterned suit, had rocked up on the sands, complete with clown camper van that parked up, on a daily basis, about 500 yards away. It was mesmerising. It was intriguing. It was temptation itself. What went on behind its closed curtains? Who was this brave infiltrator within the world of the never-ending miles of sand and waves that could creep up and catch unwary vehicles out? Was, what quickly became his modus operandi – a Pied Piper-style, custom-drumming-up technique – to be trusted? Would we all be led away to Hamelin, or maybe Harlech, before you could say face-paint?
That was the key question. As the Formica tables came down in Taffy for a mid-morning brew, just after the first paddle or swim of the morning had been completed, this mysterious figure would wend his way down the sands, carefully weaving between the beach towels, deckchairs and campervans and fill our world with colour. He would audaciously pop a small square publicity flyer under the windscreen wipers, despite us being there. He would saunter in his colourful garb, as mouths fell open. Above all, he would call out his very special sales message.
Now, I can't recall all of this word for word, but the fact I can remember any of it says it all. "Roll up, roll up, to see the show-o. Fat ones, thin ones, little ones, big ones.", was how it began. It made me giggle inside, as well as outwardly. The look on faces was worth its weight in gold.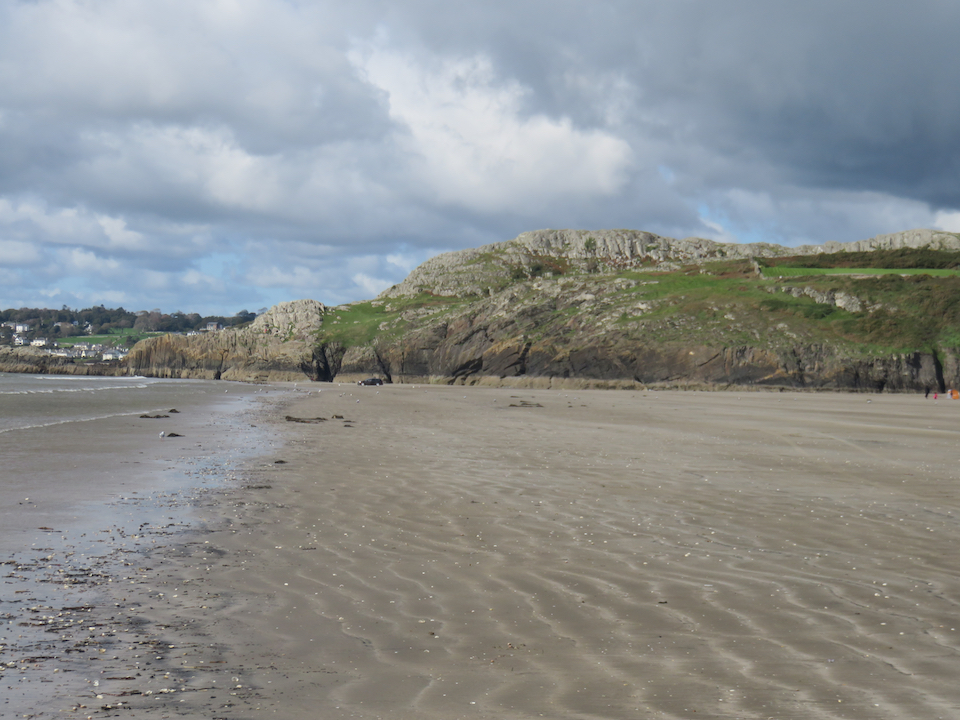 But then, this whole drama became even more intriguing. My wayward 70-something grandad decided he had far less resistance to the allure of this clown than anyone else, old or young, and took himself off to try to peer in the windows of the camper van, to see what went on in this den of intrigue. I nearly split my sides. Only he could pull this off in such a nonchalant, he-man way, whilst smoking his cigarette in that way that only ex-North Africa military personnel probably could. No wonder his love letters to my gran were always signed 'Egypt'. He was actually a super-cool guy. Not even my mother could control him, however, and he saw no reason not to investigate the 'goings-on.'
Suddenly, with this grandad and clown interaction, I was in my element. Black Rock Sands was not just an incredible natural phenomenon, but a hub of intrigue, tension, mystery and marvel. It was a tussle. Did we give into the temptation of this wandering minstrel, or did we resolutely stick to the safety of the camper van, not allowing this extraordinarily loud personality and Harlequin to upset the balance of our long-established ways of doing things on Black Rock Sands? Did we follow the pack of early adopters who flocked to his 'happenings', or did we resolutely resist, listening to howls of laughter and whooping circulating with the North Wales wind and awaiting some sort of recommendation, before trying it out ourselves? In the end, I have a feeling 'Egypt' made the decision on that.
As it happens, we never actually 'rolled up' to see the show. The fun was in the giggles as my grandad's seeming nemesis arrived to stare into our camper van in expectation of us crumbling, or to audaciously slap another flyer under the wipers. The buzz was in watching the antics of my grandad, as he got more and more on the trail of this troubadour. The memories were in the joy that the summer of stand-off brought to us.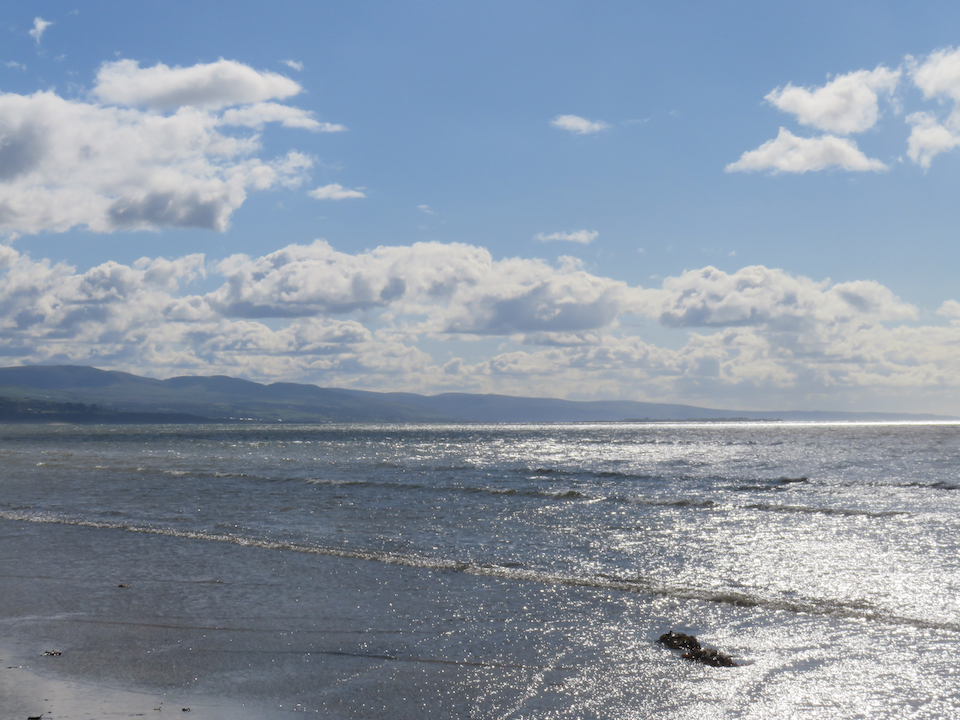 Looking back, however, and stepping on Black Rock Sands again last year, to have this whole summer of drama flood my memory once again, I realised something significant. That clown, whoever he was, was probably my very first introduction to high-impact marketing and engagement. In his 1970s, simplistic way, he carried out every element of marketing that we think is so advanced and high-tech today and so 'social media'. He proved that the latter is actually not rocket-science, but a mere fine-tuning of long-used tactics.
The first thing this figure did was to raise awareness – the first stage of the sales funnel. His loud, circus-like callout to the assembled sunbathers did that every single day. Nobody could be unaware that he was on the sands.
He then moved us all to the second stage of the sales funnel – interest and evaluation. Let's not forget that, along the way, he'd clearly identified his customer avatars, in his 'fat ones, thin ones, little one and big ones.' He was being inclusive. He was playing to the family audience. His message was creative but actually meant, 'everyone welcome.' He just made it niche, so that someone, somewhere on the sands, could think 'that's me.'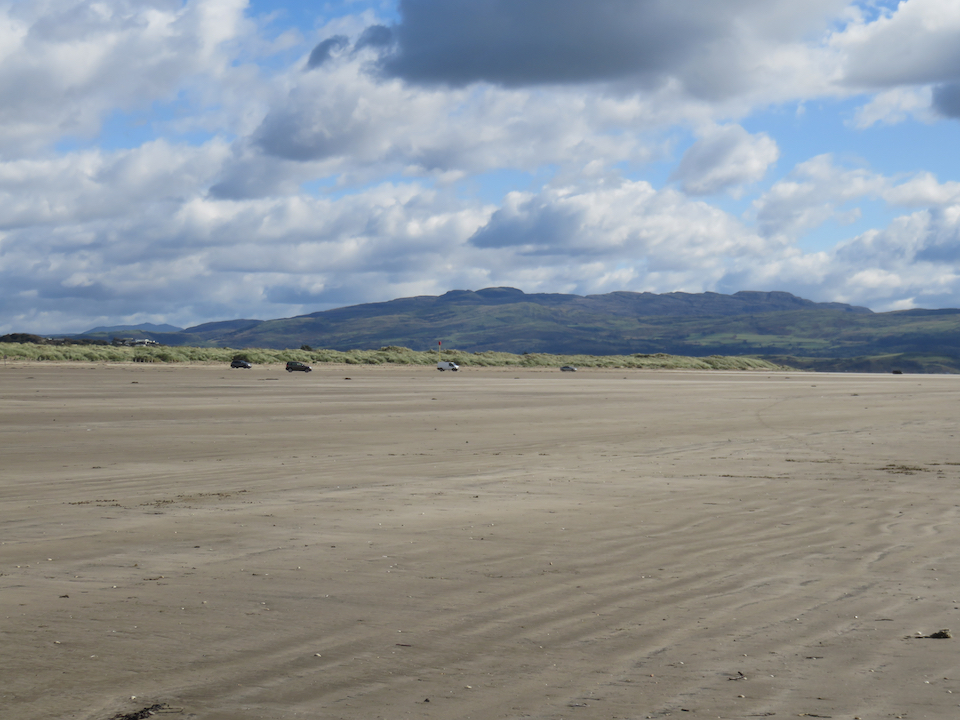 You don't get any more affirmation of the interest this raised than having an ex-military, dry-humoured pensioner going out of his way to balance his weight on tyres, just to try to peer through a slit in the clown's curtains, possibly risking arrest! An evaluation of whether this 'clown' was to be trusted with our hard cash was seemingly required. After all, what sort of clown just rolled up on the sands with a highly decorative, circus-like camper van that was his own mini pleasure-dome, with curtained windows and secretive side panels? It didn't happen back then.
The third stage of buying – desire – was most definitely there. We literally teetered on that decision-wire of whether to join the small early adopter crowd and 'give it a go', or stick it out, taking the higher ground and feeling that these sands were our pleasure-ground and we didn't need clowns to provide entertainment. Perhaps, if the majority of us – excepting Egypt – had not lived near Blackpool, we may well have succumbed, but clowns were nothing new to us. Our resilience was probably higher than that of most. When you've grown up with the maestro that was the Tower Circus's 'Charlie Cairoli', there was a risk of huge disappointment with Mr Black Rock Sands.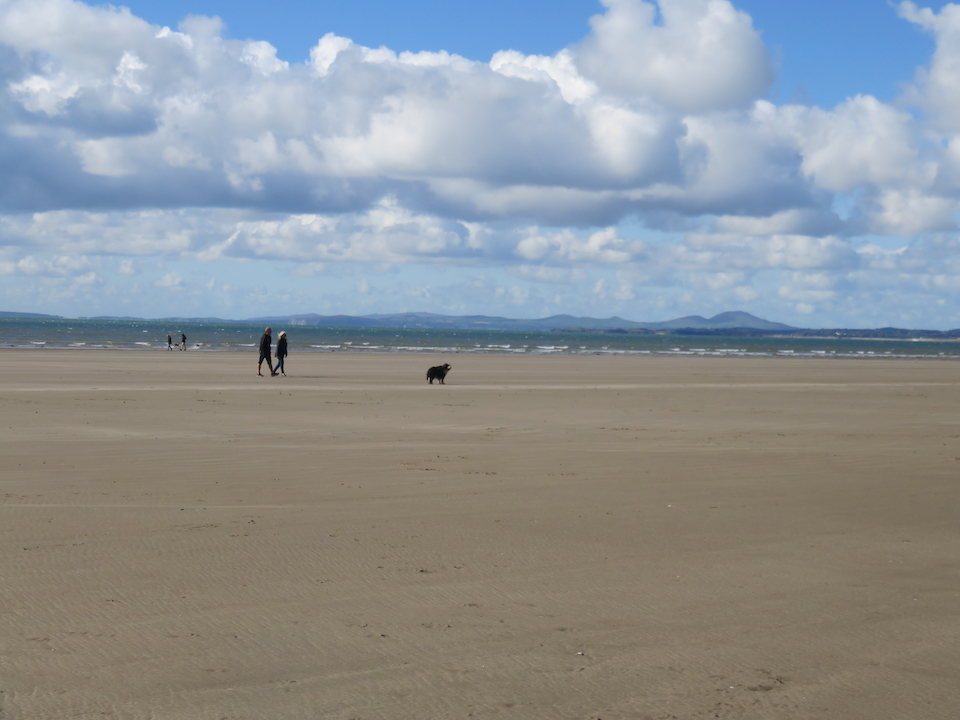 So we never moved to the final stage – action – though I, for one, was oh so close to it and I have a sneaking suspicion that my grandad caught a bit of Punch and Judy during a fag break. This clown figure had engaged us phenomenally, but we didn't budge, because he'd probably enriched our holiday so much anyway, through the sub-plot going on with my grandad, that we didn't need his show to make our ribs hurt with laughter.
What he did provide through his marketing, however, was incredible memorability. How many years later am I writing about him? I would love to know who he was. I'd love to find out more about the man in the colourful suit. I'd relish the opportunity to tell him of the joy that he brought to us that summer, despite never having seen his show. I'll probably never get the opportunity, but I thank him, from the bottom of my heart, for the memories and for teaching me how the right consumer or corporate PR, with an engaging message, can be irresistible, even if the action it inspired, was a kind of MI5 investigation of what, for us all, was a mystery-mobile extraordinaire.
At the end of the day, it's all about the story-telling. As he carefully stepped through the sands, avoiding the beach balls and the foil-wrapped picnics, he did so with amazing impact, through both his use of carefully chosen words and the vivid imagery he displayed in his loud and magnetic-appeal suit.
Unforgettable.
Words and pictures by Catapult PR's managing director, Jane Hunt