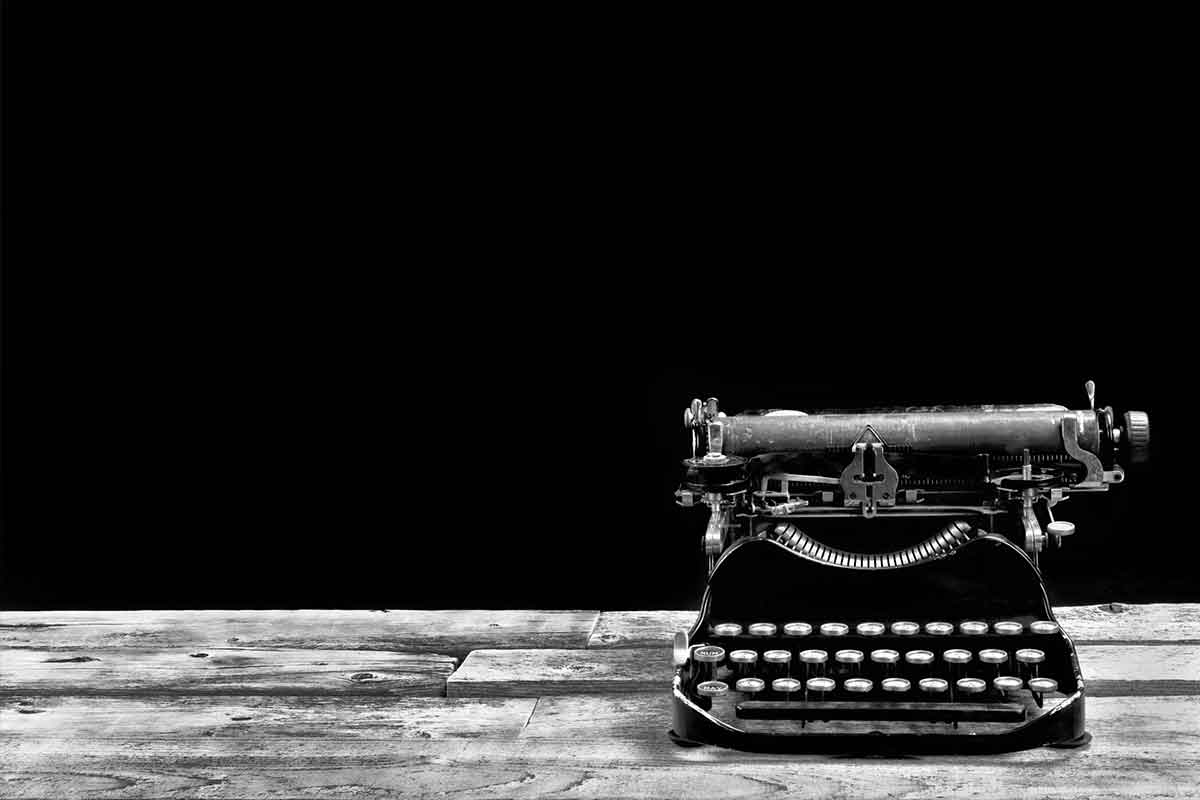 July 22nd, 2015
Meeting Massimo Clarifies My 'Chef Factor'
PR girls are supposed to go for photographers – well, at least back in the day, as we used to spend so long with them, in the pre-digital era, getting drenched at outdoor shoots, sitting around for hours in cars, waiting for things to happen, and at studio shoots that had you losing the will to live after the first hour. I have undoubtedly had a great bond with some photographers over the years, but for me, the weakness has always been chefs and, until I was in the presence of genius on Monday, I thought that was because I'd spent so many years in the kitchen's of my Nan's rather large hotel, as a young child. I was always in the kitchen, watching the chefs prep and cook and swiping pots of marmalade, given half a chance! I even named my tortoise after one of her chefs and hero worship doesn't come any bigger than that, believe me!
This 'chef factor' has accompanied me throughout life. I was in my element when put in charge of catering PR at SWEB in Bristol – and the catering team, including my dear Maltese friend and brother-I-never-had, David – were as close to me as anyone has ever been. The same was true when I moved to British Gas SW. When I was seconded to British Gas HQ and put in charge of the PR for 'Chef of the Year' contest, I thought I'd gone to heaven. Those of you who have read my book, will remember the tales of that contest, and the other catering sponsorships I promoted there. Whether I thought I was in heaven at the Ideal Home Show, when chasing Raymond Blanc up and down escalators, is debateable, but it was nice to shove the book that he signed that day in front of him around 10 years later! When working at a cookery school, I simply couldn't wait to interview someone who described himself as a true bad-boy chef.
Last week, I was completely and utterly charmed by a chef in Northumberland, who loves to create the wow factor with a variety of techniques, from dry ice to blueberry aromas. As for his cauliflower cheese risotto – it was truly orgasmic. As I listened to tales of his genius, I was on another planet.
But it was only on Monday, with feet suffering after a three-hour parade up and down the Business Design Centre and a five-hour drive the day before, and with back aching thanks to now carrying two heavy bags, that I realised – as pain transformed into pleasure – why I find chefs so magnetic.
Now I'm not talking about pub chefs here – even though there's nothing wrong with great pub food – nor about fast-food chefs or pizzaioli – but about those chefs who have that thread of genius running through them, that comes from being totally connected with food and its essence in a totally absorbing and slightly self-destructive way. It's that indisputable link between genius and madness – or quirkiness, as I like to think of it – that's probably what's truly irresistible to me, as I see a lot of myself in these 'mad' people and totally understand where they're coming from.
But that thought only really occurred to me, as I stood, completely mesmerised by the genius that is Massimo Bottura. I'd checked him out on the Stefano-ometer, asking my quirky and inspirational chef client in Bologna if he knew him and I was told, "in my opinion, he's the best chef in Italy." That seemed like praise indeed, as Stefano isn't that keen on chefs, as a rule, which is why he employs brains who have a passion for food – like himself, a trained lawyer, and his fellow tutors – an economist and an engineer!
So, on that basis, I had to find out what was so great about Massimo Bottura. Of course, I knew that he is a 3-star Michelin chef and has a restaurant in Modena that is one of the top 50 best restaurants in the world (Osteria Francescana), just a short drive from Bologna. But having stars and accolades doesn't truly convey the anima of the chef, which is what I wanted to see. I was curious as to why Stefano should praise him so much, when he generally doesn't like chefs who can't tell a story and weave culture into cookery. I had to discover if Massimo Bottura could do that.
I wasn't disappointed and I quickly realised I wasn't going to be. Half the Italian women I'd been talking to on stands at Bellavita had gathered around the roped off area, that I had tried to get a ticket for. I knew that there was no way that they would have left their hubbies, brothers, and fathers on their stands, to watch Bottura, unless there was a very good reason. I listened to two of them, who'd I met minutes before on an olive oil stand, debating (in Italian) what he had in the olive oil bottle on the chef's demo stand. He, in the meantime, was dashing in and out of the prep area, running his fingers through his grey curly hair in a way that reminded me of another hero of mine, and living up to his reputation of the Skinny Italian Cook (that you should never trust!) – his strapline.
His mannerisms were looking very promising and I couldn't take my eyes off him, as he gestured to his sous chef, to suggest the Lavazza coffee machine from the previous demo really shouldn't still be there in front of him, whilst also urging the show organisers to let "la gente" (all of his adoring fans around the roped-off area) sit down on one of the reserved seats that were sitting empty. When they conceded, there was a near stampede!
"I shaved a little for you – did you notice?" he asked, alluringly, revealing an inner-child syndrome that I've been told I have in abundance! "I don't like being on a stage – I like being with people," he added, whilst teetering dangerously close to the edge of the steps in his stylish Italian pumps, trying to resist jumping down and interacting with everyone down at ground zero.
I stayed standing up, soon forgetting all about the pain in feet and back, and watched the drama unfold. What I wasn't prepared for was the story telling, but I immediately realised why Stefano rates Massimo so highly – they're cut from the same cloth. Massimo began by explaining about the 2012 earthquake in Emilia Romagna and how around 1,000 wheels of precious Parmigiano Reggiano were destroyed. To help save the Parmesan producers, he used (what was by now becoming most evident to me was an exceptional brain) to create a spin on a spaghetti and Pecorino dish from the Rome area – Cacio e Pepe (cheese and pepper).   In his head, his invention of a spin on this dish could incorporate food from his beloved Emilia Romagna (parmesan and rice), but at another level, it also allowed him to incorporate his love of art and culture and, in particular, the artistic style of avant-garde Italian artist, Piero Manzoni, known mainly for his white monochrome paintings.
In Massimo's head, he was creating his interpretation of Manzoni's white on white, whilst making a social gesture and sending out a cry and a signal of hope, from, and for, a region stricken by violent earth tremors and destruction. Watching him create food as a means of social expression and artistic homage, was something that will live with me forever.
He quickly explained the process. He took Parmigiano, shredded it and left it in water overnight. This allowed it to separate, with thick protein at the bottom, a liquid in the middle and Parmigiano cream on the top. He then carefully selected the rice for his Roman-style risotto with a twist, rejecting the common Arborio rice, and also Carnaroli, to opt instead for vialone nano rice – a variety from his childhood and native to stricken Emilia Romagna. This was to replace the spaghetti in the traditional Roman Cacio e Pepe.
He then substituted the chicken stock with a Parmigiano broth and effectively replaced the Pecorino in Cacio e Pepe with the cheese most synonymous with earthquake-stricken Emilia Romagna – it's precious Parmesan. In so doing, Bottura created a risotto revolution, but also went the extra mile, by worshipping the memory of his artistic hero Manzoni. Knowing that a scattering of pepper would ruin the white on white effect of his new-style risotto on a white plate, he created a special distilled pepper vapour – a spray that would provide the taste of pepper, but not taint his pristine, white dish with any colour whatsoever. When asked how he created that spray, Bottura just shrugged his shoulders and said he didn't remember! One suspects it was one of those inspirational and half-crazed moments, driven by sheer emotion and the desire to create perfection, that creates a haze and an altered sense of reality that can later never be described, as the mind is completely divorced from the body.
By now, I was hooked. Having served up his revolutionary risotto and explained how it made Parmigiano sales absolutely go through the roof after its launch, thus saving the Parmigiano industry, Massimo was asking us if we knew of this strange dish called 'spaghetti bolognaise', which doesn't exist in Italy. That struck a chord, as I've just been writing a piece for CIBO Bologna, which is to appear in The Guardian, on that very subject.
Massimo had obviously leapt on this at some point and decided to let his little grey cells wander, in order to create his take on this most peculiar of English dishes. He explained how he dehydrated spaghetti in three different states – one normal, one infused with tomato and the third infused with herbs. He then used that to create the Italian flag and went on to fry that, so it curled up into a wonderful conch shell shape.
Now, if his brilliance with his pepper spray hadn't seduced me enough, this was the final sealing of that deal. He explained that his curled up flag was just part of his desire to recreate the "part of the granny's lasagne that every Italian child wishes to grab when they visit her on a Sunday" – the slightly burned and crispy corner of her lasagne. To do this, he placed a spoonful of ragu (not bolognaise!) on the plate, topped with béchamel and then his spaghetti flag. In his mind, he had created his most beautiful childhood culinary delight and evoked images of his grandmother's Sunday Italian kitchen – all in the space of a few minutes. "Through experimentation, we can evolve tradition," he declared. I resolved to get my experimentation head into gear 'subito'.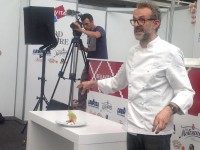 I could rattle on about the tale of his Japanese sous chef, who dropped a lemon tart one day, but merely made Massimo use the imperfect lemon tart as the inspiration for the way in which lemon tart should be served, from that point forward, in his restaurant. Let's call this Massimo's "Oops I dropped the lemon tart" watershed! How I would love to be treated to a meal in Modena – just to eat the imperfect lemon tart!
There was then the sheer brilliance of him quickly demonstrating his 'north does south' and the creation of a northern Italian pizza – made with risotto as the pizza base, polenta as a crust and tomato puree, oregano, anchovy paste, capers and buffalo mozzarella, as the 'toppings'. "This is polenta that wants to be pizza", enthused Massimo, as all of his adoring females in the audience gazed at him in total awe.
I saw so much of both Stefano and my Northumberland chef, Daniel, in Massimo's style, words, narration and mannerisms. But despite the adoration, admiration and adulation, it wasn't until he uttered some particular words that the penny dropped and I realised exactly why great chefs have such a strange effect on me.
The words struck me so much that I didn't write them down. They were all about creativity and creative expression through cooking. They stressed the insatiable desire to experiment and generate a constant stream of ideas, to excite and inspire diners and food lovers. At that moment, I realised that my connectivity with great chefs is all about creativity and thinking in ways beyond the norm – we're just creative creatures, expressing our creativity in different ways, so get each other in a big way and understand the buzz that comes from seeing 'clients' reactions to completely off-the-wall ideas. A truly great chef is probably the ideal soul mate for a creative PR – if that doesn't come with side issues, shouting and temper tantrums!
Having now understood that this is what underpins my 'chef factor', I realise that I've something special to sell to chefs wanting promotion. Being able to comprehend, absorb and interpret their creativity in the kitchen and translate that into creative treatments in the media, with no loss of essence, anima or spirituality, has to be a great USP. I do feel slightly thick, it has to be admitted, as the first words that my client in Bologna uttered, when I wrote his biography, having interviewed him, was that it was "incredible", as I "totally got him" and had grasped everything about him, in such a short space of time.
So chastising myself for being slow on the uptake, I left the exhibition on Monday ready to be a PR soul mate to yet more chefs who are on the same high-creativity wavelength. I haven't had to wait too long. It looks like another probably eccentric, engaging and slightly flawed (perhaps) Italian culinary genius could be heading my way already. Bring it on!