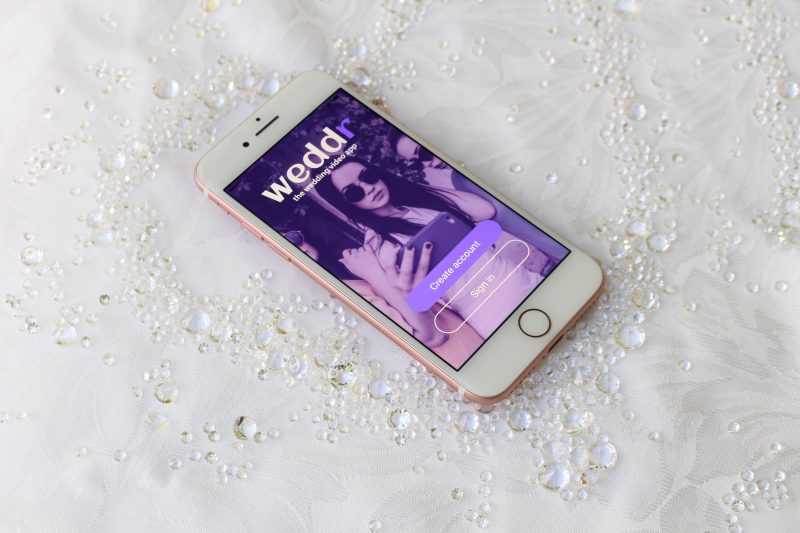 April 26th, 2017
New App Launch Sees Us Marrying Up Two Clients!
We married up two clients today, as part of the PR launch for this new wedding app, which seems to be going down very well with the media! Perhaps it's the way we put it across? Watch this space for further news on cross-promotions between our clients and projects!
Of course, the wedding sector is one in which we've had a lot of experience, so that does help when handling PR for wedding products. Read on and find out more!
Unique New 'Weddr' App Gifts Brides Behind-the-Scenes Wedding Day Video
Summer 2017's must-have wedding day 'accessory' is 'Weddr' – a brand new app vowing to offer the happy couple priceless behind-the-scenes insights of their own wedding day, shot by friends and family and compiled into one 'backstory' video.
'Weddr' lets those tying the knot view their special day through the eyes and individual interpretations of their family and friends, who take video clips of the 'best bits' the couple might otherwise miss.
The wedding day's backstory could feature anything from interviewees being totes motes at the make-up bar, to little princesses putting their fancy dresses on, and from guests gushing about the gorgeous bride, to bridesmaids drooling over the drizzle cake!
Weddr app users, of any age from primary school to pensioner, take smartphone footage and instantly upload and share it. Instant sharing helps guests bond and ensures family or friends who live afar, can view the wedding clips in one virtual place and not miss out.
Clips are downloadable but what's truly unique is that all are then expertly edited into a highlight video – a priceless keepsake, complete with titles and music, filmed entirely by their family and friends.
Weddr comes in Silver (£50), Gold (£135) and Platinum (£200) packages. With each, unlimited friends can film up to 20 clips. Pricing differentials reflect the length of the final edited video (2 minutes, 15 minutes or 30 minutes) and the time over which clips can be downloaded (7, 14 or 30 days).
Say 'I do' to Weddr at www.weddrapp.com purchasing it either as a gift to yourself, or a priceless present you and other guests could perhaps club together to buy.