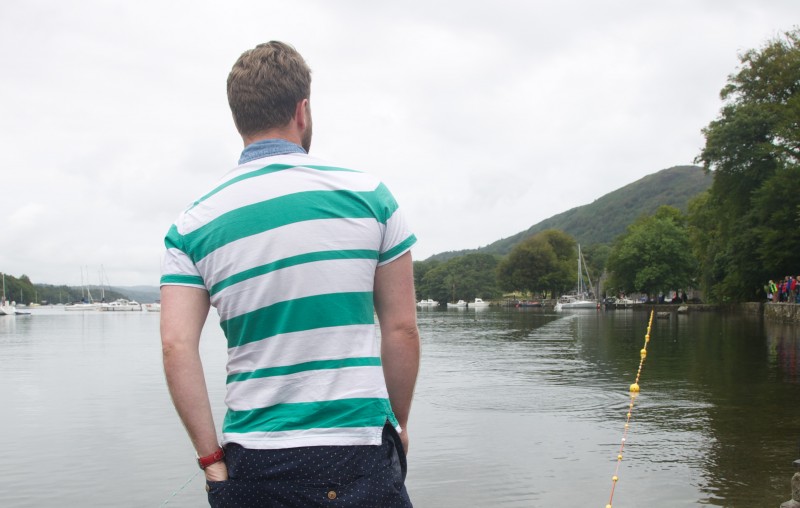 August 23rd, 2015
New English Stone Skimming Record Set On Windermere!
The All England Open Stone Skimming Championships, held at Fell Foot Park on Windermere, on Saturday August 22, not only resulted in the official English stone skimming record being smashed, but also produced what organisers are expecting to be a record number of entrants, once the figures are totted up.
The 2013 champion, Kevin Waltham from Newcastle, stepped up to reclaim his crown, having lost out by just a length to Swiss Open champion, Ron Long, last year. Kevin recorded a new English record of 86 metres, with Ron Long coming second with a throw of 76 metres, and European skimming champion, Paul Crabtree, taking third place with a throw of 71 metres.
In the ladies competition, the spoils went to Emily Ostridge (46 metres), with Joanne Haynes in second place with a skim of 42 metres and Barbara Maher in third (32 metres).
In the 11-16 year old category, Noah Johnson threw an impressive 49 metres, to take the title. Just behind came Leon Gordon (48 metres) and third place went to Cian Menzies (42 metres). Cian has entered the championships several times and is a former under-11s winner.
This year, the girls reigned supreme in the under 11s category, with the title going to Isabelle Rogers (39 metres). Finlay Hill came second, with a skim of 30 metres and Ollie Herring scooped third with a throw of 24 metres.
The team title went to NSOTB with an average throw of 22 metres recorded by the four members of the team, who each had three throws.
Organisers South Cumbria Rivers Trust were delighted by the turnout at Fell Foot Park and believe they may have raised a record sum. The All England Open Stone Skimming Championships are a charity event, organised and promoted entirely by volunteers, to help fund SCRT's vital conservation work in the South Lakes through entrance fees paid by competitors. The Championships were also sponsored this year by the Lakeside Hotel, at Lakeside near Newby Bridge.
Picture courtesy of Timothy Soar.