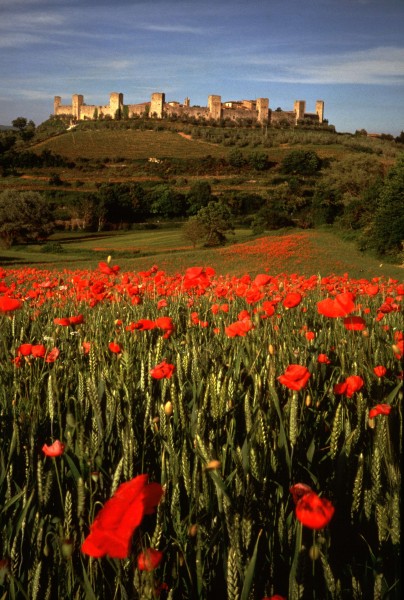 August 29th, 2015
New Italian Festival Encourages Visitors To Slow Down And Re-Connect
A brand new, inspiring Italian travel festival will be gracing this autumn's calendar, as The Slow Travel Fest, unwinds over three days (October 9-11), in and around the attractive Tuscan medieval hamlet of Monteriggioni, close to glorious Siena.
Slow Travel Fest is all about slowing down to a more relaxing pace of life, to derive a real sense of place from the scenery, lifestyle and food of this part of Tuscany through total immersion in the culture, heritage and traditions of the region. The re-connection it encourages between spirit and surroundings is nothing new in a village that lies on the Via Francigena – the ancient pilgrim route that connected Rome with Canterbury – along which you can discover secret hamlets, foodie experiences and stunning views around every bend in the path.
Events will take place both in Montriggioni and at various venues along the Via Francigena, to encourage an exploration of a route that has fascinated, absorbed and inspired those who have wended their way along it, over the course of many centuries.
Visitors to the festival can take part in guided walks, with a wide choice of excursions on offer each day, departing from Monteriggioni and heading along the Via Francigena. Those simply wishing to go at their own pace, to where they choose to spend time and enrich their soul, will also be encouraged to do so. Highlights could include visiting the beautiful abbey in Abbadia e Isola, or devouring treats such as the famous Marzolino di Lucardo – the Siena region's famous pecorino-style cheese. Whether you are in to sustainable, food or faith tourism, this is a not-to-be-missed experience.
The festival also incorporates exciting itineraries for cyclists wishing to ride off under their own steam, as well as organised bike rides, whilst a range of nature-based activities will thrill younger and older visitors alike, if the children can tear themselves away from loveable donkeys and the roaming theatrical shows.
Highlights include Deep Walking at Dawn with Luca Gianotti, an Italian slow travel expert and editor in chief if Edizioni dei Cammini. There will also be two Nordic Walking sessions with Swiss expert and teacher, Caterina Frey, whilst night walks, with AGAT Toscana environmental guides, will add some nocturnal insights to slow travel.
Slow Travel Fest includes a photographic exhibition, telling the story of the Via Francigena through images, and a full programme of talks from geographers, hikers, a documentary maker, a bike packing blog animator and speakers who can convey what slow travel means for those with disabilities.
Simply walking, cycling or taking photographs along the Via Francigena will be highlights in their own right, thanks to the glorious Tuscan surroundings and the people encountered en route – from young actors and storytellers, to priests, charity walkers and guesthouse owners.
Music will be woven into this idyllic event by the Camilocromo circus swing orchestra – an eccentric Florentine group who blend music, theatre, circus and heaps of imagination into their performances, cutting across all genres, from swing to Balkan and the tunes that gave the 60s their unique vibe. Adding to the musical programme will be a female DJ, so everyone wanting to get up and dance, as part of their slow travel experience will have every reason to do so.
Slow Travel Fest has been born from the Festival della Viandanza – a leading event for walkers, over the last three years, which took place in June. Now, under the organisation of Ciclica and Movimento Lento, it is seeking to spread the love of slow travel in Italy much further afield and encourage more visits to Monteriggioni and the Via Francigena.
Accommodation options, for those attending Slow Travel Fest, suit all budgets and requirements.
Head to www.slowtravelfest.it to discover more.
ENDS
Press calls: Jane Hunt, Catapult PR, 01253 891114 – jane@catapultpr.co.uk
Notes to Editors
Journalists and bloggers wishing to attend this year's Slow Travel Fest, with a view to writing about it after the event, should contact Jane Hunt to discuss.
Slow Travel Fest is organised by Ciclica and Movimento Lento and has been supported by the Regione Toscana, Toscana Promozione and the Comune di Monteriggioni. Main partners are the Touring Club Italiano, the Associazione Europea delle Vie Franciegene and SloWays. Other partners are Edizioni dei Cammini, Ediciclo Editore, Terre di Mzzo, Terre Nuove Edizioni and Girolibero.
More information is at Facebook: /slowtravelfest and Twitter #slowtravelfest