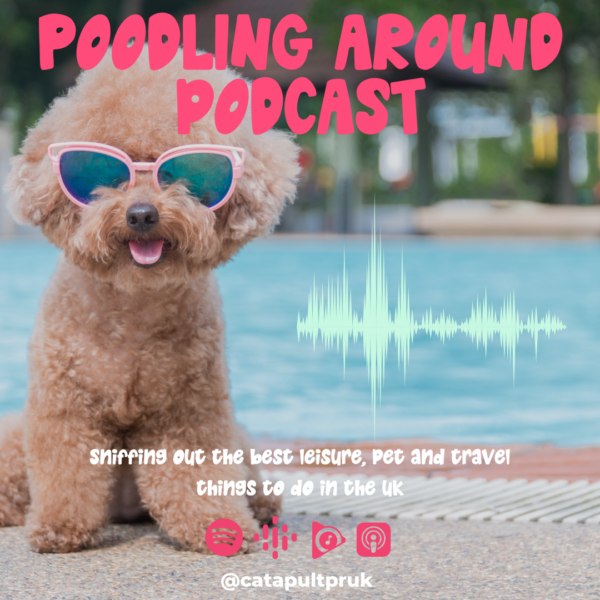 November 6th, 2022
'Poodling Around' is a Top 20 Leisure Podcast!
Catapult PR's travel, pet and leisure podcast, 'Poodling Around' has been adjudged one of the top 20 leisure podcasts in the UK, by Feedspot.
'Poodling Around' typically enjoys episode downloads way above the UK average – great news for our travel and tourism PR, retail, pet, home and gardens and leisure clients and close partners, to whom we give exposure on this channel.
Our episodes have covered everything from where to buy a world-class pizza oven, to where to experience England's most authentic castle hotel.
They have also explored the world's oldest topiary garden and fantastic heritage-focused visitor experiences in Cumbria, not to mention the joys of Grasmere Lakeland Sports and Show.
We've talked to the creator of fabulous story trails and urban hiking experiences, and the marketing manager of both a heritage steam cruise experience – Ullswater Steamers – and an atmospheric steam train attraction – Ravenglass and Eskdale Railway.
Forthcoming episodes will focus on dog-friendly stays, experiences in Denmark and Scotland and the most comfortable shoes you will ever wear for your poodling around.
Catapult PR's managing director, Jane Hunt, who is the host of Poodling Around, says, "I am thrilled to have Poodling Around adjudged to be one of the UK's top leisure podcasts. We try to bring vibrant experiences to the attention of our listeners and subscribers and it's enormous fun to record and produce this show. We thank Feedspot for the recognition."
To listen to all Poodling Around episodes, you can head to Apple, Google Play, Spotify and a host of other places at which the show can be found. Alternatively, go to https://poodlingaround.libsyn.com/?_ga=2.168598436.427764666.1667662748-209280903.1667561071