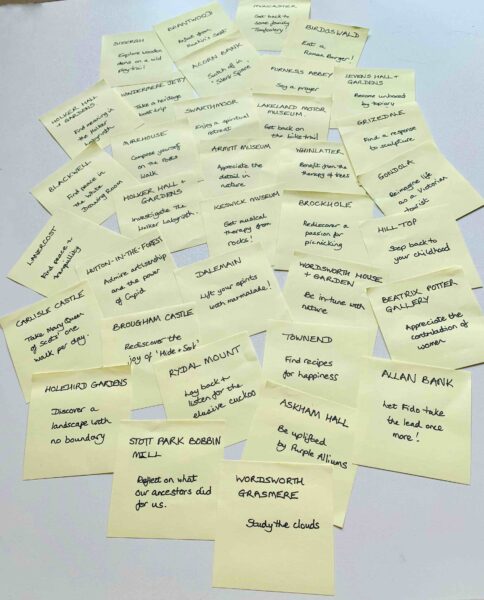 April 6th, 2020
Post-It Notes' 40th Birthday, Lockdown & Positivity
It's the 40th birthday of the Post-it Note today. For me, Post-It Notes have been intrinsically linked with the movie 'Romy & Michele's High School Reunion.' This year, in lockdown, they've been turned to a different purpose.
I am lucky enough to represent an amazing cluster group of heritage and cultural attractions in Cumbria – Cumbria's Living Heritage to be precise. All members are closed for the foreseeable future. Like all of us, they are feeling the pressures, the mental and physical health impacts and the financial worries of the UK's current health crisis. Like all of us, they want to spare piling extra pressure on the NHS.
Personally, I have felt a lot of love coming my way in the past month, with so many people thanking me for my positive posts on LinkedIn and Insta. I haven't actually stepped outside of the house for 3 weeks, as I suffered bronchitis in my early 30s and have had a weak respiratory system for years. But I've also been to the depths of despair. Death threats are not what you wish to live with because you witnessed a crime; losing all of your hair aged 28 is no laugh either. I've taken my business through 9/11, been stranded in the USA after 9/11, been a single mum with no parental support payments for the whole of my son's life, been through the recession and various rough bumps along the way. Now, the challenge is coronavirus.
If there's one thing I've learnt, it's that you have to be positive. If not, you become eaten away with anxiety and slump. So that's the approach I've taken.
So, today, it was the 40th birthday of Post-It Notes and I realised there was no better way of giving those who love – or don't know that they yet love – heritage and culture, those who have a family that has suffered from lockdown, or those who just need some space to pray, grieve, reflect or embrace mindfulness some ways to do that. Having not grieved a major loss myself, I know the importance of doing that.
So, 34 different ways to reflect, smile again, interpret, pray and find spiritual uplift were suggested – one per member of Cumbria's Living Heritage – each written on a Post-It Note to create a 'Therapy Tree'. Each is true, genuine, special and hopefully a way of healing, as we will all need to do so, in the ways that help us most, according to our circumstances.
It would have been Wordsworth's 250th anniversary tomorrow (April 7, 2020). His world-famous poem, 'Daffodils', was probably the most inspiring piece of work of its age and beyond. It's about hope against all odds. Battling against the 'element's with beauty and spirit. We hope he would have approved of our yellow Post-It Note equivalent – our way of putting it in your planner, for when times are happier and when you, or someone you know, feels ready to do the same.
If you wish to consider the 34 suggestions yourself you can read them here. https://www.cumbriacrack.com/2020/04/06/cumbrian-cultural-group-creates-post-it-note-tree-of-uplifting-post-lockdown-suggestions/
I myself will probably take to the White Drawing Room at Blackwell, which I love, buy some Dalemain marmalade, as I have had a marmalade obsession since my childhood and it was all I wanted to eat when seriously, seriously ill in Sri Lanka, aged 19, and book a trip on either Gondola or Osprey at Windermere Jetty, as I find water very therapeutic. If I can find anyone who wants to put some walking boots on, I will seek out some Grizedale sculptures and I will head to Rydal Mount, Wordsworth's favourite home, where I have experienced a strange sense of peace for years and once enjoyed the Dawn Chorus. Each to their own, however. That's the reason for the Post-It Notes. We are all individuals.