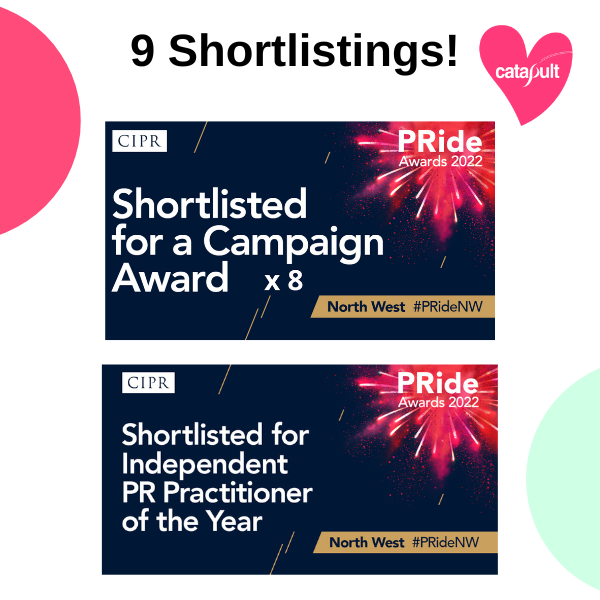 July 27th, 2022
Pride of Lancashire: Our 9 Shortlistings at NW CIPR Awards
Lancashire-based PR consultancy, Catapult PR, has further shaken up the PR scene by proving that a smaller agency can produce results worth talking about, having racked up an incredible 9 shortlistings at the CIPR PRide Awards NW.
Shortlistings for all regions were announced yesterday (July 26) and we're not sure whether any other agency can match our achievement, in any region. Not bad for a Blackpool PR firm, that's for sure!
Of course, the NW region includes all the big boys from Manchester and Liverpool, so to surpass their achievements – not to mention those of any Lancashire PR agency – is quite something.
Furthermore, this isn't a 'one-trick-pony' achievement centred on one campaign. Nominations are for four different PR and content campaigns, for clients in three different counties – Cumbria, Northumberland and Yorkshire. They span the PR skills set, proving our versatility. And we are also nominated for our own achievements here in Lancashire.
Last year we had a brilliant time at finals night at the CIPR NW PRide Awards, topping the table with 5 Gold Awards. So, again, this year's achievement is not a flash in the pan. But then you would recognise that, if you realise that we have 53 awards to our name, over 80 finalists accolades and have already won three awards this year, including a national CIPR Excellence 'Mark of Excellence' award.
So what are we shortlisted for? Well, the categories are:
Best Travel, Leisure or Tourism Campaign
Arts, Culture, Sport or Entertainment Campaign
Integrated Campaign
Not-for-Profit Campaign
Community Relations Campaign
Corporate and Business Communications Campaign
Best Media Relations Campaign
Best Use of Content
Independent PR Practitioner of the Year
The results will be out in mid-October, so we hope to add to our 53-award tally and edge towards 60 before the end of the year.
If you want dynamic PR from an agency that is small enough to really care and which doesn't cost the earth, but will give you the results that translate into award-winning campaigns like many which we conduct, please call 0333 2424062 and talk to Jane Hunt.