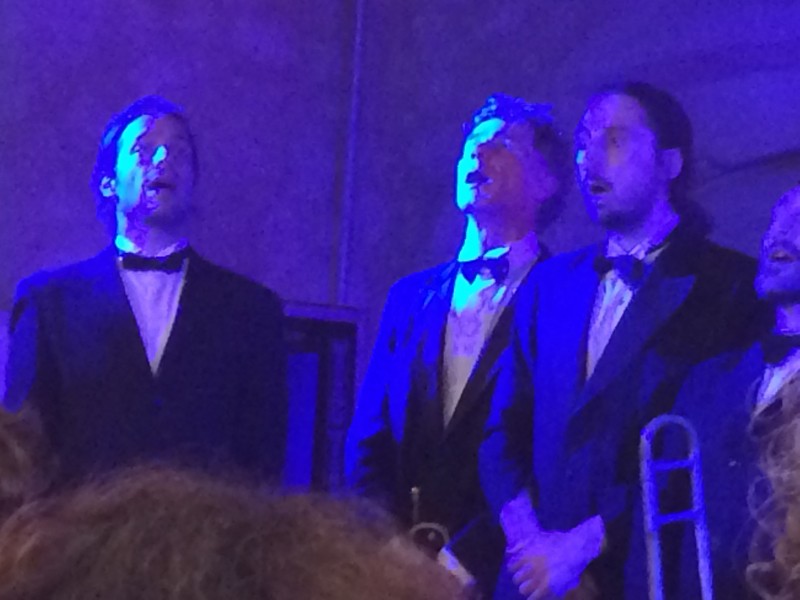 October 10th, 2015
Reflections On Slow Travel Fest: Day 1
I'm not sure whether it was the moment I realised that I was, not for the first time in my life, entranced by a drummer, or when this drummer tied up his long dark locks and suddenly transformed into Zlatan Ibrahimovic, that I realised that this was a truly amazing part of Slow Travel Fest. "Is there anything Zlatan can't do?" I asked myself. Mesmerised, I felt not.
By this time, however, the guy who had sat in front of me, and asked my permission to do so, at the talk given by an Italian lady this morning, was now bearing a remarkable resemblance to David Beckham in his tied-up-pony-tail Real Madrid days. Maybe thoughts of football associations were affecting one's judgement, or maybe the rain that had fallen incessantly on Abbadia a Isola since first light had somehow addled the brain. Everyone was suddenly assuming a new attraction.
Within just two minutes of the amazing Camillocromo taking to the stage, I knew that I was hooked. Having arrived back in Abbadia a Isola, having spent a couple of hours back at the lovely Castel Bigozzi, to stay out of the rain, I hadn't known what to expect. I had selected some pasta e ceci (pasta in a chickpea sauce) from the buffet menu and sat at the bench tables, under the 'cloisters' with five Italians, before wisely moving into the concert room and grabbing a seat, occupying it for a good few hours, reading an Italian resource that I had taken along with me. Within that first 300 minutes of the performance, something strange happened, because although this was circus swing, I was transported back to New Orleans in the '80s, to a packed and claustrophobic 'Preservation Hall', where the not terribly inventively named Preservation Hall Jazz Band played. On that occasion, fate had dealt me a good hand. I wasn't completely allergic then (in an at death's door, about to stop breathing kind of way) to seafood packed with iodine, as I am now. After a New Orleans seafood dish, I merely fainted at the back of said Preservation Hall, which was a real result, as myself and my friend Camilla were shepherded to the very front and given front row seats!
Although the room at Abbadia a Isola wasn't claustrophobic at all, the vivaciousness of the Italian audience (particularly the man next to me, who had been trying to speak to me all night) sort of took over and made the mind wander. It was a mixture of New Orleans, meets Blackpool Tower Circus in my youth – the place where my Nan was once hauled out of the front row, much to my amusement, and made to spin plates. The performance of Camillocromo was incredible and the word magnetic just doesn't do it justice. It was just the antidote to "la pioggia" that people, who had probably been drenched all day, deserved. It was mesmerising, uplifting and totally unexpected at every turn, from the profound mastery of the various musical instruments, to the slapstick, the comedy, the Italian one-liners, the crazy antics of the man I wish to adopt – drummer Gabriele Stoppa – and even the flame throwing and underwater playing!
I hated to admit it, but Camillocromo, within 30 minutes, were on a par with another of my favourite atmospheric Italian bands – Banda Rei – who I have heard play under the porticoes of Bologna and whose drummer has also mesmerised me. I knew then that the Camillocromo CD, if they had one, would soon be sitting alongside that of Banda Rei. It now is.
Ironically, whilst being a good 'studentessa' and reading my latest edition of 'Tutto Italiano' prior to the concert, I had learned a new word – rocambolesco (masculine) – meaning extraordinary. How strange that the CD of this amazing group of musicians and circus-style entertainers should be Rocambolesca.
I did grab a word, or two, with the leader of the pack, who was, by now, beginning to look remarkably like cricketer, Mark Butcher. He asked me where I was from, not being content with Inghilterra, which made one gush into a conversation about how I came from the NW, how I felt that he probably needed a lot of energy for the performance, and how it was probably like a marathon. He told me that he'd eaten a lot of pasta beforehand! I then shared my Zlatan thoughts with him and he agreed. I suspected he'd never have heard of Mark Butcher, so I refrained from running that one past him.
Now this wasn't the first conversazione I've had today. How is it that my Italian comes flooding back the moment I step foot on Italian soil? It was so good, when buying the clearest honey that I'd ever seen in my life, in a 'negozio' in Monteriggioni, at lunchtime, that the shopkeeper said (in Italian), "as your Italian is so good, I will explain why it is so clear", launching into a story about the bees and their happy, unadulterated life in the place that they never migrate from. I had just made friends with my new friend, Monica, in a jewellery/fashion shop further down the slope towards the Via Francigena, and she too said my Italian was very good, but I was so overcome by the fact that she started our relationship by telling me how good my skin was, that I've almost forgotten that. Where in England would any complete stranger tell you how great your skin is? That's why I love Italy … it has the spontaneity that I have running through my veins. As my new teacher says, I was Italian in another life. I just need to now start searching for the house.
Anyway, Monica and the bee man had helped correct a terrible wrong. Whilst on the plane, I decided to take to the Kindle and read the book 'Il Camino' – an account of walking the Via Francigena, which is what this festival is all about. When I reached the Monteriggioni chapter, the author said she'd found all the shopkeepers in Monteriggioni as miserable as sin – I paraphrase, but that was the gist of it.
I relayed that fact just after the opening of the new-look tourism office in Monteriggioni, to which I'd somehow secured an invitation at around 11.30am, when I had just been introduced to the chief of tourism, Eraldo, who dresses in costume for events staged in Monteriggioni, particularly the very impressive re-enactment event in July. He, and the other dignitaries, were a little amazed by this, but I expressed how I had found completely the opposite. Just after that, I bumped into my first real pilgrim, dressed from head to foot in black, whilst trying to exit the tourism office. I wished I'd asked permission to take a picture, but I suspect the people of Monteriggioni see these real pellegrini every day and would have thought me mad. Anyway, I had another shopkeeper to meet.
I had been hanging around Monteriggioni, awaiting the 3pm arrival of Eraldo, for a good few hours, and was now carrying a rucksack, plus Fizbag bulging with recent purchases. As I explained to my new friends in the tourism office, if it's raining, you simply have to shop! I had also seized the day and headed into a restaurant solely to order Pappa al Pomodoro, which I've been learning about in Italian lessons. I'd whiled away a very impressive 2 hours with soup, wine, and two coffees Americano, listening to tales, in Italian, imparted by coach drivers on the next table. It's really good fun listening in on conversations when people assume you can't speak the lingo, because you are English! It's also good for my group travel work, to hear coach drivers' viewpoints.
Despite the rain, I'd managed to take loads of interesting photos (and I haven't even created the Photobox books for Bologna 2015 and the Ferrari tour yet!), had fallen in love with my new walking shoes and waterproof coat and had also found a fellow lover of Bologna in the form of Eraldo. I am yet to find a single person in the world who doesn't love Bologna and not all of them have my secret "in" to the best bits – CIBO and Stefano Corvucci. I have to admit that my only disappointment with the Menu Oggi at Cas'Alta in Strove last night wasn't the amazing starter of egg and pecorino, or the wonderful sliced steak in red wine, or the delicious pannacotta, but the tagliatelle ragù. The sauce was insipid compared to Stefano's, whilst I am pretty sure the tagliatelle wasn't made to regulation Bolognaise width! I do think I 'm becoming a Bologna anorak, but the joy of getting back there for the Book Fair '16, if not before, is already filling my heart!
So what else can I say about this day in the rain? Firstly, Abbadia a Isola has an amazing new hostel for those walking the Via Francigena, built in a building first constructed in 1100 and with amazing views over the Tuscan hills. Secondly, despite rain, "gioia" is where you seek it and this morning, when it was truly pouring, that came from a child, maybe four years old, listening to her mother relay her story of walking the Via Francigena, getting very bored and suddenly shouting out "Basta" (enough) after about 15 minutes! Even the David Beckham in pony tail, Real Madrid days, lookalike, virtually sitting on my toes, found that amusing, but as I've discovered tonight, he's a man with great rhythm, spontaneity and a desire to stand up and dance with little excuse. If only the world had more men like that, who acted on their emotions and didn't care a damn what anyone thought.
So tomorrow, I expect I shall encounter some of these individuals again, but the prediction is for sunshine and the even greater 'gioia' that this brings. That means the donkeys, that I had longed to see today, will be out in force in Monteriggioni, where I think I have an appointment with the tourism office, to buy some books I've been eyeing up, and with the man who likes to tell me about the bees. I spotted a lovely, seemingly handmade, book in which to write one's Italian recipes today and resisted, because sometimes you have to hold back until the second time of asking and return to make your purchase … and now I'm remembering being 20 years old and on the beach in Sri Lanka for three weeks, and having this real battle of minds with a lad, about my age, on a stall in the local bazaar, who had a coral-coloured T-shirt, with a elephant print on it, which I secretly desired. However, this T-shirt had a tiny hole in it, which of course raised a barrier, which was perfectly surmountable, if one wanted to surmount it, but I was all too happy to point out the defect, knowing this would lead to a real game that would amuse me for a good 12 or 13 days. However, neither he nor I were prepared to surmount this hurdle, whilst both of us knew that the fun could continue, whilst neither of us would commit and both of us knew we had the time to keep stringing out the fun. When the reality hit home that I'd be gone if he didn't give in to his true thoughts, and I knew I'd be gone if he didn't come round to my way of thinking, all was resolved and we both lived happily ever after. He got his rupees at more-or-less the price he wanted and I got my T-shirt (which I've never worn, but equally never thrown away, because it is a symbol of what can be, if both parties cave in to their true feelings). I even donated my unused shampoo to him, knowing there was a real value to this that he could benefit from.
There's a moral in this tale somewhere. It's taken thinking time, a transportation back in time thanks to Camillocromo, and maybe absence making the heart grow fonder, to make me realise it. Grab what feels right today. Tomorrow it may be in other hands.