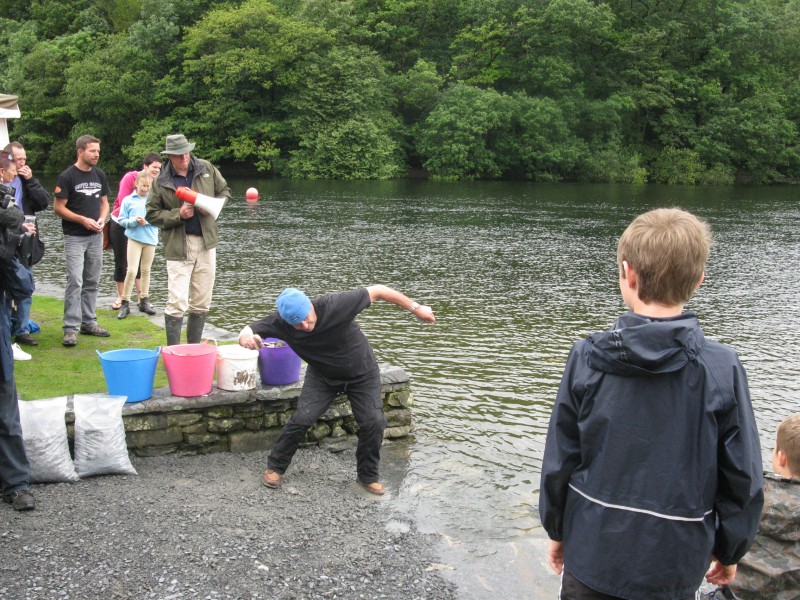 August 16th, 2015
Stone Skimming Championship Organisers Ready To Ward Off A Spot-Fixing Scandal
Organisers of the All England Open Stone Skimming Championships, taking place at Fell Foot Park, on Windermere, the Lake District, on August 22, are being extra vigilant this year, seeking to avoid any possibility of a spot-fixing scandal scuppering the 2015 Championships.
The event, which is open to all-comers and which results in the winner holding an official English sporting record, have become increasingly popular, since their launch nearly a decade ago. As a result, the organiser, South Cumbria Rivers Trust, is keeping an eye out for any 2015 competitor who could have been bribed to 'throw' their throw!
Speaking on behalf of the charity event, which raises vital funds for conservation work in the South Lakes, Julius Barratt says: "We recognise that it would be very easy for a competitor to fluff their throw, perhaps blaming inadequate wrist action, or choppier water on the lake. We shall be looking out for any strange footwork on the stones at our equivalent of darts' 'oche', or any competitor who suddenly throws their stone outside of the designated lanes laid out in the water. We believe these to be the more likely tactics for those who are seeking to fool the bookies."
Naturally, some leniency will be given. Organisers realise it is not always easy for competitors to stay within the 'bounds' of the roped off lane and even the best competitors, like resident champion, Ron Long, can sometimes get it wrong. It is also not unknown for a father or mother to 'throw' their throw, in an attempt to build up the confidence of their children, who can compete in categories for under 10s or 10-16 year olds.
Whilst vigilance will be the order of the day, the fact that this is one of the those great occasions for this sport – a Splashes Summer – will mean that the August event is still full of fun, activities for all the family, laid on by National Trust Rangers, and even a beer tent for those who feel a bit of Dutch courage might be required prior to their throw. The titles have gone to keen fathers, expert mothers, visiting Aussies and superb young throwers in the past and it really is anybody's guess as to who may win.
SCRT spokesperson, Julius Barratt, adds: "Hopefully, the unpredictability of our event, and who may eventually reign triumphant, will see us avoid being at the centre of a betting scandal. We have keen-eyed SCRT judges on the lakeside, ready to measure the length of all qualifying throws – those that skip a minimum of three times on the water's surface – and they can be equally observant when it comes to inexplicable duff throws. We strongly advise any throw-fixers not to chance their arm! SCRT will not be duped!"
Skimming will start at 11am on August 22 and end at 4pm. This year, the All England Open Stone Skimming Championships will be welcoming defending champion and Swiss Open champion (Ron Long), Welsh Champion (Tim Wright), European Champion (Paul Crabtree), 2013 All England Stone Skimming Champion (Kevin Waltham) and other great skimmers, who have nearly scooped titles at major events.
Entry costs £3 for three stones for an adult and £1 for three stones for a child/young adult.
Press calls: Jane Hunt, Catapult PR, 01253 891114/07711 628661 – jane@catapultpr.co.uk