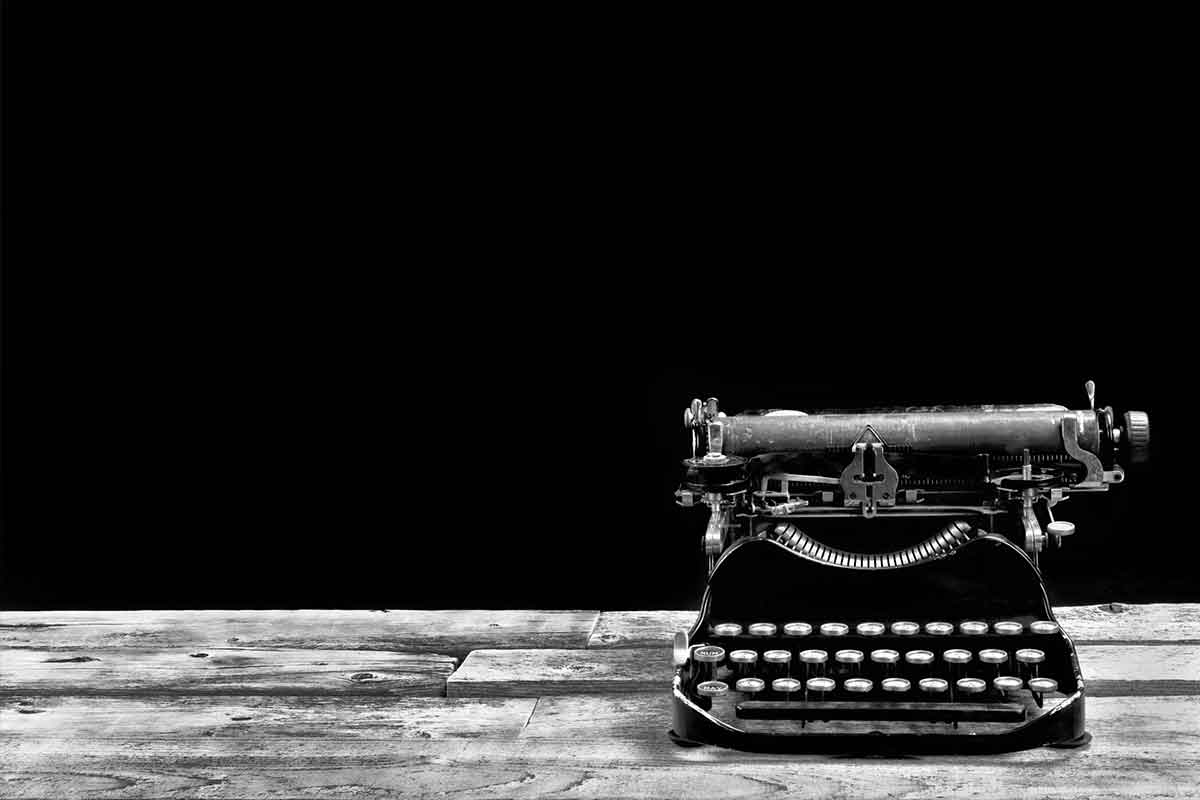 May 13th, 2013
Tears And Fears Marked Sir Alex's Last Stand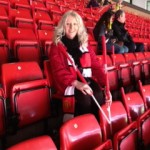 Some things are meant to be and I think maybe my presence at Old Trafford to witness Sir Alex Ferguson's last game in charge of Man Utd at the Theatre of Dreams was one of them.  I'd bought my son and I Man Utd memberships at Christmas and, although we'd applied for tickets in the ballot for various games, we'd never been successful. Ironically, he applied for the Swansea match and we got the tickets.
At the time, I remember thinking that it might not be that great a game, but then it transpired that it would be the one at which the Premiership trophy was presented.  Imagine my joy (tinged with sadness) last week, when I discovered that it would mark Sir Alex's departure.
We literally couldn't believe our luck.  I myself have exchanged a 'hello' with Sir Alex, many moons ago, when I was heading into the Wembley Conference Centre on a Green Flag Team England mission and he was coming down the steps.  I thought it very nice of him to say hello to me.  Many Man Utd triumphs have occurred since then.
We arrived at Old Trafford, almost predictably, in the pouring rain. I treated myself to a new Man Utd scarf en route and desperately tried to keep my black suede boots dry – an impossibility … the driving Manchester rain was intent on living up to its reputation … and some.
We stopped to take pics of Sir Alex's statue, having photographed most other things around the ground on many previous occasions.  We actually had seats in his stand, where we have set before.  I was almost dreading the walk up the stairs, but then stairs aren't my favourite thing right now.
We'd arrived extremely early, intent on spending in the Megastore and not missing a thing.  It would have nice to have been able to actually move in the Megastore and one look at the queue reminded us both why we like shopping online so much!  It seemed that everyone wanted to grab a memento that they could say they bought the day Sir Alex retired.
The unofficial scarf sellers were hawking their wares vociferously around the ground and in front of the statue of George Best, Matt Busby and Bobby Charlton.  A new line of Alex Ferguson scarves has been quickly produced for the occasion.
We contemplated waiting for the players' arrival, but we were 10 rows back and whlle my son might have been able to see what was going on, I had no chance.  Instead, we headed into the Munich tunnel to stay dry, but did spot Gary Pallister running through the rain to try to keep his suit dry!  Next up, I spotted a very dapper gent in a light grey suit and realised it was Coronation Street's Anthony Cotton.  The great and the good were really out in force.
As soon as the turnstiles opened, we staggered up all the steps to our seat and, to our delight, found a free Champions 13 flag awaiting our arrival.  The cards that would spell out messages that would go around the world were laid out in the East Stand and the Stretford End and we amused ourselves by watching De Gea and Lindegaard warming up.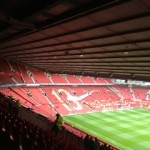 As I've been an emotional wreck for the last three weeks, I wondered how on earth I would cope with the sadness of this day, but hadn't expected to start blubbing even before kick off!  We'd had a rousing run of Madchester songs played on the tannoy and I'd had the word 'Don't' given to me twice by my son, to which the uninitiated means, 'Do NOT under any circumstances sing'.  Over nearly 21 years now, he has developed the knack of knowing which songs will lead me to demonstrate my inability to both hit notes and get the lyrics right, so when he heard two of the tracks I most like to destroy – James's 'Sit Down' and, particularly, one of my all-time favourites, The Verve's 'Bitter Sweet Symphony', he knew he had to get in there quick!
However, all of this upbeat music suddenly gave way to talk of Sir Alex and I was hit with a sucker punch of 'Unforgettable' by Nat King Cole, which saw tears streaming down my face, though I don't know if that was for Sir Alex or not.    I didn't even have the sunglasses on so that I could practice what I call the St-Jean-de-Monts method, of crying behind them.
This then gave why to 'My Way', which made me cringe with the "and now the end is near" bit.
Luckily, the players came out and talk soon turned to where Wayne Rooney might be.  Certainly not among those warming up.  Sure enough, when the team sheet was read out, he wasn't even on the bench.
By now, we had three amigos sitting behind us, who drove us mad with their pessimistic view of everything.  The only snippet they imparted, but got wrong, was that Mancini had been sacked!  Everything else was moan, moan, moan, reminding me of spectators at Thornton Cleveleys CC matches (where I was the sponsor for a while).
My son suddenly said: "Why is it we always sit in front of people like this" – a reference really to Wimbledon Men's Singles Day, when we had two absolute idiots behind us, who had been to every Wimbledon final for years (thanks to their company) and thrilled us with a year-by-year account, with comments like "No, darling .. that was the year Sampas blew him away" and "Well, you're the aficionado on the 2004 final, after all".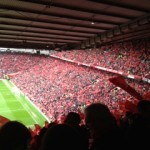 Thank goodness we then got to wave our flags.  I have to say, seeing the players and Sir Alex walk out to that sea of red flags waving, all bar in the Swansea section, where they had been given white ones, was something I thought I would never see at a game in this country. It was more like the Nou Camp (which we have toured) than Old Trafford and was on a par with what I always regard as the best reception for a team I have ever seen – Argentina 1978 – or maybe that's because I had an enormous crush on Mario Kempes.
It was truly emotional and, to be honest, the match was almost like a side dish.  Both ends of the ground were urging each other on, producing one classic fans' anthem after another, moving through player after player from the Ferguson era, as well as the generic Man Utd fans' classic chants.  We were constantly standing up for Alex Ferguson and joining in the clapping and chanting.  Having been at Old Trafford when you could literally hear a pin drop in the crowd, it was phenomenal.
The sea of emotion lasted right up to the Swansea equalizer, at which my young Padawan was extremely miffed, as he'd only just transferred Michu out of his fantasy football team!
The crowd fell silent, almost as if in fear that Ferguson's last stand would not be a triumphant one.  I think the way Rio was charging up the pitch demonstrated that he felt the same.  When he bobbed the winner in, the crowd just erupted in relief, as did he. However, this wonderful moment was somewhat stolen from me by the two young guys in front, who suddenly decided to spin round and ask me to take their picture.  As I did my best David Bailey act, I missed half the celebration.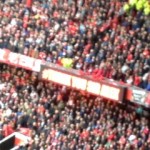 So there we were – the final whistle and the last farewell. Sir Alex took to the microphone and there wasn't a sound to be heard, other than his voice.  He urged us all to back David Moyes and reminded us that he'd had bad times, as well as good. Not sure if Mark Robins had been invited to the party, but he should have been!
Fergie left the ground and the preparations began for the trophy presentation.  We snapped away as the trophy was presented and then taken around the ground, but the whole thing was tinged with sadness. I didn't, however, cry, so maybe my Unforgettable moment related to something else entirely.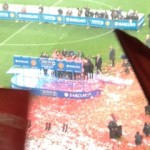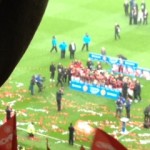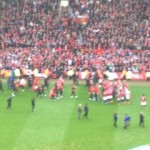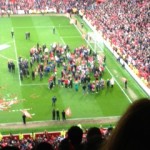 It took us hours to get home in the traffic, but who cares.  We got a takeaway and I didn't have to cook.  We resolved to renew our membership and make sure we applied for as many games as possible next season.  After all, Man Utd never die.