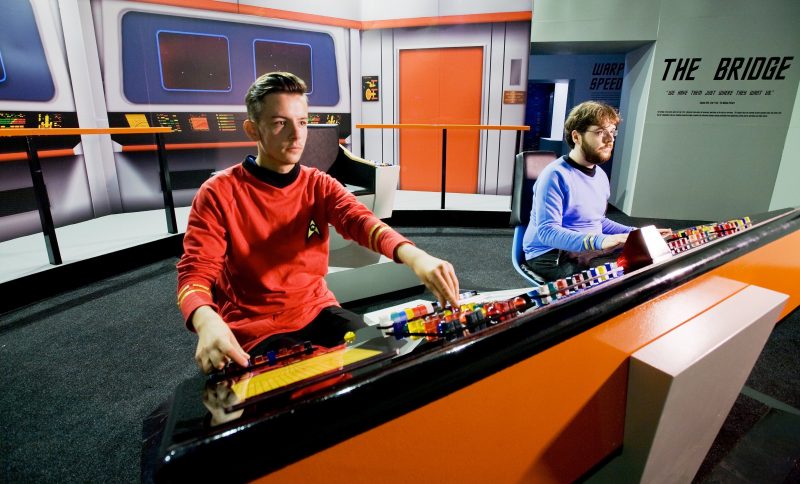 March 24th, 2017
The Attraction of Letting Pupils 'Boldly Go'
Although Catapult PR has promoted a huge number of tourism visitor attractions around Britain, either directly or indirectly, I can honestly say that I'm not sure the backstory of any non-heritage attraction has been as compelling, for me personally, as that which Star Trek: The Exhibition boasts. Now that may be because I was always a little bit in love with Chekov … but at least I'm honest!
Whilst this visitor attraction, located on Blackpool's Central Promenade, is one very cool space for school pupils to explore, the information lurking within the attraction's education pack is almost mind-blowing, if you stop to think about the time, place and politics of the years in which Star Trek first aired.
Star Trek has touched most of our lives, whether that's through The Original Series, The Next Generation, or more modern carnations. Whilst we may all know the catchphrases, have a smile when we think about Spock's ears and secretly covet a Star Trek dress that's super-mini-sized, or a Captain Kirk top, how many of us actually stop to think about the fact that Star Trek, The Original Series, actually aired BEFORE man stepped foot on the moon. In fact, not just before the first moon walk, but almost three whole years prior to that momentous event!
When you think this through and ponder about all the gadgets, adventures, transportation mechanisms and other regalia that the U.S.S Enterprise possessed, you can only really view Star Trek's creator, Gene Rodenberry as either a genius or a visionary – and I've always been seduced by both.
The attraction's education pack highlights, in one of its themes, just how brilliant that vison was. Many of the 'devices' used by the crew can almost be regarded as prototypes for the mobile phones, ipads and other technology-fuelled tools that we use today.
Using the press pack can also help pupils understand the politics of the day – the political backdrop to the 'Race to the Moon' and the nature of the 'Cold War'. That, in itself, is truly fascinating, particularly as today's world, at times, seems to be heading back to the cat and mouse politics of that era.
But whilst not whizzing around in the Captain's Chair and enjoying a position of command on 'The Bridge', or viewing the hundreds of original (not replica) props, costumes, photos and set pieces, or beaming themselves up in The Transporter, pupils can also ponder another huge theme – gender and race equality.
Star Trek was truly ahead of its time when it came to this cultural dimension. The crew was probably the most diverse bunch of people you would have found in any town in 1966, with an Asian, a Russian, a Scotsman, white Americans and an African-American all sharing the responsibility of steering the ship. Given that such responsibility also fell into the hands of women was also remarkable.
This isn't just a case of people looking back retrospectively and applauding the racial and gender harmony Roddenberry had created; it was fully appreciated at the time as well, as pupils can discover in the Social and Cultural Role Play part of the Star Trek: The Exhibition press pack.
Nichelle Nichols, (Lieutenant Uhura in The Original Series), had "the first non-stereotypical role portrayed by a black woman in television history", according to Dr Martin Luther-King. He felt this to be so important, in role model terms, that he actually urged Nichelle not to take up a Broadway role, when she thought of leaving after Star Trek series one. Rather than playing a maid in the Deep South – the type of role the majority of black actresses had been confined to playing – she was in a position of power, commanding a spaceship on a TV show that set imaginations alight.
The actress listened to Dr Martin Luther-King and, in 1968, made history by joining with William Shatner (Captain Kirk), in the first inter-racial kiss shown on American TV – a true racial integration milestone. She went on to become an adviser for NASA.
When you absorb all of this, perhaps you can understand why, here at Catapult PR, we're so excited by the education side to this tourism attraction and why handling PR for it will be so fabulous. If you're a teacher in Lancashire, Cumbria, Greater Manchester, Merseyside or Yorkshire – or even further afield – this is one place to head to if you want a different slant on history, technology, gender or race, regardless of whether your pupils are in primary or secondary school. You can boldly go to www.startrekblackpool.co.uk to download the education pack and check out pricing and options for school visits whilst you are there.
The key is to not ask what your pupils know about Star Trek right now, but to tell yourself what they need to know about it and the part it's played in so many people's lives. If they take on board its messages, perhaps we can all live long and prosper.