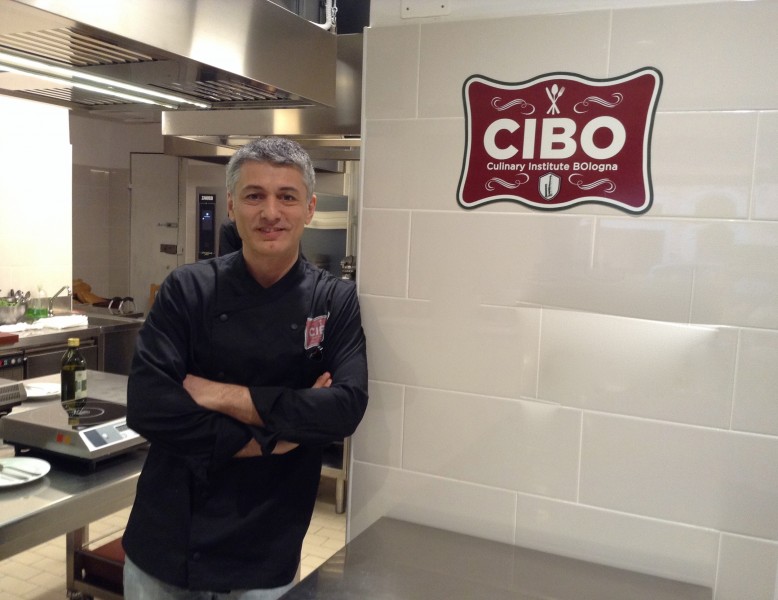 September 12th, 2016
The Boho Chef To Make First Appearance In Leeds
An Italian chef and culinary raconteur known as 'The Boho Chef' will be visiting Leeds for the first time this week, when he stages a cookery demonstration at the new OnRoundhay Festival, in Roundhay Park, on Saturday September 17.
Stefano Corvucci is head of the Culinary Institute of Bologna – or CIBO as it is also known – a clever play on the Italian word for food. CIBO is the only purpose-built cookery school in the city known as 'La Grassa' in Italy, because it is regarded as the cradle of all that is great in Italian culinary tradition. The city gave the world ragù, tortelloni (supposedly invented after a peeping Tom spotted a lady's navel through a keyhole) and tagliatelle, but also a passion for food that foodies everywhere can now relate to.
Bologna is part of the region of Emilia Romagna, which is also renowned for delicacies such as Parmigiano Reggiano (Parmesan cheese), mortadella and Parma ham, so Stefano will deliver insights from a rich food heritage when demonstrating at OnRoundhay, where he plans to create a ricotta and spinach handmade pasta roll.
Stefano will also be able to assist restaurateurs seeking inspiration for their eatery, as he also offers a restaurant consultancy service and trains chef at both CIBO, and in their own kitchens, even if the latter are in far-flung places like New York. His Bologna-based restaurant, Trattoria del Rosso, with which CIBO shares its premises, is always bustling with diners wanting a great business lunch, or tourists who have been recommended to dine there. Any Italian restaurant floundering through being a me-too enterprise in England, can turn to Stefano for help in transforming it into a traditional Bolognese trattoria, with all the delights that brings.
Stefano greets coos seeking knowledge on how to cook the perfect ragù from all over the world, as they know this inspirational cookery school will not only teach them how to cook this delicacy, but also provide the pleasure of devouring it for lunch. Many are from the USA and Canada, with Italian ancestry, but little knowledge of how to cook like their grandmothers did. What they won't cook, as Stefano will tell the audience at OnRoundhay, is a tomato-laden dish and what they won't then eat is ragù with spaghetti. These things simply don't exist in Bologna!
Stefano's business journey has been an interesting one. He abandoned a career in law to follow his foodie passion, having earned his degree from the prestigious University of Bologna. He has stayed true to authentic Italian cookery, whilst delivering a lively narrative in the kitchen, just like his culinary hero, Artusi – a 19th century, pioneering 'foodie traveller' who also emanated from Stefano's home town of Forlì, in Emilia Romagna. Artusi is credited with writing the first cookbook produced after Italy was unified in 1850, but this book was also full of tales of the adventures of Artusi and the encounters he had whilst travelling around Italy. It was this book that gave Stefano his love of cooking as, when a boy, his father would recount tales from it, whilst preparing food for his two sons.
Whilst cooking a first-class ragù, just like 'nonna's', cooks heading to CIBO can now listen to Stefano's own tales, whilst immersing themselves in Italian culture and enjoying CIBO's own-label wine. The other tutors at the school are also not 'chefs' in the true sense of the word, but passionate foodies just like Stefano. He makes it his policy to employ 'brains' not chefs with set and rigid ways of doing things. Lucia, the pasta cook, is a trained economist; Mattia is a trained mechanical engineer. Both abandoned their careers to follow their heart and teach others Italian food tradition.
Diving into CIBO for a half, full-day, or longer, makes tracking down the perfect ragù a journey like no other. To encourage keen food lovers from around Yorkshire to do this, Stefano will have promotional cards for pick-up at his 4.30pm demonstration at OnRoundhay. More details are at www.onroundhayfestival.com/food