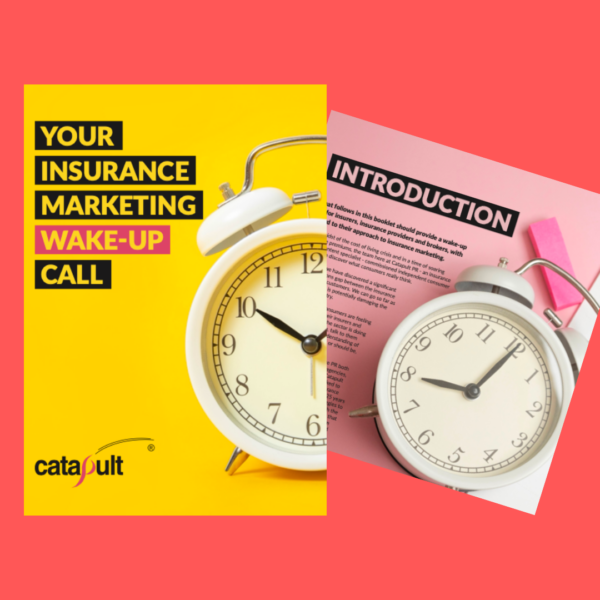 November 9th, 2023
The Need for an Insurance Marketing Wake-up Call
Insurance marketing needs a wake-up call. That's the over-riding conclusion to independent consumer research, commissioned by Catapult PR to reinforce its position as one of the most creative and experienced insurance PR and content specialists in the UK.
The British consumer is not only disengaged but feeling more than that. They feel a lot of negativity about the way in which they are communicated with; they feel used by those selling insurance to them. The insurance industry needs to wake up to that, using the suggestions provided by Catapult PR, which draw on its 30 years of insurance PR and insurance content writing and creation, not to mention its in-depth experience in CSR programme promotion.
How the insurance marketing research findings have been used
The findings have been encompassed within a new booklet from our insurance PR team, called 'Time for an Insurance Marketing Wake-up Call'. The insurance PR and content experts at Catapult PR have also added marketing tips, to help insurance marketers not only take on board the survey findings but also devise ways to better handle the relationship with British consumers.
The resource is available for free download at the downloads section at Catapult PR, or from here.
Further insurance PR, marketing and content guidance
In addition, there is a podcast to introduce the survey, with commentary from Catapult PR's managing director, Jane Hunt. This can be found here, or downloaded from Apple, Google, Spotify etc.
Jane Hunt has been an insurance and content PR specialist for 30 years, 25 of those at Catapult PR. Having worked in-house at Swinton Insurance, and also launched Privilege Insurance, as well as taking other financial services brands to award-winning PR campaign success, she has a wealth of insight to bring to the insurance marketing party.
The podcast gives some of her personal opinions on the backdrop to the insurance survey and to what is happening in the world of insurance marketing – insurance PR, content and also corporate social responsibility. The latter is another area in which she has in-depth experience, having maximised some of the biggest CSR programmes in the UK, not just in the insurance sector but also in industries such as the utilities.
Summary of the insurance PR, marketing and content resource
The 'Time for an Insurance Marketing Wake-up Call' booklet not only probes what the consumer thinks about insurance companies and their marketing but also gives vital insight on how the current economic crisis and ever-rising insurance premiums may be influencing their viewpoint.
It is a relevant resource for anyone providing insurance in the UK, whether they are a household name insurer, a direct insurance provider or e-trade insurance business or a traditional broker, operating within a distinct local area or market niche.
It addresses the latter through Broker Beware or Broker Alert boxes, which highlight some of cities in which opinions are above the national average and where brokers need to be particularly aware of those viewpoints, or ready to capitalise on them.
Commentary on this insurance marketing resource
Jane Hunt says, "We always try to add value as an agency, by sharing our expertise and insight into the sectors in which we particularly specialise. Insurance is one sector in which we have built our reputation, with 12 of our 61 awards, to date, won for insurance PR and content campaigns, at both a regional and national level.
We had our own viewpoint on what was happening to marketing in this sector and the research has every much reinforced this. We felt we should make the British consumer's voice heard, so that insurance marketing teams can up their game, with or without our help."
As well as finding this free thought leadership-focused booklet in the Catapult PR downloads section here, insurance marketers and insurance brokers will also find the Catapult PR insurance credentials booklet, 'Banishing the Grey', in the credentials area, here.