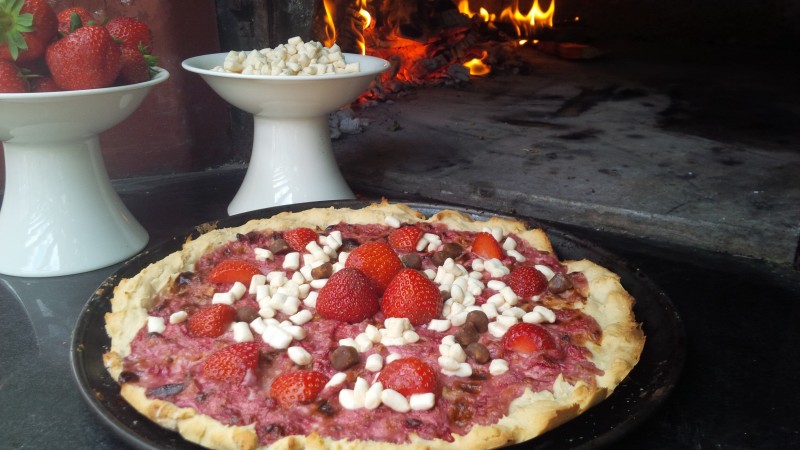 July 8th, 2015
The World's First Free-From Marshmallow Pizza Ticks All The Dietary Need Boxes
A global first – the world's first free-from marshmallow pizza – was created on Sunday July 5, in Lancashire, England, to mark the first Wood-Fired Oven Sunday from Orchard Ovens by Valoriani.
Orchard Ovens' expert chef, Andrew Manciocchi, created the world first in conjunction with another Lancashire-based business – Freedom Mallows of Heysham.
The delicious Manciocchi free-From Marshmallow pizza, called 'The Rocco' in honour of Andrew's grandson, allowed Orchard Ovens by Valoriani, to achieve a mission of proving that pizza can tick free-from dietary need boxes, as well as being scrumptious. My using a marshmallow topping that is normally packed with gelatine and artificial colours, Andrew Manciocchi underlined that free-from is achievable, with even the most seemingly difficult and decadent food choices. Nobody need miss out, if they look around and innovate with their cooking.
The pizza base was created using gluten-free flour, Gram flour formed of chickpeas, fresh gluten-free yeast, olive oil, salt and water. The topping was made from lactose-free mascarpone cheese, diced strawberries and half a bag of Freedom cooking mallows. After baking the pizza in the Valoriani wood-fired oven for around five minutes, the pizza was then sprinkled with yummy Freedom mallows.
The pizza was free from gluten, egg and dairy, meat-based gelatine, artificial colours and flavours, nuts and other allergens, being suitable for both vegetarians and vegans. Despite this, it tasted delicious and was the piece de resistance of the Wood-Fired Oven Sunday event, at which Andrew Manciocchi cooked a whole variety of recipes in a wood-fired marathon.
These included a full English breakfast, fresh bread, roast pork with rosemary potatoes. sea bass puttanesca, toad in the hole with Cumberland sausage, bread and butter pudding and strawberry decadence.
This showed off the versatility of cooking with a wood-fired oven and underlined why 27% of British adults say they would prefer to wood-fired food to barbecued food, at a garden party, according to a recent YouGov survey.
Andrew Manciocchi says: "Wood-Fired Oven Sunday was a brand new date for the foodie calendar and I wanted to use it to promote the message that pizza can be a healthy food and that recipes can be adapted, to create some amazingly tasty treats for the wood-fired oven, even if dietary needs exist. By creating the world's first free-from marshmallow pizza, I hope to make people sit up, note how recipes can be adapted and think differently, not just about pizza, but about food in general."
More information about Orchard Wood Ovens and some of the recipes from Wood Fired Oven Sunday can be found at www.orchardwoodovens.co.uk
The world's first free-from marshmallow pizza recipe is:
Ingredients
425 grams of gluten-free white bread flour
60 grams Gram flour (formed from chickpeas
3gms of fresh yeast
300ml of water
25ml of olive oil
teaspoon of salt
Blend dough by hand, or in a machine with a dough hook, until all the flour is integrated. Cover and allow to prove in a warm place for 24 hours. The dough will double, but be very wet and sticky. This is what keeps it together when cooking.
Topping
250gms lactose-free mascarpone cheese
10 large strawberries, diced
Half a bag of Freedom Mallows (available in many branches of Holland and Barrett)
Blend all ingredients in a blender, until they form a smooth, red paste.
Method
You will need to cook this pizza on a pizza tray, as it is too wet to go directly on a peel or the oven floor.
You have enough dough for two pizzas. Spread the dough with your fingers into a pizza shape around 1/4 inch thick and place in the wood-fired oven for two minutes, or until firm on top.
Spread the strawberry paste over your pizza, but leave a gap at the perimeter for that beautiful golden pizza crust. Place back in the oven for 3 to 4 minutes until bubbling beautifully golden.
Remove from the oven and dress with fresh strawberries and fresh Freedom Mallows. Serve with Alpro cream or custard, or eat decadently on its own.
For grown-ups, who can tolerate alcohol, you could drizzle the pizza with strawberry liqueur Fragoli and serve with pink Champagne.
Freedom Mallows
Freedom Confectionery's marshmallows tick lots of dietary boxes. They are a unique product within the confectionery market, being both vegan and vegetarian-friendly, not to mention gluten-free, egg and dairy-free, gelatine-free and devoid of colourants. They were the ideal topping to involve in the world's first free-from marshmallow pizza quest.