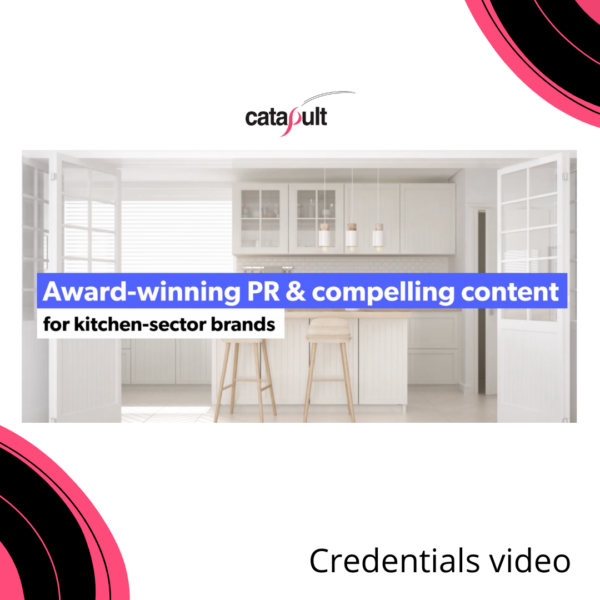 September 27th, 2021
Video Showcases Kitchen Sector PR Services
Catapult PR has created a new little piece of video, to highlight the PR and content writing credentials in the kitchen trade and consumer-facing home and gardens sectors, which took it to the pinnacle of success in the prestigious national CIPR Excellence Awards 2021.
Catapult PR's campaign for a sustainable kitchen-sector and home improvement brand, which works closely with kitchen showrooms nationwide, scooped the national accolade for the 'Best Corporate and Business Communications Campaign' of 2021, beating other contenders from across the UK.
PR Services for Kitchen Trade Brands and Showrooms
The fact that work was carried out for a small SME business, with a very modest budget, is testimony to our ability to use our creativity and eye for an angle, plus oodles of diligent research, to create something compelling. The judges were quick to pick up on that and we thought our video should also highlight this.
PR success for the kitchen trade brand took the form of widescale trade and consumer coverage, new commercial contracts, business growth, enhanced thought-leadership and a raising of awareness of the core concept.
Kitchen Trade PR and Content Writing Video
All of this is highlighted, in an abridged way, in our little video here. If you would like to receive the accompanying booklet, and more details about our public relations and content and copywriting services for the kitchen trade sector sent to you, please just email tellmemore@catapultpr.co.uk
Whether you are a kitchen showroom, a kitchen manufacturer, a provider of products or services to the kitchen trade or involved in the associated bathrooms and bedrooms sectors, we are sure we can assist your marketing campaign, whether you need kitchen trade thought-leadership, additional kitchen showroom footfall or ongoing blogs about your kitchens and kitchen trade products and services.