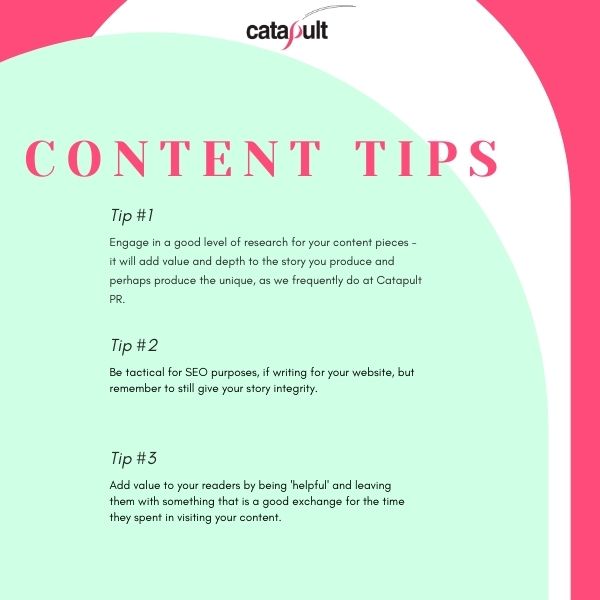 March 26th, 2021
Why Copywriting is a Hat We Increasingly Wear
For Wear a Hat Day (26 March, 2021), I started thinking about the hats we wear here – PR and media relations on the one hand and content and copywriting on the other. This month, the latter has become 50% of what we do. Why is that?
'Value' is the answer. Good quality copywriting and content has become vital during the pandemic, to reach out to audiences and engage them digitally. Web articles should be strategically talking to target customers and moving them towards a purchase decision. If you haven't got a news area on your website, why haven't you? There should be a big question mark hanging over you, if you've decided not to bother. You are missing out on being able to talk to your prospects and build understanding of your brand and what it offers.
Good content and copywriting is the basis of a sound SEO strategy. It has helped one of our clients attain number one spot on Google this month, after years of them trying to gain that tactical advantage. However, I find that all too many copywriters churn out meaningless stories that might contain key words but which do not add value, build the brand, have any real interest or engagement level for the reader, convey personality, or do that all important thing that every good PR person does as a matter of course – persuade.
I sometimes feel this is because copywriters are often just used to reporting on news. They often lack that deep sense of connection with the target customer, which is honed during your career as a PR. The buzzword these days is 'avatar'. We are urged to create customer avatars in order to target our products and services effectively. As I've actually being doing that in my day job for over 30 years, I can only question why it has taken the rest of the marketing world so long to catch on. Not so much the poor relation of marketing now, hey!
Research, within many of the content articles that I view online, is often completely lacking but something I love and have done a lot of, whether that was on microfiche in the Cambridge University Library, when looking into early perceptions of Queen Victoria in the media, or during hours spent in the India Office's research unit, after tramping over Waterloo Bridge in the rain, having made the long trek from my Cambridge PhD student lodgings.
But it's not just articles, blogs, website copy, white papers, ebooks and added value content we are writing here. It's not just unique insights into Blackpool Promenade, cyber security or mental health during lockdown. Yesterday, I wrote copy for the label that will sit on the back of a unique new spirit, which we will soon be launching through PR. Last week, it was all about writing client award entries.
We may wear two hats here, but they really are symbiotic – or, if you prefer, go together like rama lama lama ka dinga da dinga dong.
And one final reason why we are doing more copywriting? Well, clients keep telling us that they tried other copywriters and there is just no comparison!
Check out a few tips in my visual and in my social media post on LinkedIn and Catapult PR's Instagram, Twitter and Facebook pages and ask for copywriting and content creation help, if you need it. Just email jane@catapultpr.co.uk