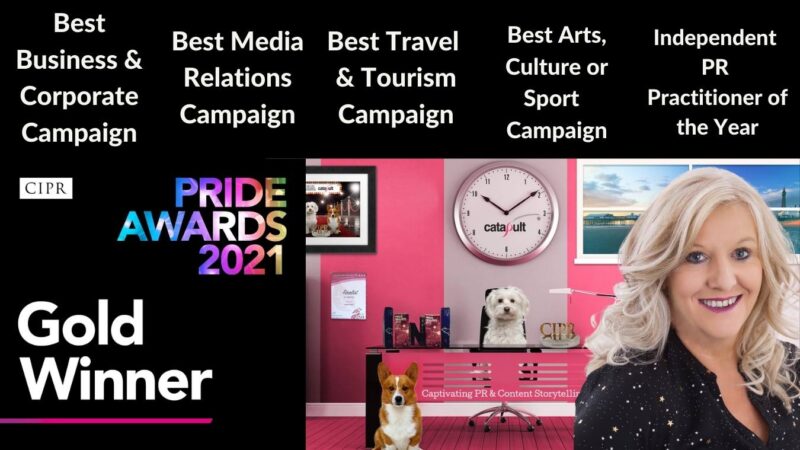 October 8th, 2021
Topping PRide NW Awards Table with 5 Golds!
Catapult PR came away from the PRide NW Awards with a brilliant result that was really beyond our wildest dreams – topping the table with a magnificent five Gold Awards.
Not bad for a Lancashire PR agency, you may think. Definitely not bad for one considered too micro to be considered in the 'Small Agency' category!
We took our overall agency awards tally to a staggering 49, by winning the Gold Awards for 'Best Corporate and Business Communications Campaign', 'Best Travel and Tourism Campaign', 'Best Arts, Culture and Sport Campaign' and 'Best Media Relations Campaign', as well as scooping the 'Best Independent Practitioner' Award.
The success underlines that Catapult PR's work is of a level on a par with, or exceeding, that of much larger agencies. As well as having 49 awards in the trophy cabinet, we also have over 70 finalists certificates – and we don't even put those on display!
Hopefully, the success also shows our versatility, with the three rewarded campaigns covering retail and kitchen sector, culture and community and travel and tourism. It also covers campaigns conducted for clients as far apart as London and Northumberland!
They told us it would be impossible to achieve success in coastal Lancashire, when the agency was set up 24 years ago, but we've been winning awards since 1999. This is despite transitioning from small agency size to boutique, so as to deliver a much more bespoke and focused approach to clients who want a fusion of creativity and strategy that is second to none.
The five Gold Awards at the PRide NW Awards add to the two national CIPR Excellence Awards we scooped in June, and we are now rather regarding awards host, Jason Mohammad, as our lucky charm, as the lovely Jason – one of the very best hosts we've seen in 24 years – announced our successes at both. Our previous lucky charm, BBC news reader, Nigel Jay, who became a great friend to our agency following our becoming NW PR Agency of the Year in 2000 – awards at which he was the host – is sadly no longer with us. We hope he's looking down and smiling.
Back in June, at the national awards , there was perhaps some sign of what was to come in two categories of the regionals, as we took the national awards for Corporate and Business Communications Campaign and Outstanding Practitioner. Being best in Britain was a huge boost, especially as we were also a finalist for a third national award – Travel and Tourism.
Of course, we shouldn't forget that Catapult also won the PRMoment Award for the Best Travel and Tourism Campaign in June, making it 8 awards in the year to date.
We didn't think we'd top last year's performance, when we were top of the shop at the Northern Marketing Awards, winning three awards, as well as winning two PRCA DARE Awards. However, we've gone and done it and this is now our most award-winning year to date, as we think 5 or 6 was our previous high.
Catapult PR's managing director, Jane Hunt, says: "Once again, I hope Catapult has proved that size does not matter and the best PR comes in small packages. Clients come to Catapult PR because they recognise that we are probably unique in the UK – a micro-agency whose creativity and dedication enables campaigns to box above the weight of their budget. We've done the smaller agency approach and rejected it, to do things our way. Our record of success suggests we've got the formula right and I am delighted that awards judges have, once again, seen that."
Catapult PR was founded after Jane Hunt had enjoyed a hugely successful in-house career, working in the insurance, freight and utilities sectors, in London, Berkshire, Bristol and Manchester, before launching Privilege Insurance and going on to work on other leading insurance and financial services brands in Leeds. Although Catapult PR's first clients were all financial services and insurance clients – a sector in which the agency has continually worked since 1998 – it has since handled numerous award-winning campaigns in sectors such as travel, pet, community PR and retail and now has a truly diverse clientele, based in the UK and Italy.
Currently, we have clients in London, Kent, Essex, the West Midlands, South Wales, Yorkshire, Cumbria, Northumberland, Lancashire and the Apennine Mountains in Emilia Romagna. If you would like to access our award-winning PR services in any of these places, or elsewhere, please get in touch.